Power-Plant Damage in Japan May Be Severe
New information is coming out about the quake that hit Japan earlier this week. Water leakage into the Sea of Japan from a nuclear power plant is 50 percent more than originally announced, and some 400 barrels of nuclear waste were knocked over. The International Atomic Energy Agency is pressing for a thorough investigation.
NOAH ADAMS, host:
From the studios of NPR West, this is DAY TO DAY. I'm Noah Adams.
DEBORAH AMOS, host:
And I'm Deborah Amos.
Coming up, an overnight debate on Iraq ends in another Senate stalemate.
ADAMS: But first, new information is emerging about this week's earthquake in Japan. The damage may be more severe than we'd heard. The quake hit northwestern Japan on Monday, measuring 6.8 in magnitude.
And joining us now with the latest is our DAY TO DAY colleague, Madeleine Brand, who happens to be in that country, working on the series Climate Connections. Madeleine, thank you for joining us.
MADELEINE BRAND: Well, you're welcome. Hi, Noah.
ADAMS: We knew on Monday, Madeleine, there had been some damage to a huge power plant. It's the world's biggest in terms of - nuclear power plant - in terms of output. And there's more news today - more damage information is coming up?
BRAND: Right. They admitted that they erred earlier, when they gave an estimate of how much radioactive water had leaked out of the plant after the earthquake. The plant was damaged quite severely by that earthquake. The electric company said that now the leak into the Sea of Japan is 50 percent bigger than it previously announced. And it also said some 400 barrels of nuclear waste were knocked over inside the plant.
Now, the plant has been shut down. There's an investigation pending. The company is downplaying all this, saying the leaked amount is still, quote, "one billionth of Japan's legal limit." However, the International Atomic Energy Agency is pressing for a thorough investigation. And Noah, this comes amidst a history of cover-ups of accidents at the nuclear power plants the company operates in Japan. And in fact a group of residents sued the government, saying A) that these accidents had been covered up; and B) the government hadn't conducted sufficient safety reviews when it approved the plant back in the 1970s. Now, that suit was thrown out just two years ago for lack of merit by a Tokyo court.
ADAMS: Madeleine, you mentioned the leakage into the Sea of Japan. Where is the plant exactly?
BRAND: It's about 135 miles northwest of Tokyo, a town called Kashiwazaki. It's right on the coast. About 93,000 people live there, many of whom actually work at this nuclear power plant.
And the bigger problem, though, Noah, is that nobody really knows if this power plant is located on a fault line. As you know, Japan is in a very active earthquake area. It straddles four tectonic plates. And the company is saying, well, it's not located exactly on a fault line. It may be near a fault line. But there might be some evidence now, looking into the aftershocks of this latest quake, that in fact this nuclear power plant, as you said earlier, the biggest in the world in terms of output, is located right on a fault line.
ADAMS: So the plant is shut down. The cleanup is going on. The investigation is going on. In the meantime, Toyota is shutting down operations all over Japan because one of their suppliers is also in that city?
BRAND: This is a supplier that makes pistons and camshafts. Japanese automakers - all of them, including Toyota - have halted some production because this production plant has been shut down. This is a very strong quake - 6.8 magnitude. There was a lot of damage in that area. Of course Toyota has supplies to last it several days, so it's not - it probably won't affect production right now, but who knows in the future?
Let me just say one more thing. As you know, we're here doing a series on global warming, our series Climate Connections, as you mentioned in the intro. And it's interesting: part of the research that we're uncovering is that the government just recently announced this new initiative called Cool Earth 50, where they want to reduce carbon emissions by 50 percent by the year 2050.
And part of this plan is relying on nuclear power, because obviously that doesn't emit carbon. And so there's a very rosy scenario painted by the federal government about new generations of safe, clean nuclear power. Now, I can only imagine that after this problem that's happening with this nuclear power plant, that that will be seriously up for consideration.
ADAMS: DAY TO DAY'S Madeleine Brand talking with us from Tokyo. Thank you, Madeleine.
BRAND: Thank you, Noah.
NPR transcripts are created on a rush deadline by Verb8tm, Inc., an NPR contractor, and produced using a proprietary transcription process developed with NPR. This text may not be in its final form and may be updated or revised in the future. Accuracy and availability may vary. The authoritative record of NPR's programming is the audio record.
Quake-Damaged Power Plant Closed in Japan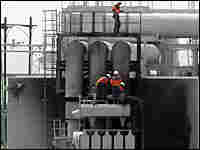 A Japanese mayor on Wednesday ordered the closure of a nuclear power plant damaged in Monday's earthquake after the plant's operator confirmed a radioactive leak was bigger than first reported.
Kashiwazaki Mayor Hiroshi Aida ordered operations at the plant halted for "safety reasons." The city is near the epicenter of Monday's quake and is home to the plant and 93,500 people.
The plant's operator said the leak is still below danger levels. But Tokyo Electric Power Co. acknowledged about 400 barrels containing low-level radioactive waste were knocked over during the earthquake, rather than the 100 earlier reported. In addition, officials said a leak of radioactive water into the Sea of Japan was actually 50 percent bigger than initially announced.
Meanwhile, the International Atomic Energy Agency pressed Japanese officials to undertake a transparent and thorough investigation of the accidents to see if there are lessons that can be applied to nuclear plants elsewhere in the world.
Speaking in Malaysia, IAEA chief Mohamed ElBaradei said a thorough review is needed, and he offered to have his Vienna-based agency pull together global experts.
"It doesn't mean that the reactor structure or system has been damaged," ElBaradei said. "I would hope and I trust that Japan would be fully transparent in its investigation of that accident. The agency would be ready to join Japan through an international team in reviewing that accident and drawing the necessary lessons."
Adding to the urgency was new data from aftershocks of the quake, suggesting a fault line may run underneath the mammoth power plant.
Osamu Kamigaichi, an official at Japan's Meteorological Agency, which monitors earthquakes, said it was possible the fault line stretched in the direction of the nuclear facility and may reach underneath its grounds.
Kashiwazaki-Kariwa is the world's largest nuclear plant in power output capacity. Signs of problems after the magnitude 6.8 earthquake came to the public's attention when a plume of smoke rose from the facility after the quake triggered a small fire at an electrical transformer.
The quake caused radioactive water to leak into the Sea of Japan, but an official said the amount
Was "one billionth of Japan's legal limit."
Another official said inspections at the Kashiwazaki-Kariwa plant showed 400 drums had fallen over during the quake and that lids had come off 40 of them. He said no radiation has been detected outside the facility.
A tour of the plant by Japan's Communist Party chief, Kazuo Shii, and some reporters revealed widespread damage across the sprawling compound, including large cracks in roads, toppled concrete fences and buckled sidewalks.
Repair workers climbed over a three-story transformer building, which was charred from top to bottom in a fire that burned for two hours on Monday.
TEPCO President Tsunehisa Katsumata toured the site earlier in the day, declaring it "a mess" and apologizing for "all the worry and trouble we have caused."
"It is hard to make everything go perfectly," he said. "We will conduct an investigation from the ground up. But I think, fundamentally, we have confirmed that our safety measures worked."
Across town, more than 8,000 residents hunkered down for their second night in shelters. The death toll - nine, with one person missing - was not expected to rise significantly. Most of the newer parts of town escaped major damage.
For residents, thousands of whom work at the plant, the controversy over its safety compounded already severe problems, which included heavy rains and the threat of landslides, water and power outages, and spotty communications.
"Whenever there is an earthquake, the first thing we worry about is the nuclear plant. I worry about whether there will be a fire or something," said Kiyokazu Tsunajima, a tailor who sat outside on his porch with his family, afraid an aftershock might collapse his damaged house.
The area around Kashiwazaki was hit by an earthquake three years ago that killed 67 people, but the plant suffered no damage.
The malfunctions and a delay in reporting them fueled concerns about the safety of Japan's 55 nuclear reactors, which have suffered a string of accidents and cover-ups. Nuclear power plants around Japan were ordered to conduct inspections.
The Kashiwazaki-Kariwa plant, located 135 miles northwest of Tokyo, has been plagued by mishaps. In 2001, a radioactive leak was found in the turbine room of one reactor.
The plant's safety record and its proximity to a fault line prompted residents to file lawsuits claiming the government had failed to conduct sufficient safety reviews when it approved construction of the plant in the 1970s. But in 2005, a Tokyo court threw out a lawsuit filed by 33 residents, saying there was no error in the government safety reviews.
The U.S. Nuclear Regulatory Commission requires that nuclear plants be built with the capacity to withstand the strongest earthquake to hit its site within 100 years. In a "safe shutdown earthquake," the chain reaction in the reactor stops, but the cooling system keeps running so excess heat is carried away from the core.
William Miller, a professor of nuclear engineering at the University of Missouri, said the Kashiwazaki-Kariwa plant "did what it was supposed to. It shut down."
Although its operator said there were leaks, Miller called the amounts he had heard were "so small as to be negligible."
However, David Lochbaum, director of the Nuclear Safety Project at the Union of Concerned Scientists, noted that fire and loss of power, both of which occurred at Kashiwazaki-Kariwa, are the two most likely causes of meltdowns at nuclear facilities.
From The Associated Press reports