Iffy Consumer Outlook Clouds Holiday Hiring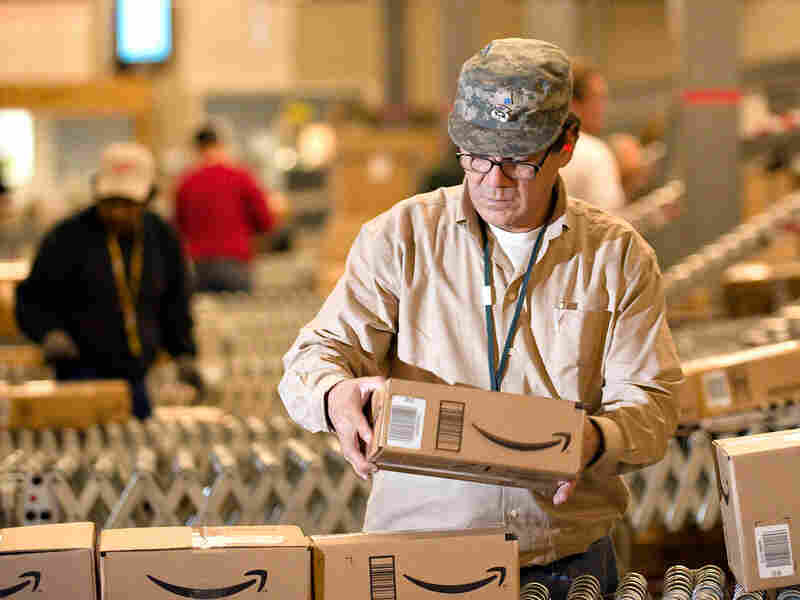 As shops and shippers brace for another potentially lackluster holiday shopping season, they face an added challenge: figuring out whether to boost their payrolls. This year, many companies are delaying their holiday hiring amid uncertainty over how much consumers will spend.
For decades, the holiday season has traditionally been a time of aggressive hiring to help with everything from customer service and checkout to gift wrapping. Catalog and online retailers need extra help with behind-the-scene tasks like stocking warehouse shelves and expediting orders.
But the deep recession knocked the wind out of consumer confidence and retail sales.
"Companies have already cut way back and therefore don't have the normal level of staffing that they might have," says Peter Cappelli, a professor of management at the Wharton School at the University of Pennsylvania. But that doesn't necessarily mean all companies will bolster their ranks for the holiday season.
The Santa Index
Ethan Miller/Getty Images
Can Santa find a job this year?
"Demand last year started to taper a little bit," says Tim Connaghan, who runs realsantas.com — one of the largest Santa booking agencies, which represents 175 Santas across the country. "I think it's continuing this year."
Connaghan, who is also known as Santa Tim, says companies have reduced St. Nick's hours by about 10 to 20 percent.
"Most of them are still finding work," Connaghan says. "They may lose a corporate party in one area, but they might pick up a family visit at a home."
Tracking Santa
Connaghan has a whiteboard with stickers on it to track the nearly 200 bookings he's already made for this holiday season. That includes a full-time Santa at Seattle's Space Needle.
Connaghan says there's less demand for Santa in Michigan. But it's a different story out West: "California real estate is off, but we're still very robust," he says. "We're getting a lot of calls and bookings."
Hourly Rates
The going rate for a Santa home visit is $150 for a half-hour and $250 for an hour. Retail Santas, who usually sign contracts for about 36 days, typically earn about $30 an hour, Connaghan says.
A Santa Degree
Connaghan founded the International University of Santa Claus several years ago. He travels around the country giving seminars that bestow a MSC — a Master of Santa Clausology — to graduates. He's had 180 students so far this year, but that's down from the 500 he taught in 2007.
-Joshua Brockman
Cappelli says it depends on the business and its margins. A restaurant may not suffer the same consequences of adding seasonal staff it might not fully utilize as will a big-box store. But uncertainty over hiring remains a common denominator for companies as they enter the holiday season, he says.
Some businesses hire seasonal employees directly, while others go through temporary-help agencies such as Manpower, Integrity Staffing Solutions or Staff Management, a division of SeatonCorp.
Mike Steinmetz, a vice president of Manpower's Midwest division, says retailer uncertainty about sales is already affecting holiday hiring.
"They're taking a wait-and-see approach," Steinmetz says. "We think they'll bring in their help slowly and then manage their help with lean teams. They'd rather hire too few than too many."
Steinmetz says this conservative approach affects employment opportunities for the holiday season. "You can imagine with the economic downturn, we certainly have a strong supply of workers that exceed openings," he says.
But labor economist Gary Burtless, a senior fellow with the Brookings Institution, says that even though overall employment continues to shrink, the temporary-help industry is seeing some improvement.
"Employers that are too risk-averse to add to their permanent payrolls are turning to temporary-help agencies and saying, 'Send over some manpower so we can fill our company's orders,' " he says.
For apparel and consumer electronics retailers, any decision to delay hiring this season could backfire.
A Consumer Reports poll found that more than 70 percent of consumers plan to shop for clothing and electronics during the Black Friday weekend that follows Thanksgiving. If customers lose patience with extra-long checkout lines and if they can't get customer service, they may head out the door to a competitor or turn to the Web to make their holiday purchase.
Scott Morris, a spokesman for Best Buy, says the company filled 25,000 store positions in the past three months and plans to make more seasonal hires this year than in 2008.
Other companies also say they're adding staff to their ranks.
Amazon, which outsources its seasonal hiring, is adding hundreds of temporary staff to more than 20 fulfillment centers it maintains across the country, says Craig Berman, a spokesman for the online retailer.
Amazon expects its net sales for the fourth quarter to increase 21 percent to 36 percent compared with the same period last year.
"We staff up to what we believe demand is going to be," Berman says. "Our goal is to ensure that we're getting items that customers buy out of the fulfillment centers and on their doorstep as quickly as possible."
Seasonal sales also have an impact on the bottom line for companies like UPS.
"We definitely think there's going to be a holiday peak season for us, and we've already begun to ramp up with employees to meet that need," says Craig Owen, corporate workforce planning manager for the shipping giant.
UPS, which does its own hiring, plans to add an additional 50,000 seasonal employees to help handle an estimated 400 million packages the company says it will ship between the Thanksgiving and Christmas holidays. The number of hires will be about 10,000 fewer than what the company projected before the recession hit.
Still, if things change, Owen says, UPS has the ability to ramp up or down fairly quickly because of its efficient hiring process.