Congress' Safety Agenda Faces Obstacles
Congress' Safety Agenda Faces Obstacles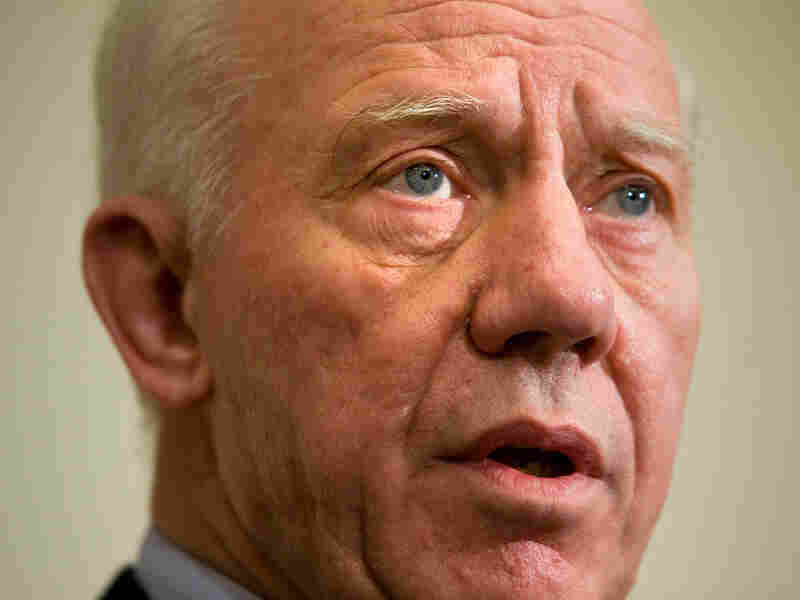 Brendan Smialowski/Getty Images
Over the years Congress has played a major role in forcing the safer design of cars. Lawmakers mandated seat belts and air bags. They spent billions of dollars to improve highways. They used federal funds to pressure states to toughen drunk-driving laws. And they've gotten results: Highway deaths are way down.
But now what? With a sour economy, spiraling deficits and automakers in trouble, the safety agenda is facing some obstacles.
1960s: From Nader To Safety Laws
Federal lawmakers took over the safety agenda for highways and cars in the 1960s. Back then there were more than 50,000 highway deaths per year.
Minnesota Rep. James Oberstar, a Democrat, was a congressional staffer at the time, on the panel he now chairs, the House Transportation and Infrastructure Committee. He says back then he — like many other people — took the design of roads, highways and cars for granted.
Interactive Timeline
"What I had then was a Ford Galaxie," Oberstar says. "It had the very minimum seat belt, just the lap belt. It didn't have the shoulder belt. Didn't have air bags. Didn't have adequate space and protection compartment between the engine and the driver. It was like so many cars of its nature at the time. It was a death trap."
Spurred by the increasing number of highway deaths, President Lyndon Johnson began signing laws requiring auto companies to include certain safety features, such as better door latches and impact-absorbing steering wheels.
But what really shook things up were revelations by consumer advocate Ralph Nader in his 1965 book Unsafe At Any Speed. In it, Nader dissected the design of the Chevy Corvair and put a spotlight on the auto industry's disregard for safety. A scandal ensued when it was discovered that General Motors had put private investigators on Nader's case to discredit him.
The public outcry encouraged lawmakers to pass the National Traffic and Motor Vehicle Safety Act in 1966 and the Highway Safety Act the next year. The laws set up new agencies to monitor safety data, issue regulations and mandate changes in auto and highway design. Congress would use the power of the purse to withhold highway infrastructure funding to get states to comply. The federal government would be able to demand everything from rumble strips and a 55-mile-per-hour speed limit to seat belts with shoulder straps in all new cars.
States Leave Safety Off The Agenda
Some describe this era as a golden age for the safety agenda, when Congress and the executive branch were on the same page. Some longtime safety advocates disagree.
"It wasn't a golden age," says Joan Claybrook, former president of the consumer advocacy group Public Citizen. "I mean, I was there. It was touch and go as to whether or not that legislation was going to get passed."
During the Carter administration, Claybrook was appointed head of the National Highway Traffic Safety Administration. She says states often objected to the imposition of federal mandates.
Even today, she says, many states lack laws allowing police to address seat belt violations. At one point, NHTSA was banned from lobbying states directly to pass new laws. More recently, the auto company bailouts appeared to leave safety off the agenda. New green fuel safety standards got the attention of Detroit, but the government's speedy bankruptcy process freed the auto companies from pending product liability suits.
"The disadvantage right now is that the auto companies are still struggling in Detroit to find their feet and get back into profitability," Claybrook says. "And there is a shortage of cash and those two things are major disabilities."
Oberstar: Safety Not Off The Radar
That's a shortage of cash in the states, which often carry out new safety mandates, and a shortage of federal cash to help them. Federal transportation and highway safety laws are set to expire at the end of this year. A bill to renew their funding is stalled in part because lawmakers fear they may have to raise gasoline taxes to cover the costs; there's little appetite for having that debate during midterm elections.
But Transportation and Infrastructure Committee Chairman Oberstar insists that safety has not fallen off the radar.
"The democratic process is messy, to be sure," he says. "There are forces for and forces against every initiative in safety that I have observed in 40 years. But in the long run the forces for safety have prevailed."
Despite reluctance from some on Capitol Hill, Oberstar says he is pushing a six-year, $500 billion transportation reauthorization bill. It would add money for highway safety programs, force transportation agencies to form a joint safety council and set a long-term safety agenda.