Nontraditional Thanksgiving Stories Shared
Listeners were asked to share their nontraditional Thanksgiving traditions. A family that watches Star Wars, one that e-mails poetry to each other in the weeks before Thanksgiving, and listener Becca Hutchinson, who makes sure to drop a brussel sprout to the floor before returning it to the serving dish, share their stories.
MICHELE NORRIS, host:
From NPR News, this is ALL THINGS CONSIDERED. I'm Michele Norris.
MELISSA BLOCK, host:
And I'm Melissa Block.
A few weeks ago, we asked you, our listeners, to share some nontraditional Thanksgiving traditions with us, special family rituals that have become part of the holiday, and boy, did we get stories.
(Soundbite of film, "Star Wars")
(Soundbite of holo-projector)
Ms. CARRIE FISHER (Actor): (As Princess Leia Organa) Help me, Obi-Wan Kenobi. You're my only hope.
Mr. MARK HAMILL (Actor): (As Luke Skywalker) What's this?
(Soundbite of R2-D2)
Mr. ANTHONY DANIELS (Actor): (As C-3PO) What is what? He asked you a question. What is that?
Ms. FISHER: (As Leia) Help me, Obi-Wan Kenobi.
BLOCK: The force will be with Kate Baumgardt(ph) and her family in Palmerton, Pennsylvania, on Thanksgiving tomorrow. It's a habit they started in 1995, after their big meal.
Kate writes: We decided to watch the entire "Star Wars" trilogy while we digested. We did the same the following year and the one after that. Before we knew it, our friends were spending all Thanksgiving in my parents' basement, watching the films.
As time went on, people married, more films were made, but we are still there, en masse, watching as many of the films as we can, crowded but content.
(Soundbite of music)
NORRIS: The tradition for Nancy Feehrer's(ph) family in Massachusetts has gone from bad to verse. Every year, family members of all ages exchange Thanksgiving poems. Some weave in current events, kids may write about the nasty food tricks at the children's table.
Ms. NANCY FEEHRER: They started about six years ago. My brother-in-law gets a coupon for a free turkey every year from his work, and one year, the turkey coupon was late in coming and we didn't know whether we should purchase the turkey, if we were going to miss out on turkeys altogether if we waited, and all these emails were flying back and forth, and then at some point, Scott(ph) turned his into a poem, and that's what set us off.
NORRIS: By tomorrow, the Feehrers will have printed out more than 30 poems from this year, including this one inspired by our phone call, read by Nancy's mother-in-law, Barbara Feehrer(ph).
Ms. BARBARA FEEHRER: (Reading) Oh dear, Mandalit(ph), our innocent little poetry game has led to a moment of fame. Thanks to the VonHoffman(ph) bird, who initially spawned all these words, we're now to become stars, ALL THINGS CONSIDERED, NPR? Pull out your red pens, lest the family be in for a fall.
The holidays are coming fast now, pies to bake, leaves to rake, and before long, that snow to plow. Now, of course, these rhymes to make. We're grateful for our 15 minutes and for dear Nan, who got us in it.
BLOCK: It was a dog named Chloe(ph) who inspired this next unusual family tradition. Becca Hutchinson(ph) of Wilmington, Delaware, stepped up to confess. The ritual involves a wayward green vegetable.
Ms. BECCA HUTCHINSON: Every Thanksgiving that we have Thanksgiving dinner at my mother's, my brother and I make sure to cook Brussels sprouts and drop one on the floor before putting it back in the pot.
BLOCK: Intentionally, you're dropping it on the floor.
Ms. HUTCHINSON: Intention, yes.
BLOCK: And why is that?
Ms. HUTCHINSON: Well, the tradition comes from childhood, when a sprout mistakenly fell to the floor and was bitten into by our dog before I deliberately put it back into the dish, slobber and all, and carried it to the table.
BLOCK: You put it back in the dish because you wanted somebody to have to eat that thing?
Ms. HUTCHINSON: I did. I was hoping my brother would get it, but he didn't, and actually, by the time the dish made its way around the table back to me, the sprout was still in it, the tainted sprout, and it was one of two or three left, and I later learned that everybody at the table knew about it and could see the tooth marks, but I didn't know that they knew about it.
BLOCK: That Brussels sprout, with the slobber and the tooth marks, would have contaminated the entire dish, Becca, right?
Ms. HUTCHINSON: You'd think it would contaminate the whole dish, but sprouts are pretty integral. They're not, like, spinach. You know, they kind of keep their shape and they're all molecules to themselves.
(Soundbite of laughter)
BLOCK: Well, that's your story, and you're sticking to it.
Ms. HUTCHINSON: That's my story, and I'm sticking to it.
BLOCK: So now, the tradition is alive. You drop a sprout on the floor, put it back in the dish and don't tell anybody.
Ms. HUTCHINSON: We do.
BLOCK: So somebody's eating that sprout.
Ms. HUTCHINSON: Yes, somebody's eating that. We live dangerously in my family. We're dog lovers, and I guess we don't really care.
BLOCK: Or you have a very clean kitchen floor.
Ms. HUTCHISON: Not really.
(Soundbite of laughter)
BLOCK: That's Becca Hutchinson of Wilmington, Delaware, talking about her family's tradition of dropping one Brussels sprout on the floor and then returning it to the serving dish.
We'll have more nontraditional Thanksgiving traditions sent in by listeners on the program tomorrow and Friday.
NPR transcripts are created on a rush deadline by Verb8tm, Inc., an NPR contractor, and produced using a proprietary transcription process developed with NPR. This text may not be in its final form and may be updated or revised in the future. Accuracy and availability may vary. The authoritative record of NPR's programming is the audio record.
Thanksgiving Traditions: From Bad Poetry To Pinatas
A few weeks ago, NPR asked listeners to share some nontraditional Thanksgiving traditions — special family rituals that have become part of the holiday. Listeners shared some surprising ones — from coming up with bad poetry to breaking pinatas to an all-you-can-eat slider contest at White Castle.
---
Drop The Brussels Sprout
Whenever my brother and I have Thanksgiving at my mother's, we cook brussels sprouts together and make sure that one lands on the floor before putting it back in the serving dish.
Listen To The Stories On 'All Things Considered'
Nontraditional Thanksgiving stories, Pt. 3
The tradition stems from childhood, when our dog sank her teeth into an errant sprout that had been dropped on the floor mistakenly and put — deliberately, by me — back into the dish, slobber and all.
I was hoping my brother would get it — he didn't — and by the time the bowl made its way around the table back to me, the tooth-marked sprout was still in it, rolling around at the bottom, one of two or three left.
As it turned out, everyone at the table knew about the taint and [they] were waiting for me to blow myself up with my own firecracker. We still laugh about it and honor the joke more than 20 years later.
—Becca Hutchinson, Wilmington, Del.

---
A Charlie Brown Thanksgiving
After an elaborate midday meal we prepared from scratch, our family has had the tradition for many years of having Charlie Brown Thanksgiving as our evening meal. This started when our kids (now 15, 13, & 11) were very small and we to this day re-create the meal prepared by Snoopy and Woodstock for Charlie Brown and his friends in the iconic Peanuts holiday special: jelly beans, pretzels, toast and popcorn. After spending several days in the kitchen baking and cooking and consuming a rather large feast, Charlie Brown Thanksgiving is a treasured and welcome finale to one of our family's favorite holidays.

—Kim Krzywy, Durham, N.C.

---
White Castle Sliders Contest
Since 1991, when I was a high school sophomore, my closest friends and I went to White Castle after Thanksgiving dinner at our respective homes on Long Island [New York]. Every year we competed on how many "sliders" each of us could eat. I think it started as a bit of adolescent irony, but over the years it became an annual pilgrimage that pulled in friends, spouses and even in-laws. This year we will test whether our 19-year tradition will withstand the arrival of children and — let's face it — our aging stomachs.

—Gene Koo, Washington, D.C.

---
Bad Poetry
When the calendar turns to November, our family and extended family turns to poetry. We exchange silly, odd, funny Thanksgiving-themed verse via e-mail right up until the holiday. I then print and bind the year's poetic offerings and have them available to enjoy at the feast.
Here's a nibble of the ... ahem ... "poetry," written by Grandma. (Keep in mind this was written last November.)
OH, there you go again!
Each holiday now we await
both the (bad) poetry and the plate...
be it limericks or iambic feasts,
roasted turkeys or rare roast beasts.
Now look!
In spite of the market bulls or bears
Approaching this year, there's much to cheer:
Good health all around, blessings abound.
Where we might have had trauma and pain
(think: Ms. Palin and Mr. McCain!)
Instead there's Obama and Joe...
so raise your glass, go with the flow.
What's coming next, only GOD knows!

—Nancy Feehrer, Westford, Mass.

---
Cookie Day In The Garage
Lebkuchen Recipe
2 eggs
1 C sugar
1/2 C candied orange peel finely chopped
1/2 C candied lemon peel finely chopped
3 C flour
1 t cinnamon
1 t cloves
1/3 C honey
1/4 C oil
1 C finely chopped filberts (hazelnuts)
1/2 t allspice
1/2 t soda or baking powder
1/3 C rum

Beat eggs and sugar, add oil and honey, then nuts and peel and mix well. Sift dry ingredients and add to create a stiff dough so will need to be mixed by hand. Add rum and mix. Roll out and cut. Chill dough first if desired. Bake on greased cookie sheet at 350 degrees for 10 minutes (or to your liking — soft or crispy). While warm, ice with powdered sugar icing flavored with rum.
My wife was born in 1959 in Augsburg, Germany, where her parents were stationed with the Army. For two years, they rented an upstairs room from a local family. When they left to return home the woman gave her family recipe for lebkuchen cookies to my mother-in-law as a parting gift.

My wife and I began dating in high school and that's when I began taking part in her family tradition of baking lebkuchen cookies on the Saturday after Thanksgiving. As we married and my wife's two siblings married, the tradition grew, then with six grandchildren, and their friends, it grew even more. "Cookie Day" became quite an event and quite a mess — so 20 years ago, we moved it to my two-car garage.

Every year, I clean my garage and transform it into a bakery complete with an extra stove. Over the years, it's been fun to always improve our one-day production and a joy to see the kids and even their friends look forward to it. Extended family travels for miles to join in the fun. Rare is the time when anyone in the family has missed Cookie Day.

There are routine jokes about the "special water" my mother-in-law uses for the frosting, flower fights and decorating contests. Each year, we bake around 1,500 cookies — most of which are given away in decorative tins as Christmas gifts.

At the end of the day, we put everything away and I hose the flower and frosting out the garage that for days will smell of cookies. Then [I] look forward to next year.


—Brian Merrell, Lee's Summit, Mo.


---

Anything But Turkey

Every year we have an ABT party on the weekend after Thanksgiving. ABT stands for Anything But Turkey. It gives our friends the chance to swap leftovers or share a special dessert. One family's leftovers turn into another family's treats. It's a time to grill steaks or roast oysters to add to the spread. And if it happens during a University of South Carolina game, we call it an indoor tailgate party, too. An extra bonus is when we print out the recipes we are sharing. This gives our friends a chance to spend the actual holiday with their families — and still come together for a feast.


—Linda Shirley Reed, Columbia, S.C.


---

Pass The Spoon
The origins of "Pass the Spoon" are unknown to me. I only know that we continue playing it with a strange sense of daring, as if we are going to get caught, or become "the chosen one."

Pass the Spoon is a game played with the all of the Thanksgiving guests right after the gathered group has finished dinner (pre-dessert) and the food remaining on their plates has turned into scattered debris. The person to start the game is also the loser from the previous year. This person is given a fresh serving spoon upon which he places a piece of food from his ravaged plate. The spoon is passed to the person next to him or her and food is placed ever so carefully on the spoon. It continues to get passed in this manner. Food piles up on the spoon, creating a precarious load of disgusting gruel. This is the critical point of the game. Should a piece of food fall off the spoon on your turn, you must consume the remains of the spoon's content to the chanting and clapping of the savages with whom you just ate Thanksgiving dinner.

One eats the heaping mound of once tasty morsels with gagging disgust and wonders why this game exists. It is at that moment we all decide to forgo this tradition ... until next Thanksgiving.


—Mary Weberg, Denver


---

The Family Quiz

On Thanksgiving at the Terreberry household, we have a family quiz. All the questions are based upon the lives of the family members since last Thanksgiving — sometimes there are archival items from old quizzes, or questions based on new information learned about ancestors. A question might have to do with new jobs, new apartments, babies, weddings, etc. Some questions are straightforward and some are humorous or the question is a puzzle. If someone isn't home for Thanksgiving, the quiz is e-mailed to him and then he is on speakerphone with the rest of the gathered and we "correct" it together. Lots of fun. It's a way to keep us all current about the others' lives.


—Bob Terreberry, Maple Springs, N.Y.


---

Watching Star Wars

As children in the '90s, my family had a lot of time on our hands after our 1 p.m. Thanksgiving dinner. One year, we decided to watch the entire Star Wars trilogy while we digested. We did the same the following year, and the one after that. Before we knew it, our friends and the friends of my siblings started spending all Thanksgiving evening in my parents' basement watching the films. As time went on, people married, more films were made, but we are still there, en masse, watching as many of the films as we can, in front of a roaring fire, on borrowed chairs, crowded, but content.


—Kate Baumgardt, Palmerton, Pa.


---

The Singalong

Our family Thanksgiving tradition is a singalong to Arlo Guthrie's "Alice's Restaurant," in "four-part harmony and with feelin'."


—Maureen Buri, Cincinnati


---

The Thanksgiving Day Test

Not every family gathers on Thanksgiving with pencils and paper, ready and anxious, even, for the annual Thanksgiving Day TEST! Some years ago, just before Thanksgiving, Reader's Digest had a geography quiz in their magazine. I took it and failed so miserably, I was shocked! Misery loves company so I printed it out and made everyone in my family take it to see if I was the only one miserable in my ignorance! From that day forward, we have a test every single year. We pass the responsibility around the family and the topics have ranged from politics (usually good in an election year) to the state of Washington, to Central Asia topics as varied as our family. The only prize for having the most correct answers, bragging rights for an entire year! Oh ... and Aunt Bonnie's french fried sweet potatoes, another tradition, most likely only in our family.


—Patricia McClements, University Place, Wash.


---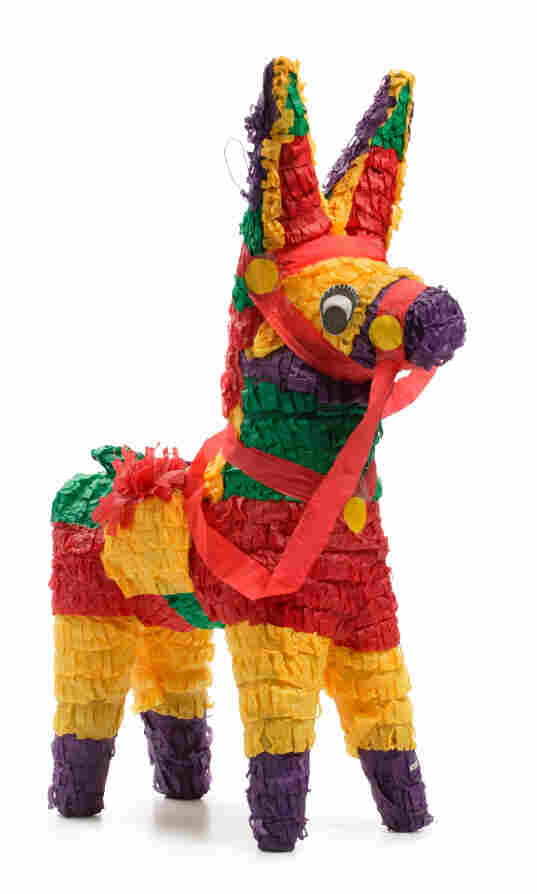 Break The Pinata

I know it sounds a little crazy, but one of my family's Thanksgiving traditions is a pinata.

Pinatas have nothing to do with Thanksgiving, of course. But one year, we had such a great time at our daughter's birthday party we forgot about the pinata. It sat in our dining room, neglected, for months, and then, on a whim, I took it with us to my cousin's house for Thanksgiving.

The little kids had a wonderful time whacking at the pinata that hung from the old mango tree. The pinata was filled with toys, and everybody — kids and adults — got involved playing with the yo-yos, parachute men and other small games.

What a wonderful way to add to our tradition — and to get outside after our delicious turkey dinner, and move around, and to enjoy and be thankful for our beautiful children and their joy and laughter.

I decided then and there to bring a pinata to Thanksgiving dinner each year.


—Leslie Lang, Hilo, Hawaii


---

The Grapes Of Wrath

My husband's mom and dad lived on a small farm in Southwest Missouri during the Great Depression, and my husband was born in 1940 just following the Depression. They took in a young woman who had left her migratory worker family during the early 1930s. Life in Southwest Missouri was pretty hardscrabble for all of them, but they always said, "Things always got better."

Our Thanksgiving Day tradition is to watch the movie The Grapes Of Wrath between the meal and dessert. It reminds us of the struggles of others and makes us appreciate our many blessings!


—Kaye Assenmacher, Kinsale, Va.


---

Coffee, Muffins On The Birdsong Trail

We have a group of extended family who gets together each Thanksgiving morning. Before our family obligations take us in every direction, we gather at a local park and hike its Birdsong Trail, feeding sunflower seeds to the chickadees and nuthatches along the way. Halfway down the trail are several benches, and we always stop there for coffee, hot chocolate and muffins, brought in backpacks to ease the often wintry chill. This group has been gathering each Thanksgiving for nearly 30 years. People come and go, kids and even grandkids are born, and still a core group continues to meet — "to feed the birds before we eat the bird," as some cynic points out every year.


—Robyn Rime, Naples, N.Y.


---

Thanksgiving Follies

For 15-plus years we have hosted "Thanksgiving Follies" for the neighborhood kids and friends. The morning event starts with the "doughnut bob" in which we hang doughnuts on strings from the rafter of the front porch. The kids have to put their hands behind their backs and race to eat their doughnuts. The bob is followed by sack races, three-legged races, etc., to burn off energy in anticipation of the feast held later at another neighbor's house. The best part for me is the photos and videos taken over the years showing the kids (and adults!) as they have grown and changed. Every time I say that everybody is too old this year, the kids (some now out of college and married) insist we continue. There is a traveling trophy for winner of the most events and a traveling tiara for the winner of the bob.


—Lisa Sommer Devlin, Phoenix


---

Riding Amtrak

Some years ago, I had the idea of gathering family that is spread across Southern California, but without expecting anyone to shop, clean, cook, serve, clear, wash up or drive. I chose a restaurant in a central location on the Amtrak line, and told everyone to take the train and meet for lunch on the Saturday afternoon two days after Thanksgiving.

Many of us had not crossed paths for years. We each had our usual Thanksgiving dinner, and two days later all of us sat together in a private dining room and had a relaxing visit while someone else cooked and served us. It was incredibly peaceful, and instantly became an annual tradition.


—Phyllis Elliott, Santa Monica, Calif.