Go Ahead, Sing Along: When Television Is Karaoke
Go Ahead, Sing Along: When Television Is Karaoke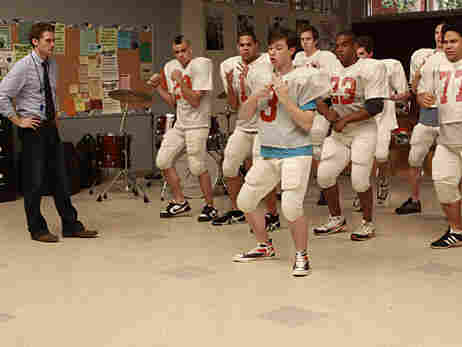 Turn on the television and you might want to sing along with something familiar. The hit show Glee is about high school kids singing Top 40 songs in their glee club. And now half a million people have bought the show's version of Journey's "Don't Stop Believing."
There's an easy, built-in irony when a bunch of outcast kids can bring such sincerity to songs that may once have seemed all played out. There are also some basic economics at work: It's generally cheaper to license the right to cover a song than it is to use the original recording. That's especially appealing to TV shows working on a limited budget.
But that's no excuse for the toothless lounge versions on ABC's Dancing with the Stars. So how do you make a song shine like new?
Glee's got a winning formula. To truly stand out, you need a song people already know — if it's too obscure, it won't ring the right bells. It has to transform the original without reeking of a karaoke knockoff.
Take American Idol, for example, a show created to discover the chart toppers of tomorrow by making them sing the hits of yesterday. When Adam Lambert sang "Mad World" on this year's Idol, it harkened back to Gary Jules' morose take for the 2001 film Donnie Darko and also to the Tears for Fears original from 1982. Lambert's version went to No. 19 on the Billboard Hot 100, higher than either of its predecessors.
This recycled approach is as old as the music industry. For decades, Billboard combined the sales of all versions — so the more singers who took on a song, the better the chance of having a No. 1 hit.
They did it in films, too. When Singin' in the Rain opened in 1952, there wasn't a single original song in it. The movie was advertised as a vehicle for "the songs you like" — a blatant appeal for the same kind of hand-me-down nostalgia that's fueling Glee's sales today.
Falling for the cover of a song you long ago wrote off can be a little embarrassing — but we're all hard-wired to have a soft spot for the familiar. Just consider it an encore.