Even Obama's Supporters Question His Afghan Plan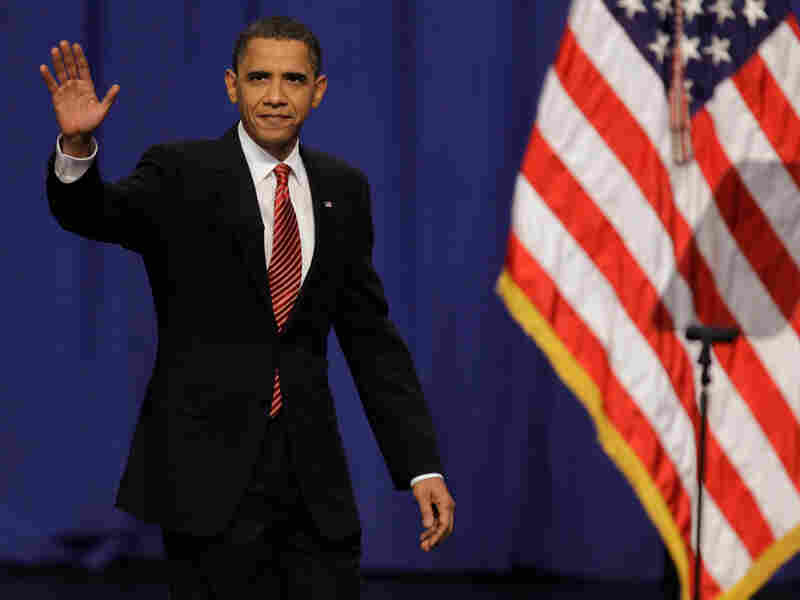 More On Obama's Afghanistan Decision
Many of President Obama's most earnest — and early — supporters on Capitol Hill and beyond have bluntly questioned his decision to commit an additional 30,000 troops to an eight-year-old war that has strained the nation's coffers and its military.
The political fallout over Obama's plan began days before his speech Tuesday night, as leaked details about his Afghanistan war strategy rattled liberal Democrats even as they won him praise from Republicans.
"Look, I'm a big fan of the president, but my fear is that we're getting sucked into a war with no end," says Rep. Jim McGovern, a Democrat from Massachusetts. "I think this is a mistake."
Some Democrats, including Sen. Russ Feingold of Wisconsin, were publicly contemplating ways to block funding for Obama's troop request.
But no one is predicting that his own party would deny the president the assets he needs to wage the war he wants.
As Sen. Ben Nelson, a Nebraska Democrat, put it when asked if he would support the president: "There's no reason not to."
Top Republicans like Sen. John McCain of Arizona also say they support the surge, though they have pushed back on any plan for a specific timeline for withdrawal.
But that doesn't mean that Obama won't get roughed up in weeks leading up to a congressional vote on war funding, expected in the spring. Or that liberal activists won't put up primary candidates next year against Democrats who support the troop increase.
"The president's proposal for escalation is going to hit rough waters," says Tom Andrews of Win Without War, a liberal group opposed to increasing troop levels. "There's going to be a very serious battle ahead over the question."
On The Hill
Feingold may be among the most outspoken opponents of the surge, but many other Democrats were making their reservations known, too, more quietly and some privately.
Pablo Martinez Monsivais/AP
"Congress isn't there yet," said Democratic Sen. Bob Casey of Pennsylvania when asked about the president's strategy. "We need to be very thoughtful about this," he said, calling for hearings and floor debate on the surge plan. "We have to get this right."
Concerns about the cost of the war have already prompted legislation calling for a war surtax and suggestions that war bonds be sold, though neither are currently considered politically viable.
Senate Majority Leader Harry Reid has expressed support for the president's plan, though House Speaker Nancy Pelosi has in the past warned that her members are not inclined to endorse further deployments.
Earlier this year when the House approved funds for the 21,000 troops Obama asked for at the time, Pelosi promised it would be her last war funding request — a promise she now can't keep.
A top Democratic House aide said Tuesday that "many members have a lot of concerns," pointing out that even California Rep. Jane Harmon, an influential Democratic voice on defense issues, has said that at this point she would vote against the surge.
If the vote for additional war funds were held today in the House, the aide said, majority Democrats would have trouble passing it and would have to rely on a lot of Republican votes.
That, however, could change if the president makes a persuasive case leading up to the vote.
Pablo Martinez Monsivais/AP
Concerns About Military
Rep. Walter Jones of North Carolina has been one of the few Republicans to speak out against an Afghanistan troop increase. He says he believes the military is already stretched too thin.
"We're about to wear out and break the military," said Jones, whose district includes the Marine Corps' Camp Lejeune.
A similar concern was expressed Tuesday by Jon Soltz, who heads the progressive veterans group Vote Vets.
With the need for more troops, Soltz asks, what happens to the new administration's promises that included ending the Bush-era policy of involuntarily extending service members active-duty service?
"Is he going to have to renege on this stuff?" Soltz said.
His group, he says, is not opposed to military action in Afghanistan but wants a defined mission and an Afghan government that can be trusted.
Opinion: Is Obama Getting It Right?
"We support the mission in Afghanistan, to attack al-Qaida in a limited scope — not protecting the Afghan government or nation-building," Soltz says.
War President
In a 2007 speech when he was running for president, Obama characterized Afghanistan as a war that had to be won. And he pledged to commit two brigades to the effort if elected, which he did earlier this year.
Democratic political strategist Karen Finney says she has taken to reminding people that Obama had made that public commitment to winning in Afghanistan two years ago.
"I understand why people are weary of war," she said. "On the other hand, this is exactly what the president said he was going to do."
This will be his biggest test of leadership, she says, one that should necessarily involve him telling the American people what many of them don't want to hear.
"This is a legacy issue — he will own the strategy in Afghanistan, and he knows it," Finney says.
"The challenge for the Democrats in 2010 midterms will be to have a narrative for the American people about what Democrats are trying to accomplish, and Afghanistan has to fit into that narrative," she said.
Pollster David Paleologos of Suffolk University in Massachusetts is among those who say they believe Obama can begin to write a war narrative that will actually help his party next fall.
The president's plan, says Paleologos, provides an exit strategy that helps Democrats who may face challengers, and "he covers himself with independent voters by saying we're going to finish the job we set out to do and leave with honor and dignity."
Of course, history has shown that no matter how deft, a president can only control so much of a war narrative.