Comcast-NBC Deal Raises Antitrust Concerns
Cable giant Comcast's deal to buy NBC Universal faces a long regulatory review. It is likely to be approved only after Comcast makes some concessions. Jim Speta, professor of law at Northwestern University School of Law, discusses the antitrust implications of the deal.
MELISSA BLOCK, host:
Assuming the deal goes through. Well, to talk more about the potential hurdles, I'm joined by Professor Jim Speta. He specializes in telecommunications law at Northwestern University Law School. Professor Speta, welcome to the program.
Professor JIM SPETA (Telecommunications Law, Northwestern University Law School): Thank you.
BLOCK: You now have Comcast, the largest cable operator, one of the largest Internet service providers, who will, if this goes through, own one out of seven television channels. Is that a big threat to competition, do you think?
Prof. SPETA: Well, that will be the first question that the regulatory review will look at. The antitrust authorities will ask whether there's decreased competition in any market. The argument will be even if there's a consolidation of so many channels, where else do consumers look for to get entertainment and information?
BLOCK: What else would the regulators be looking at as potential obstacles here?
Prof. SPETA: Well, they'll be looking at both the content market and the distribution market. As your reported noted, the players are significant players in each of those two markets. And so they'll look at whether the combination reduces competition either in those markets or to competitors in those markets.
BLOCK: And what would be an example of how they might do that?
Prof. SPETA: Well, for example, Comcast's content properties include some very important regional sports networks. And historically regional sports networks have been very important to whether people take up particular kinds of cable subscriptions or direct satellite subscriptions. And so the question will be: If the content and the distribution are combined in this scale could the combined company disadvantage other cable companies or satellite companies or even telephone companies?
BLOCK: I guess another question here would be, could Comcast give its own content, say, an NBC program or a Universal movie priority if people are going to view it using Comcast Internet or cable service?
Prof. SPETA: That's exactly the flip side and both sides of that question will be examined. And, in fact, the antitrust authorities and the Federal Communications Commission has looked at just this question in previous combinations of content providers and distribution companies. For example, in the News Corp-Direct TV merger or in the AOL-Time Warner merger, which of course is in the process of being undone.
BLOCK: And what did they find when they looked at those?
Prof. SPETA: Well, in both of those situations, the Federal Communications Commission imposed some requirements on the companies that essentially they deal fairly with their competitors with respect to content and distribution. In fact, this morning, Comcast released four pages of conditions that they proposed to the regulators that follow basically the blueprint that the FCC set up in those earlier mergers.
BLOCK: Is this of an order of magnitude greater than the other examples that you mentioned? I mean, one critic of this talked about it being the most important merger since Lucy met Desi today.
Prof. SPETA: I do think this is the communications merger of the decade and it is on a scale different from and bigger than the previous mergers. The big question in media these days is not just traditional forms of channels, of cable programming or even of broadcast programming, but of also all of the content available outside of those distribution medias, like through Internet video. And so the marketplace is changing. This may be a bigger deal in traditional television and cable television. But whether it's a bigger deal in the media marketplace is sort of where all the action is for the regulators.
BLOCK: And in the end, do you assume the regulators will look at this, ask questions, but ultimately approve it?
Prof. SPETA: I believe that ultimately, and this is just my personal opinion, ultimately it will be approved with some conditions. Earlier today, one of the FCC commissioners, Michael Copps, who has had a very longstanding concern with media consolidation issued a statement in which he said that it would be, quote, "a very steep climb" for him to reach approval of the merger. So I think there will be an extended regulatory review process. My personal belief is that eventually it will be approved.
BLOCK: Professor Speta, thanks for talking with us.
Prof. SPETA: Thank you.
BLOCK: That's Professor Jim Speta. He teaches telecommunications law at Northwestern University Law School.
NPR transcripts are created on a rush deadline by Verb8tm, Inc., an NPR contractor, and produced using a proprietary transcription process developed with NPR. This text may not be in its final form and may be updated or revised in the future. Accuracy and availability may vary. The authoritative record of NPR's programming is the audio record.
Comcast To Buy 51 Percent Stake In NBC Universal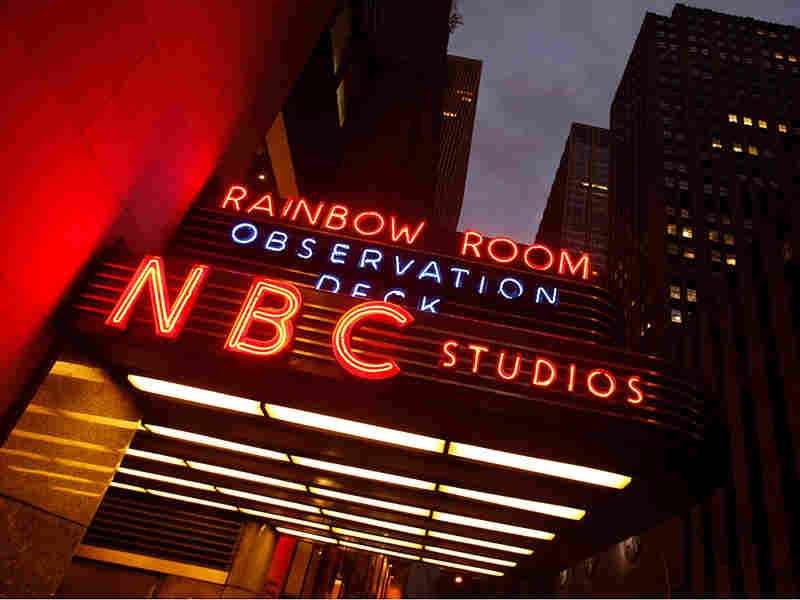 Comcast announced early Thursday that it will buy a controlling stake in NBC Universal in a deal valued at roughly $30 billion, setting up the Philadelphia-based cable company to achieve its ambition of becoming one of the nation's most powerful entertainment companies.
Comcast is not only the nation's top cable provider, serving about 24 million households, but is also one of its leading broadband Internet providers, with nearly 16 million subscribers.
Assuming the deal passes regulatory review by federal agencies, Comcast will acquire the struggling NBC broadcast network, the movie studio Universal, 10 local stations, the Spanish-language Telemundo channel, and cable channels Bravo, CNBC, MSNBC and SyFy. In addition, it will take control of NBC's stake in the entertainment Web site Hulu, which provides high-quality online movies and TV shows — currently at no cost.
The deal for a 51 percent stake in NBC Universal involves relatively little cash, as General Electric would receive about $6.5 billion. Instead, Comcast is contributing its regional sports and news networks, as well as its cable channels: the E! entertainment and gossip channel, the Golf Channel and the sports channel Versus.
Heard On NPR
Media
Comcast-NBC Deal Raises Antitrust Concerns
"With this transaction, I believe our company is strategically complete," Comcast Chairman and CEO Brian Roberts told investors in a conference call this morning. "We believe that we have put together with GE a smart and elegant structure that aligns our interests and unlocks value in our programming assets."
Roberts hardly alluded to the NBC network in his initial remarks, repeatedly citing the strength of the NBC Universal cable channels as the engine driving the deal. He said consumers could expect to enjoy entertainment in new ways from the new joint venture.
"We think the combination of both is going to be a winner for our shareholders and our customers," Roberts said.
Comcast had failed several years ago in its effort to take over ABC and its parent company, the Walt Disney Co. But analysts say Comcast is well poised to make this purchase, as it is carrying relatively little debt and is acquiring cable properties that are providing significant annual revenues and profits.
"There's an interesting intersection between content and distribution that Comcast has always hoped to capture in a bottle," says Craig Moffett, senior cable satellite and telecommunications analyst at the investment company Sanford C. Bernstein. He pointed to video on demand, in which Comcast has been a leader. It could push to make movies from Universal studios available on demand the same day it they hit theaters.
In addition, Moffett said Comcast could pose a threat to rival cable giant ESPN by blending its regional sports and cable sports channels, and the programming of NBC Sports in football, golf and especially the Olympics.
But Moffett pointed out that the Comcast deal involves ignoring a recent history of big media mergers. The AOL-Time Warner deal is now widely seen as having been a disaster.
"I've always been skeptical of whether there's any there there in the concept of vertical integration," he said. "It's been tried by Time Warner and others and not with very much success.
"At its heart though, Brian Roberts and Comcast see this as an attractive opportunity to buy an interesting set of assets," he added. "While I don't want to discount the vertical integration opportunities, there's a lot of this that has the smell of simple diversification — that is, they're buying a business that they happen to like."
Advocates and opponents alike say the role the new Comcast would play in the media landscape cannot be understated. A combination means the company will own a significant piece of the nation's entertainment, news and possibly sports programming on the local and national levels — both on TV and online, free and for a fee.
As a result, the deal is expected to go through lengthy regulatory review, both from the Federal Communications Commission and from the U.S. Department of Justice's antitrust division.
Ben Scott, the policy director for the public interest group Free Press, said Comcast would hold too much power over entertainment and TV news by controlling both significant content and the means by which it is delivered to viewers.
"In the case of Comcast and NBC, the combination of these two players who are both amongst the largest of their type in the industry is unprecedented," Scott said. "They will have an unprecedented grip of market dominance on those three sectors: Internet service, broadcasting and cable."
Free Press is among the many advocacy groups seeking to get regulators to block the union.
"That kind of control of the industry is very worrisome to us," Scott said. "We think it runs afoul of antitrust standard and certainly runs afoul of public interest standard in communications law."
Scott asked whether viewers might find themselves unable to watch TV programs or movies owned by NBC Universal if they didn't subscribe to Comcast's cable or broadband Internet services in areas where they are available.
And he raised additional scenarios. NBC is one of the key owners behind Hulu, the entertainment Web site where people can watch high quality streams of network and cable shows and movies. It is expected to put some of its material behind a pay wall. So Scott asks whether Comcast's broadband service might slow downloads or streams from competing online entertainment services, such as Netflix. Conversely, Comcast could charge rival cable companies more to carry content from NBC Universal's popular cable channels — a cost that might be passed along to subscribers.
Comcast took pains in Thursday's announcement to underscore what it said were protections being offered to viewers that most of its content would be available for free and that non-Comcast customers would not be prevented from seeing its newly obtained programs.
The deal was forged over months of negotiations between GE Chairman and CEO Jeffrey Immelt and Comcast founder Fred Roberts and his son Brian. It hinged on GE buying out the 20 percent stake of its previous minority partner, the French conglomerate Vivendi, for $5.8 billion. And while GE retains a 49 percent stake in the company, it is expected to sell it off in coming years.
GE has been hit hard by the recent credit crunch. Immelt had acknowledged that television was not a core business for the financial and engineering conglomerate. NBC has not been able to rouse itself from its fourth-place finish in prime-time networks, despite the strength of NBC News. And he decided it was not worth the distraction.
NBC Universal Chairman Jeff Zucker will stay on to lead the entertainment venture and will report to Comcast's chief operating officer, Steve Burke.
In a memo to NBC employees, Zucker wrote, "In this joint venture we will have a new parent that is a pure media company with an unsurpassed distribution business. And they are committed to growing and investing in NBCU."