Key Players In Iran's Post-Election Unrest
Iranian President Mahmoud Ahmadinejad was declared the winner of the June 12 presidential election. The results were disputed, however, by Ahmadinejad's main rival, Mir Hossein Mousavi, who also claimed victory. Mousavi's call galvanized Iran's pro-reform movement, which took to the streets for days in protest. Ultimately, however, Supreme Leader Ayatollah Ali Khamenei backed Ahmadinejad, and a massive crackdown was organized against the anti-government protesters. Here are some of the key players in Iran's post-election unrest:
Mahmoud Ahmadinejad
Ahmadinejad is serving his second term as president. The 53-year-old leader first won office in August 2005 with 62 percent of the vote; in June 2009, Iranian officials announced a similar landslide win, but the margin of victory and the speed with which the announcement was made led to massive protests. In the West, Ahmadinejad has been branded a divisive and hard-line figure, notably for his refusal to back down on Iran's nuclear program, and for speeches against the U.S. and Israel.
Behrouz Mehri/AFP/Getty Images
Ayatollah Ali Khamenei
The 70-year-old cleric is Iran's Supreme Leader, whose decision in all matters is final. He succeeded Ayatollah Ruhollah Khomeini, the founder of the Islamic Republic, in 1989. He served as president between 1981 and 1989. As president, he clashed with Mousavi, who was then prime minister. Khamenei has taken several steps to consolidate power among conservatives: He has rejected bills aimed at liberalizing the press and at ending the influential Guardian Council's power to reject candidates for parliamentary elections.
Mir Hossein Mousavi
Ahmadinejad's unlikely challenger in the June election served as prime minister for eight years until Khamenei abolished the post in 1989. The 67-year-old politician and architect emerged as a reformist, but not early in his career. He took part in the 1979 Islamic Revolution and defended the taking of U.S. hostages at the U.S. Embassy in Tehran. During his 20-year absence from politics, Mousavi taught architecture and served as adviser to reformist President Mohammad Khatami. Mousavi claimed victory in the June election but, according to official results, Ahmadinejad was re-elected.
Revolutionary Guards
Officially known as the Islamic Revolutionary Guards Corps, the IRGC was set up in 1979 after the Islamic Revolution. It has an estimated 125,000 members and oversees Iran's strategic weapons. It also reportedly has a stake in substantial portions of Iran's economy. Ahmadinejad is a former member. The Quds Force is a special component of the Revolutionary Guards whose primary mission is to support foreign Islamic revolutionary movements; it is estimated to have 15,000 members. In recent years, the U.S. has accused the Quds Force of supplying weapons to the Shiites in Iraq.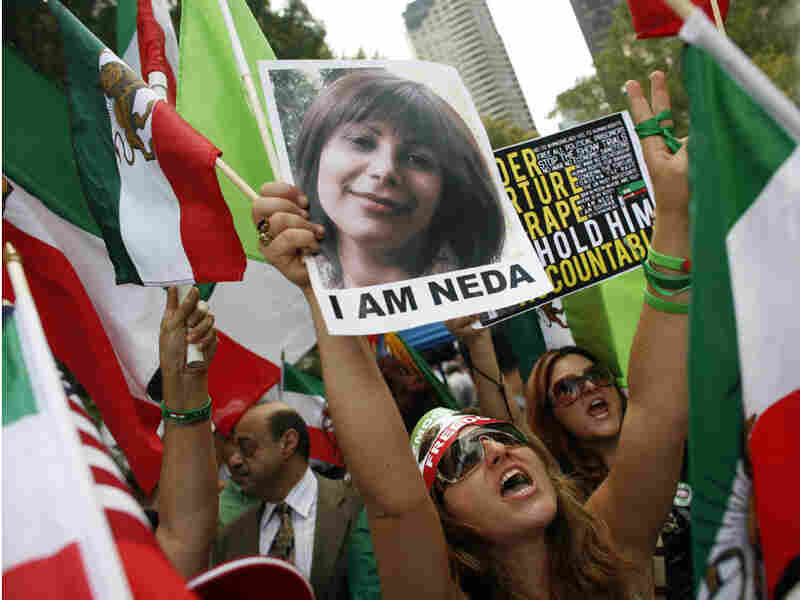 Neda Soltan
The 26-year-old Iranian woman became the face of the mass anti-government protests after June's disputed election when she was shot dead on a Tehran street, though she was not part of a protest at the time. The video of her death spread on the Internet, and Soltan quickly became a symbol of the anti-government movement. Her fiance described the philosophy graduate student, who had been taking private music lessons at the time of her death, as apolitical.
Mohammad Ali Abtahi
The former vice president is the most senior member of Iran's reform movement to face prison for his role in the post-election unrest. Abtahi was sentenced last month to six years in prison, accused of fomenting unrest after the election. He served as vice president for parliamentary and legal affairs in the administration of reformist President Khatami, who led Iran from 1997 to 2005. After his arrest, Abtahi confessed on television to his role in the unrest; his family has since said the confessions were made under duress.
Hossein Salehi Ara/Fars News Agency/AP
Maziar Bahari
The Canadian-Iranian journalist worked for several Western media organizations during the post-election unrest. He was arrested June 21 while sleeping in his mother's Tehran home. After his release, Bahari told NPR that his interrogator threatened him repeatedly with death. Bahari was freed Oct. 17 after international appeals for his release, including one from Secretary of State Hillary Clinton. In all, he spent 118 days in prison.
Hossein Salehi Ara/AP/Fars News Agency
Kian Tajbakhsh
The Iranian-American academic was sentenced in October to more than 12 years in prison for his role in June's post-election protests. He was arrested July 9 in the wake of the anti-government demonstrations, and accused of acting against national security. Of the 100 opposition figures put on trial, Tajbakhsh received the longest sentence yet. The 47-year-old social scientist and urban planner had previously taught at the New School in New York.
Ramin Pourandarjani
The 26-year-old doctor who witnessed the torture of opposition detainees died Nov. 10. Iranian authorities initially said he was in a car crash, had a heart attack or had committed suicide. A Tehran prosecutor later said that he died of poisoning from an overdose of a blood pressure drug placed in a salad. Pourandarjani, a doctor at Kahrizak prison, outside Tehran, where hundreds of opposition protesters were taken, had exposed the torture of those jailed after the post-election crackdown on anti-government demonstrators. Official Iranian media said investigators are trying to determine whether Pourandarjani's death was a suicide or murder.
Hossein Derakhshan
Also known as Hoder, or the Blogfather, the liberal blogger was taken into custody by the Iranian government in November 2008. The Canadian-Iranian citizen had been credited with igniting a Web-based "revolution" earlier this decade, in which Iranians began criticizing the regime by blogging, texting and using social media outlets like Facebook and Twitter. Now, the 34-year-old Derakhshan has been accused of giving up names to the Iranian government of others involved in anti-government organizing.
Saeed Laylaz
The economist and journalist was sentenced to nine years in prison earlier this month. He was convicted of having ties with foreigners and working to overthrow the government. He was also charged with keeping classified documents at his home.
--Krishnadev Calamur