'Greening' Outbreak Threatens Florida Citrus Crops
'Greening' Outbreak Threatens Florida Citrus Crops
A century ago children looked forward to getting an orange in their Christmas stockings. It was a treat many enjoyed just once a year. After World War II, the Florida citrus industry took off, and many baby boomers grew up starting their day with a glass of orange juice.
But now citrus trees across Florida are threatened by a major outbreak known as Huanglongbing (HLB) or the "greening disease." The disease is caused by a bacteria spread by flying insects. When infected, an orange tree will produce green, unripe fruit, and eventually die.
Jim Snively is the head of grove operations for Southern Gardens Citrus, one of the nation's largest fresh orange juice producers.
In his grove near the town of LaBelle, in southwest Florida, he strolls through a row of orange trees.
The sun is shining. The orange-laden trees look lovely. But Snively is worried.
He walks past rows and rows of trees that have been spray-painted with swatches of pink paint, a signal that they have been infected and will soon be cut down.
His company has removed half a million trees over the last few years to try to stop the spread of citrus greening, and the chopping isn't stopping anytime soon.
The Spread Of HLB Or 'Greening Disease' Across Florida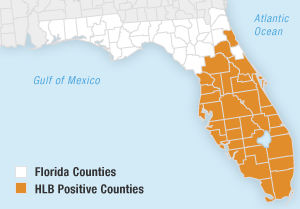 Florida's citrus industry has experience battling difficult crop diseases. Canker, a disease that scars oranges and makes them fall from the tree early, began to plague the state in the mid-1990s.
But greening is worse. It renders the crops worthless and eventually kills them, and there is no cure.
Cutting down infected trees and using insecticide on the bugs haven't slowed the bacteria's march across the state.
But researchers are optimistic that Florida's oranges can still be saved.
Dean Gabriel is a plant pathology professor at the University of Florida and founder of Integrated Plant Genetics. He says genetically modified trees are the only way to save the state's $9 billion citrus industry.
It has worked before, Gabriel says. About 10 years ago when a virus threatened Hawaiian papaya crops, scientists added a virus-resistant gene to the papaya tree and saved the whole industry.
In Florida, researchers have planted about a dozen genetically modified trees in field trials at Southern Gardens.
They're waiting to see if the trees remain disease free, and if the quantity and quality of the fruit they produce will be acceptable to consumers.
Field tests are expected to take two years. If all goes well, growers could begin replacing diseased trees with genetically modified varieties within six years.