Pakistan's High Court Reverses Judge's Suspension
Pakistan's Supreme Court has reinstated Chief Justice Iftikhar Mohammed Chaudhry, who was charged with misconduct and suspended four months ago by Pakistan's President Pervez Musharraf. The ruling is seen as a political rebuke to Pakistan's leader.
NOAH ADAMS, host:
From the studios of NPR West, this is DAY TO DAY. I'm Noah Adams.
DEBORAH AMOS, host:
And I'm Deborah Amos. Coming up, New Orleans District Attorney Eddie Jordan defends his record.
ADAMS: But first, a bad week for Pakistan's President Pervez Musharraf just got worse. Suicide bombers killed dozens of people in Pakistan this week. Today the Supreme Court reinstated the country's chief justice. The president had suspended that man four months ago. The government has charged the chief justice with misconduct, but some critics of the government say he was fired for challenging the president's plans to win reelection. And the ruling was greeted with enthusiasm by supporters outside the court.
(Soundbite of crowd)
ADAMS: NPR's Philip Reeves is in Islamabad. Philip, it sounds like this was quite of popular decision there?
PHILIP REEVES: Yes, it was. It was very striking. Actually, when the news came through, there was a great shout of joy from the lawyers who'd assembled at the Supreme Court to support the chief justice. And they literally sort of burst out of the main doors of the building and assembled on the steps and started chanting and cheering, and eventually began chanting - go, Musharraf, go - which has very much been the chant that has accompanied all the rallies that they've held for the last four months in cities around the country.
ADAMS: Now, President Musharraf, as we've said, suspended the chief justice. That was his call. What is the official government response or anything from the president?
REEVES: Well, not from the president. But the prime minister has reportedly said that they will accept the verdict. And indeed, Musharraf said some weeks ago when the issue was being much discussed in the media that he would accept whatever the Supreme Court decided. And so we can expect that they will want now to move on from this because it has been quite a serious political blow for Musharraf.
ADAMS: Now, in addition to the court action there, with the setback with the chief justice, President Musharraf is dealing with rising violence, very serious nature in his country. Over 50 people were killed in suicide bombings yesterday. What's he going to do?
REEVES: Well, you know, he has had the most extraordinary period in office - the South Asian earthquake, 9/11, and now this, you know, very serious extremist violence. And a lot of unhappiness too amongst Pakistanis about the storming of the Red Mosque 10 days ago, in which lots of people died. People were very sympathetic in many quarters about the idea of cracking down on extremist there, but then didn't appreciate the force used by government troops in that affair.
So he's got problems on every front. And how he handles them is very much going to be the question of the next few weeks, I think.
ADAMS: Thank you. NPR's Philip Reeves, talking with us from Islamabad.
REEVES: You're welcome.
NPR transcripts are created on a rush deadline by Verb8tm, Inc., an NPR contractor, and produced using a proprietary transcription process developed with NPR. This text may not be in its final form and may be updated or revised in the future. Accuracy and availability may vary. The authoritative record of NPR's programming is the audio record.
High Court Reinstates Pakistan's Top Judge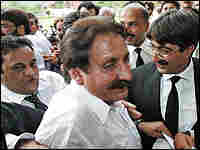 Aamir Qureshi/AFP/Getty Images
Pakistan's Supreme Court has reinstated Pakistan's top judge, ruling that his suspension by Gen. Pervez Musharraf, the nation's president and military ruler, was "illegal."
Chief Justice Iftikhar Mohammed Chaudhry's March 9 suspension had sparked protests by lawyers and opposition parties that have grown into a powerful pro-democracy movement just as Musharraf faces a rising tide of Islamic militancy.
The verdict is a major blow to Musharraf's standing and probably the biggest challenge to his dominance since he seized power in a coup in 1999. It could further complicate his bid to win a new five-year presidential term this fall.
"It's being seen as a blow to the credibility of President Musharraf," NPR's Philip Reeves reports from outside the courthouse in Islamabad. "... a significant one at a time when he's immersed in a number of problems in other fronts, not the least of which is a battle against Islamist violence."
Could this endanger Musharraf's control of Pakistan?
"It might," Reeves says. "He still has the support of the army as far as we know. But the people who support the chief justice, be they lawyers or be they members of the opposition, are saying right now that they see this as a significant moment in establishing an independent judiciary."
Opponents want to prevent Musharraf from running again for president next year while keeping his job as army chief of staff.
"They want him to come out of uniform," Reeves says. "They will see this as an important moment in which their hand ... has been significantly strengthened by the support of the Supreme Court."
Might Chaudhry become a rival for the presidency?
The chief justice "has become a symbol of political opposition to Musharraf," Reeves says. "But he's fundamentally a legal figure. He's refrained from joining in directly and openly with any given, identifiable political entity."
— From NPR reports and The Associated Press