U.S. Attempts To Restart North Korean Nuclear Talks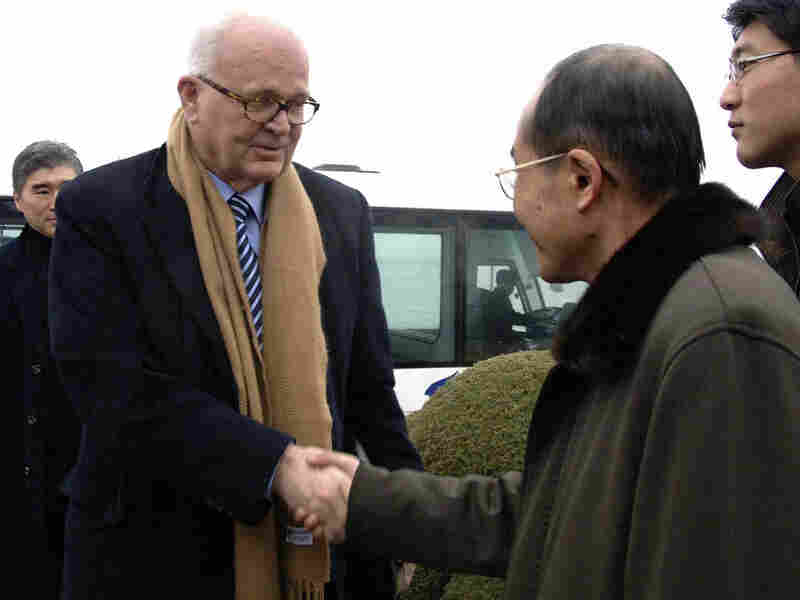 Korean Central News Agency via Korea News Service/AP
For the first time in more than a year, a senior American diplomat is in North Korea. Special envoy Stephen Bosworth is trying to revive stalled nuclear talks with the isolated regime in Pyongyang.
The North Korean government left the so-called six-party talks earlier this year. So far there is no firm indication Pyongyang is ready to change its mind.
The Obama administration has been playing it cool with North Korea. Despite the provocative acts North Korea has mounted — a long-range missile test and an underground nuclear explosion last spring — the administration has not panicked nor sounded crisis alarms.
The administration is not expecting a great deal from Bosworth's visit to Pyongyang. At the State Department on Tuesday, Secretary of State Hillary Clinton said the administration wants North Korea to do just what it pledged to do in the past.
"We obviously hope that Ambassador Bosworth's visit is successful in persuading the North Koreans to return to the six-party talks and work toward the denuclearization of the Korean peninsula and a new set of relationships with us and with our partner countries," Clinton said.
Besides the U.S. and North Korea, the six-party talks involve China, South Korea, Japan and Russia. The negotiating process has been under way, fitfully, for years. In 2005, North Korea put down in writing that it would abandon its effort to acquire nuclear weapons, but its behavior since then has been, in a sense, bipolar. It exploded its first nuclear device underground in 2006, then pledged to stop its nuclear weapons program, and even disabled and destroyed some of its nuclear facilities.
But then earlier this year, with the health of North Korean leader Kim Jong Il in doubt, it tested a long-range missile and exploded a second nuclear device. The response was a new set of sanctions from the U.N. Security Council.
By the summer, it was apparent that Kim's health had stabilized, an important development, says Evans Revere, president of the Korea Society.
"This gave them, I think, a bit more self-confidence in their ability to reach out and to begin a process of re-engagement with the United States, with the South Koreans to some extent, and also, interestingly enough, with the Japanese. There have been signals sent in all of those directions," Revere says.
In August, former President Bill Clinton traveled to Pyongyang to gain the release of two American journalists seized at the China-North Korea border. Clinton met with Kim and was able to learn firsthand that his health had improved.
One of the key signals then came in a meeting in October between Kim and Chinese Premier Wen Jiabao.
The Chinese were encouraged, having been told — according to Chinese sources, Revere says — that there was still interest in coming back to the six-party talks after a discussion took place with the United States.
But the erratic behavior of North Korea may have fundamentally changed the equation, even if the six-party process resumes. Among North Korea experts, the belief is eroding that ultimately North Korea will actually give up its nuclear weapons, says Daniel Sneider, associate director of the Shorenstein Asia-Pacific Research Center at Stanford.
"I think the prospects for a diplomatic process that leads to North Korean denuclearization are minimal at best. So I think we have to take a long-term view. We have to think about how we can contain and deter a nuclear North Korea," he says.
But Sneider says there is little appetite any longer for paying off the North Koreans if they only return to the negotiating table.
"I think you can put on the table what is available to them at the end, if they were actually to go down the road of denuclearization, and you can use the diplomatic process to make it clear what rewards follow," Sneider says.
That appears to be the strategy the Obama administration is pursuing. A senior administration official said earlier this week that the Bosworth mission would not offer any incentives for North Korea to return to negotiations they have committed themselves to twice in the past.