By Following Kyoto Protocol, Seattle Inspires Others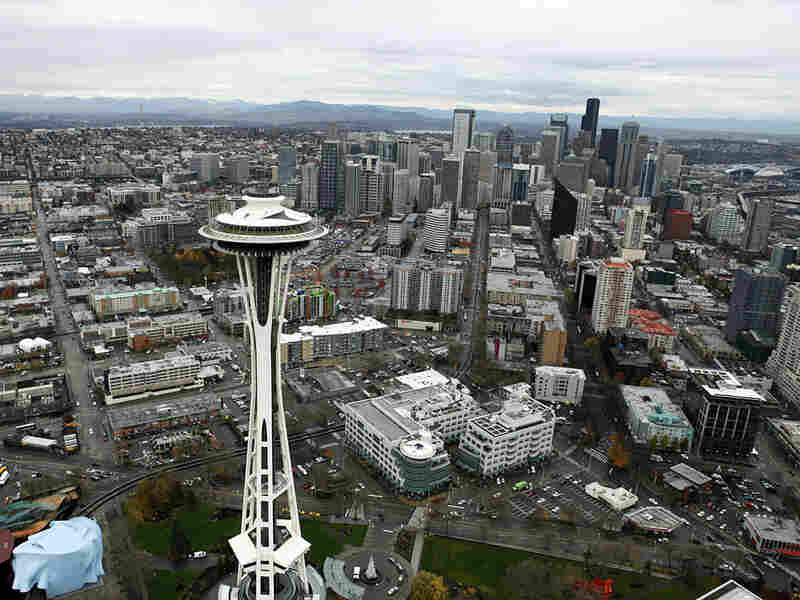 Although the United States never signed the Kyoto Protocol on climate change, parts of the country have tried to abide by its conditions anyway.
For the past decade, individuals, corporations and even whole cities — such as Seattle — have been looking for ways to cut their greenhouse gas emissions enough to meet what would have been the U.S. target under Kyoto. How much have these voluntary efforts achieved?
Growing And Shrinking
Inside a parking garage near downtown Seattle, an electric car slaloms through a course of orange cones. The manufacturer, Nissan, is giving rides to local reporters.
News conferences for alternative-energy cars have become routine in Seattle. First it was biodiesel, then plug-in hybrids. Now, it is a mass-market electric car that Nissan is launching here next year. Seattle Mayor Greg Nickels has rarely missed one of these events.
"Today, as we stand here, we are making great progress," Nickels said as he addressed the crowd. "Yesterday I was very pleased to announce that the city of Seattle has measured its emissions, and in 2008 we've met the Kyoto reductions."
Seattle has been calculating its emissions since 2005 — not just for city-owned infrastructure, but for everybody who lives here. Jill Simmons spent six months collecting data from utilities, traffic monitors and other sources to produce the best possible estimate.
"The exciting story, I think, is that it's showing that the city can grow," Simmons says. "Because we've grown in population, we've grown in jobs, we've grown in housing. So a city can grow and still shrink its carbon footprint."
The biggest savings have come from stricter building codes and cleaner power. The city-controlled electric utility is required to avoid buying power from coal and other fossil fuels. Most electricity comes from dams here, so that wasn't as great a challenge as it would be elsewhere, but it still required some aggressive conservation. Heavy industry's record is even better — there, the report shows a 30 percent cut in greenhouse gases since 1990. Nevertheless, Seattle is no ecotopia.
'Our Emissions Have Not Reduced That Much'
In Seattle, rows of cars can still be seen idling in the morning, as their windshields clear.
Watching the traffic outside his favorite coffee shop in West Seattle, Spencer Reeder has to admit that, in some ways, it's still 1990 here.
"I would venture to guess that not much has changed at this intersection," says Reeder, who works on climate change policy for the Washington State Department of Ecology.
It's a car-dependent town: While other sources of carbon have been cut, transportation emissions are still growing.
And that's actually forced a small rebound in the city's total emissions in the past three years. Reeder says those numbers are sobering.
"We recycle more than most any city in the country," he says. "We do a lot of things well, and yet, our emissions have not reduced that much."
At the same time, Reeder says Seattle should take some satisfaction in the fact that it has cut its totals over the past 20 years, even as state and national totals have grown. To Nickels, that's the point of doing these calculations — letting people know what they've achieved.
"We want them to know that their collective actions make a difference," Nickels says. "And that we can measure that difference."
A Call For Standards
Nickels has a politician's understanding of the importance of keeping people engaged in this unattainable, long-term goal of climate stabilization. Since 2005, he's led an effort to get other cities to take the Kyoto pledge — and more than 1,000 have signed up.
But Judi Greenwald, of the Pew Center on Global Climate Change, says there's no way to get a similar "progress report" for the combined effect of all these voluntary efforts.
"I think, conceptually, it would be good to know in the aggregate how well we're doing so far," Greenwald says. "But unfortunately, I think we only know anecdotally, and we know about particular actors and about particular jurisdictions."
The cities that do count their emissions use a variety of standards. For instance, Seattle counts residents' air travel, while other cities don't. So there's no carbon equivalent to the National Debt Clock. Americans who voluntarily reduce their carbon footprint have to operate on faith that it's having an effect — but how much, even the experts can't say.