Connecticut Senator Fights 'Dump Dodd' Sentiment
Jim Michaud/Journal Inquirer via AP
Beleaguered Connecticut Sen. Christopher Dodd on Friday should have what he would no doubt consider a good day among a long string of bad ones.
Vice President Biden is scheduled to visit the Nutmeg State to star at a noontime fundraiser for his friend, a signal that the White House is standing behind the five-term Democratic senator — at least for now.
The same can't be said for Dodd's once-loyal constituents, who have become increasingly consumed with the question of whether the state's senior senator, plagued by mortgage missteps and buffeted by bad poll numbers, can survive for another term.
"His mystique is badly damaged at home," says Connecticut-based political columnist Kevin Rennie, a Dodd critic.
Flagging Trust In Dodd
So damaged that even supporters who a month ago were betting that Dodd, 65, could win a sixth term next fall are privately debating whether and when the party — or the White House — should ask the senator to pull the plug on a campaign he insists he'll wage.
Particularly since, waiting in the wings, is the state's popular, longtime Democratic Attorney General Richard Blumenthal, who has been biding his time for decades for a clear path to a U.S. Senate nomination.
"Right now, every poll reflects that a significant portion of the Connecticut population has turned the page on Dodd," says Tom Dudchik, editor of the online CT Capitol Report and a onetime top adviser to former Gov. Lowell Weicker.
The most troubling numbers for Dodd? A majority of residents surveyed say they no longer trust the man who for nearly 30 years they've sent to Capitol Hill to represent their interests.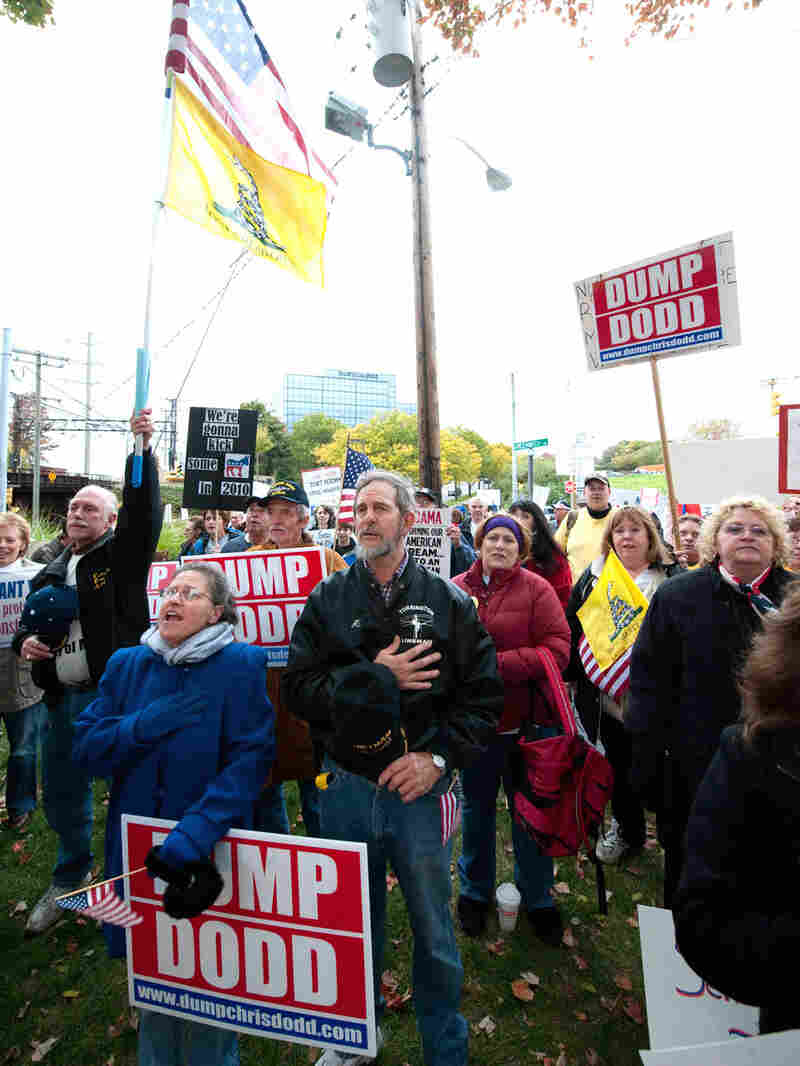 "Many Democrats are saying, 'I'm done; I've had enough; we need to go somewhere else,' " says Dudchik, who is among those who say that Dodd has a narrowing window to reintroduce himself to constituents and regain a trust that's been lost.
Dodd, who has been greeted at fundraisers by protesters holding "Dump Dodd" signs, has repeatedly said he's going to continue to "work hard on the issues" Connecticut cares about.
"Of course I'd like to see better numbers," he told state reporters on a recent conference call. "Polls are like snapshots. I accept it for what it is."
"I know there are a lot of reasons for it," Dodd said, "and some of my own making."
Even Dodd admits that his electorate is "still upset — to put it mildly." But whether he can bring around voters — many of whom feel he has "gone Washington" — will depend not only on his persuasive powers but on an economy that, for Dodd, can't recover quickly enough.
Shocking Fall
It has been a stunning turn of events for Dodd, a U.S. senator's son who has never faced a serious challenge. He sits near the top of the Senate's seniority pyramid and chairs some of its most powerful committees — including the one that oversees the nation's banking system.
But the prospect of losing a Senate seat in a state where registered Democrats outnumber Republicans by a margin of nearly 2 to 1, and where unaffiliated voters lean Democratic, has alarmed national party leaders. Democrats currently control the Senate with a filibuster-proof 60-vote caucus, which includes Connecticut's other senator, independent Joseph Lieberman, and Vermont independent Sen. Bernie Sanders.
Dodd's troubles, and those of a handful of other Democratic incumbents facing voters next year — including Senate Majority Leader Harry Reid of Nevada — have clear implications for the national party and for President Obama's agenda.
The respected Cook Political Report, which assesses the state of races nationwide, on Thursday rated the 2010 Connecticut Senate race as "leans Republican," characterized as an unusual move in a contest with an entrenched incumbent.
And that has worsened the crisis among state party members who see the top GOP contenders — former Rep. Rob Simmons and former professional wrestling executive Linda McMahon — as beatable, but only with the right candidate.
Polls show Dodd trailing both Simmons, who lost a re-election bid last fall, and the until-recently political unknown but deep-pocketed McMahon in head-to-head matchups. He has also watched his job approval ratings start to sink below 40 percent.
"He knows he's in trouble, and he's been around here more," says Mark Pazniokas, a longtime Connecticut political reporter. "But in the last month, more and more Democrats have been privately saying, 'What do we do?' "
Dodd's Decline
Dodd's slide began in 2007, when he moved with his family to Iowa and embarked on a failed $10 million run for president.
The quixotic adventure could have been written off as an ego trip, critics say, if not for the fact that at the time Dodd chaired the Senate Banking Committee, and deepening problems with the nation's banking system had begun to emerge.
"That's when he first started to drop in the polls," says Douglas Schwartz of the Quinnipiac University Poll.
The slide accelerated when Dodd was investigated by the Senate Ethics Committee for a so-called VIP mortgage deal he received from Countrywide Financial 2003. It continued when he provided conflicting stories about the value of his ownership stake in an Irish cottage, and when he constructed with the White House the controversial federal bailout of AIG.
"His biggest misstep," Dudchik says, "was when he didn't immediately acknowledge the mortgage problems, admit his mistake, and explain himself."
Dodd delayed releasing his mortgage documents for nearly 200 days, fumbled a press conference on the issue, and left the impression that there was more to the story of how he got his mortgages — even though the Senate cleared him of any ethical wrongdoing, and he announced he would refinance the mortgages.
The documents Dodd released showed that his mortgage rate was actually in line with those he could have gotten anywhere, and that he and his wife had the equity and credit scores required to qualify for the loans.
But even Dodd's supporters have said he showed bad judgment in participating in a VIP program offered by a major national mortgage company. It was an opening his opponents seized on.
"Republicans successfully branded it as a sweetheart deal," says Pazniokas, who writes for the Connecticut Mirror, an independent, nonprofit online site covering state politics and government that will launch in January.
"It seemed to blow over in Washington as a three-day story. Here, it wasn't," he says. "It looked like he was getting legal advice, not political advice."
Less Popular Than Lieberman
So how does Dodd recover?
Some suggest he needs to level with the people of Connecticut by providing a more coherent explanation of — and perhaps apology for — the mortgage mess and reminding them why they've returned him to Washington so often.
Dodd and other anxious Democrats may also be counting on Simmons and McMahon damaging each other in a protracted battle for the Republican nomination, which is already becoming heated.
But Dodd hasn't yet launched a statewide ad campaign, and some supporters worry that many of his most reliable donors maxed out the amount they can legally give him by supporting his short-lived presidential run.
"People are still waiting for the fireside chat with the guy they really like — and an explanation," Dudchik says. "We're sophisticated enough to understand how the game is played in Washington, D.C."
But that's obviously easier said than done: Trust is easy to lose, Rennie says, and hard to regain, even for a campaigner as effective as Dodd.
What's amazing, Rennie says, is that Lieberman, who ran as an independent in 2006 after being rejected by Democrats angry about his support for the Iraq war, "is now more popular than Dodd."
Given Lieberman's 49 percent approval rating — up from 36 percent earlier this year — that's saying something, and that something does not bode well for Dodd.
People in Connecticut are as uncertain and angry as anywhere else, pollsters say, and that's an unfriendly environment in which to turn things around.
Dodd says he gets that, but it won't be long before it becomes clear whether he can do anything about it.