Pakistan's High Court Rules Against President
Opponents of Pakistan's military ruler Gen. Pervez Musharraf are celebrating tonight. The country's Supreme Court ordered that the chief justice must be reinstated.
The president in March forced Chief Justice Iftikhar Muhammad Chaudhry off the bench on charges of misconduct, triggering Pakistan's most serious political crisis since the general seized power in a coup in 1999.
High Court Reinstates Pakistan's Top Judge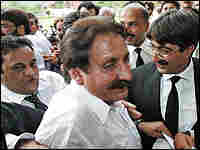 Aamir Qureshi/AFP/Getty Images
Pakistan's Supreme Court has reinstated Pakistan's top judge, ruling that his suspension by Gen. Pervez Musharraf, the nation's president and military ruler, was "illegal."
Chief Justice Iftikhar Mohammed Chaudhry's March 9 suspension had sparked protests by lawyers and opposition parties that have grown into a powerful pro-democracy movement just as Musharraf faces a rising tide of Islamic militancy.
The verdict is a major blow to Musharraf's standing and probably the biggest challenge to his dominance since he seized power in a coup in 1999. It could further complicate his bid to win a new five-year presidential term this fall.
"It's being seen as a blow to the credibility of President Musharraf," NPR's Philip Reeves reports from outside the courthouse in Islamabad. "... a significant one at a time when he's immersed in a number of problems in other fronts, not the least of which is a battle against Islamist violence."
Could this endanger Musharraf's control of Pakistan?
"It might," Reeves says. "He still has the support of the army as far as we know. But the people who support the chief justice, be they lawyers or be they members of the opposition, are saying right now that they see this as a significant moment in establishing an independent judiciary."
Opponents want to prevent Musharraf from running again for president next year while keeping his job as army chief of staff.
"They want him to come out of uniform," Reeves says. "They will see this as an important moment in which their hand ... has been significantly strengthened by the support of the Supreme Court."
Might Chaudhry become a rival for the presidency?
The chief justice "has become a symbol of political opposition to Musharraf," Reeves says. "But he's fundamentally a legal figure. He's refrained from joining in directly and openly with any given, identifiable political entity."
— From NPR reports and The Associated Press