'Nine': Creatively Blocked, But Still Putting On A Show
'Nine': Creatively Blocked, But Still Putting On A Show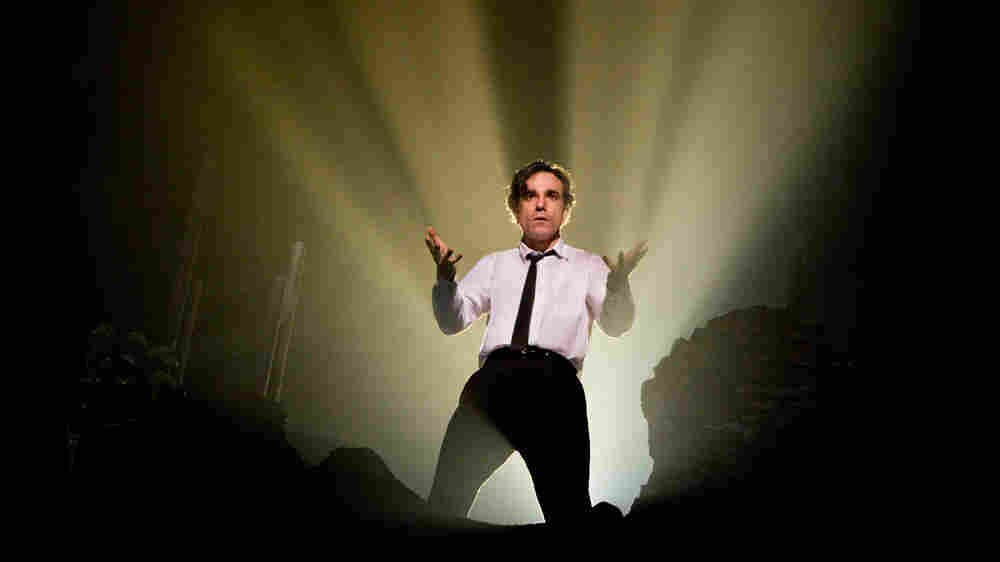 Nine
Director: Rob Marshall
Genre: Drama
Running Time: 112 minutes
Rated PG-13: Smoking, suggestiveness, a certain amount of singing

With: Daniel Day-Lewis, Nicole Kidman, Penelope Cruz, Kate Hudson, Sophia Loren, Judi Dench
Watch Clips
'My Husband Makes Movies'
As someone who has been all but drooling over the Nine trailer for the past few months, I confess to being unnerved that most of what looked so thrilling in the preview turned out to be crammed into the film's opening number — an eye-popping Fellini-by-way-of-Ziegfeld extravaganza.
In fact, by the time the movie is 12 minutes old, you'll have seen virtually every shot that the marketing folks regarded as exciting enough to highlight. What, you may wonder, is director Rob Marshall going to do for an encore? And if the answer is more of the same, is that a bad thing? Well, "in a very unusual way," to quote a song lyric, it kind of is.
Start with the reveal. Famous Italian director Guido Contini (Daniel Day-Lewis) sits alone in a movie studio on the day shooting is supposed to start on his latest film. As his producer has just gleaned at a press conference, there's no script yet. In fact, Contini hasn't got a clue as to what it's going to be about.
What to do? He sits on Cinecitta's grandest soundstage and imagines scenes that might get him started. Scenes involving the women in his life — his wife, his mistress, the prostitute who lived at the beach when he was 10 years old, the star of his last movie.
And as he pictures them in his mind's eye, they materialize on that soundstage, because after all, this is what he does.
The star (Nicole Kidman), blonde and gowned as if she's about to splash in the Trevi fountain; the prostitute (the Black Eyed Peas' Fergie), sweetly slutty and dripping sand; Guido's mistress (Penelope Cruz), decked out in a Victoria's Secret version of basic black; his wife (Marion Cotillard), Hepburnesque and clearly long-suffering; his mom (Sophia Loren), stately and statuesque; his costume designer (Judi Dench), unflappable and sturdy. There are others, too, flanked by two dozen chorus girls, tra-la-la-ing an overture that references virtually every song in Maury Yeston's score.
As an opening for a stage musical made up of specialty numbers, this procession of leading ladies was a smart start — a glamour parade to dwarf anything the Folies Bergere ever contemplated, and a promise for audiences of what was to come. Movies work a little differently, though, and on screen, giving away the money shot in each of your musical numbers — while it's spectacular, and pretty gorgeous — is setting up your audience for an evening of diminishing surprises. More important, it isn't really taking us anywhere.
David James/Weinstein Co.
As Guido imagines the women more fully, their songs don't take us anywhere, either. Wife Cotillard, for instance, singing about what it's like to be married to Guido:
Some men run banks/some rule the world/some earn their living baking bread/My husband goes a little crazy/making movies instead.
Anything there we didn't know from the film's setup?
And so it goes with the rest of the women in Guido's life, most of whom get one shot to strut their stuff at the center of a big declaratory number before retiring to the sidelines. All acquit themselves reasonably well vocally, though only Fergie is of Broadway caliber. In return for a few coins from a 10-year-old Guido and his buddies at the beach, she belts the score's catchiest number, "Be Italian," while wowing the kids with a glimpse of thigh.
It's a sequence taken directly from Nine's source material — Federico Fellini's landmark art-house hit, 8 1/2 (widely viewed as a comic riff on Fellini's own creative stasis) — and despite pedestrian lyrics, it's great fun, mostly because director Marshall makes it into a sort of tutorial in directorial invention.
He starts with Guido's memories in black and white — a child thrilled by that busty girl at the beach — then starts cross-cutting between those memories and the musical number that's coming together in Guido's head. The girl flaunts her monochrome cleavage, the chorus stylizes that move in color; the kids run toward the water, the chorus advances on the camera; the kids splash in the surf, the chorus kicks up sand on the soundstage. By such strategies, you gather, does a director make his memories memorable.
All of which is plenty sexy in its execution, splendidly staged and flash-edited to a fare-thee-well. But as each subsequent number does more or less the same thing, you realize how useful it would be to have an old-fashioned plot to hang all this gorgeousness on. The book scenes in a musical aren't what you go out humming, but they do keep shows from becoming just a collection of music videos.
In this case, Marshall's made them knockout music videos. But for all the talent he's put on display — and there's a lot — his Nine is, on screen, less a show than a showcase.