Rural Shipping Company Finds Itself Going 'Backward'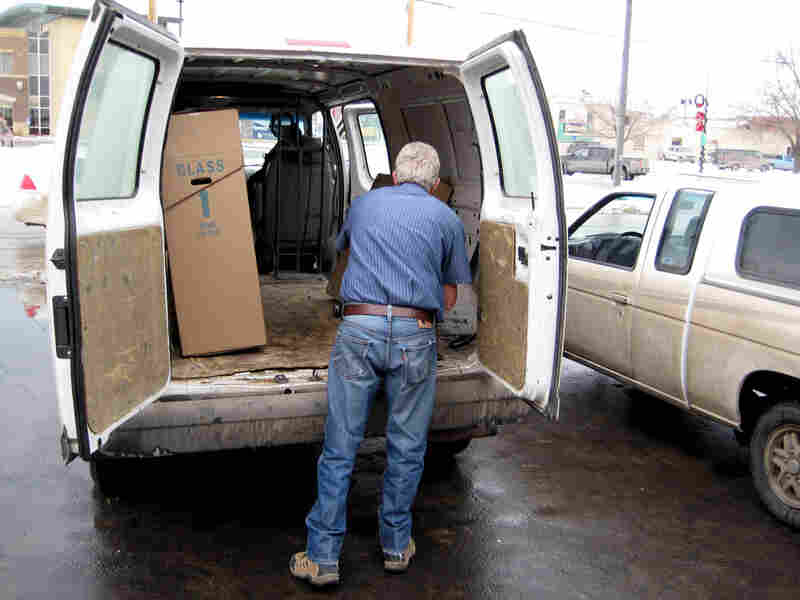 Charles Michael Ray for NPR
Even though there's a lot of shipping going on during the holiday season, things aren't so busy these days for Rapid Delivery, a family-run shipping business in Rapid City, S.D.
Brian Evans owns the business along with his mother, Bonnie, who started it in 1979 armed only with a pager and one behemoth delivery truck.
"It was a step van — an old Chevrolet step van that was like a 2-ton van. It was just the ugliest thing you ever seen in your life," Brian Evans says.
Bonnie Evans says she called it "the white whale."
Everything From Organs To Cleaning Supplies
This small company has come a long way from that one van. Today it has 18 employees and a fleet of trucks that deliver everything from organ transplants to cleaning supplies. Rapid Delivery serves an area roughly the size of Massachusetts.
"And that's the challenge for rural delivery: You have a lot of distance that you have to travel to get to a few businesses," Brian Evans says.
Despite those challenges, the company managed steady growth. The mother-and-son team says it achieved well over a half-million dollars a year in revenue. But then the recession hit.
"It's hard to go backward — and that's what we're doing. We're definitely going backward," Bonnie Evans says.
Brian Evans says the company's revenues are now running at levels the company had nine years ago.
The economic slowdown reduced demand for shipping. This forced the family to do something it never imagined: lay off employees.
"We have never laid a person off since 1979 — and now we have two laid off since September of this year," says Brian Evans. "It's the hardest thing in the world because they were both good men."
A College Graduate's Daily Drive
One of the workers who made it through those layoffs is Travis Reimnitz.
Reimnitz logs more than 100 miles daily, making deliveries to rural businesses that might not have local service otherwise. He just graduated from college with a degree in technology management. This job kept him afloat through school.
"I could have taken out loans; I could have gone into debt," Reimnitz says. "Instead, now I'm a few thousand [dollars] ahead. I got enough money for maybe a down payment on a house and that would have not been possible without working here."
Recent graduates are facing a dismal job market. If Reimnitz can't find work in his new field, this delivery job will become even more important.
Hiring Freeze
Like many businesses, Rapid Delivery isn't making any new hires. Brian Evans says he's afraid to grow or expand this company because of the uncertainty that looms over federal legislation on things like climate change and health care.
"Our revenue is so small, our markup is so small we're cutting razor thin every day," he says. "There is no way we can absorb it — you just can't."
Evans says if business drops another 10 percent he'll have to lay off more workers. And that could leave already isolated customers in a difficult situation. It could take even longer to send and receive products, which could further slow down business in an economy that is already hurting.