U.S., China Step Forward In Climate Debate
U.S., China Step Forward In Climate Debate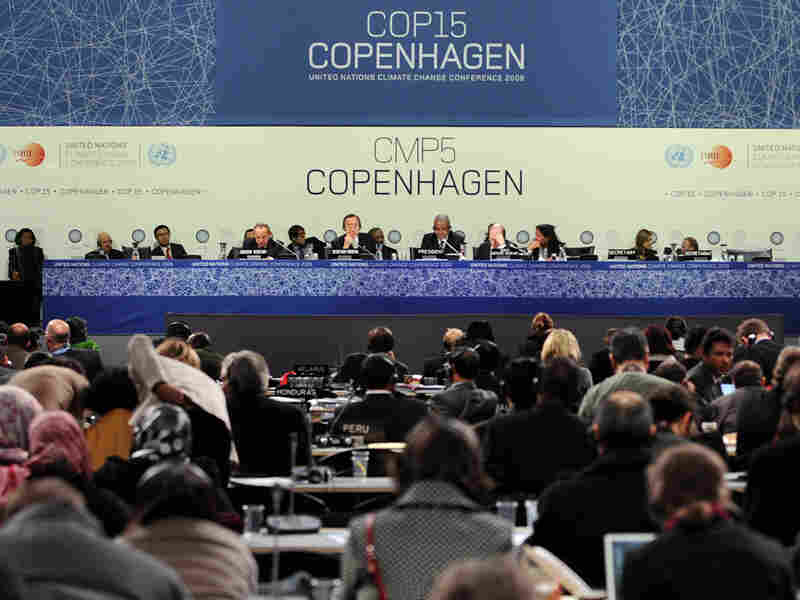 Olivier Morin/AFP/Getty Images
Diplomats around the world are trying to figure out what they agreed to last week at the Copenhagen climate conference. The conference was near collapse when President Obama and four other heads of state cut a last-minute deal to curb greenhouse gases. But it's still unclear how they'll do that and exactly who will participate.
One thing that is clear is that the United States and China are no longer observers in the international climate debate, but leaders who may shape the new climate diplomacy.
The goal in Copenhagen was for the world's nations to forge a new climate treaty to replace the Kyoto Protocol, which is administered by the United Nations.
Instead, the negotiations collapsed. When Obama arrived on the last day, he set up a meeting with China. The two countries — joined by India, Brazil and South Africa — cut their own deal, now dubbed the "Copenhagen Accord."
Afterward, Obama explained why he couldn't wait for the other 188 countries at the conference to agree on a draft plan.
"This is a classic example of a situation where if we just waited for that then we would not make any progress," he said, "and in fact I think there might be such frustration and cynicism that rather than taking one step forward, we ended up taking two steps back."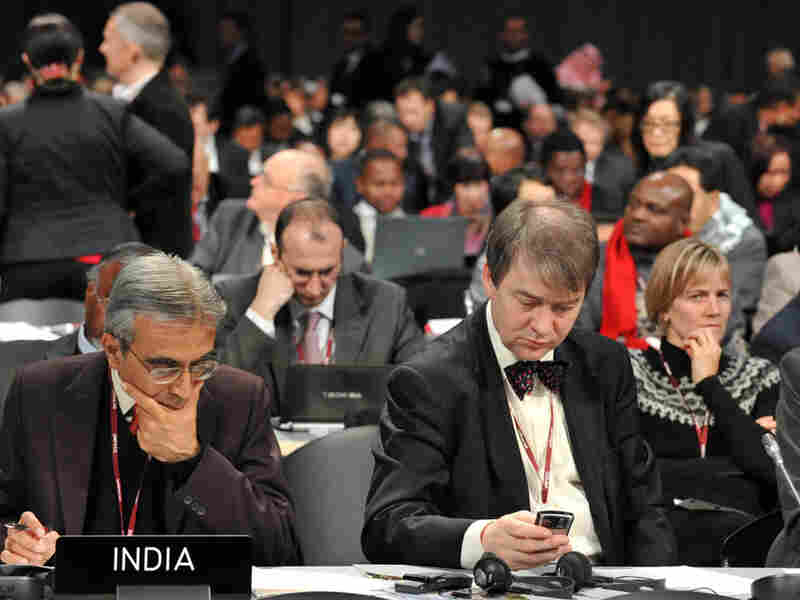 Attila Kisbenedek/AFP/Getty Images
Many delegations did not view the accord as a step forward, but the next day all but a few agreed at least to "note" the new accord.
The accord is less than what many wanted. It is voluntary and it postpones setting hard numbers on how much the industrialized world will reduce emissions. It promises to pay poorer countries to adapt to climate change, but not as much as they wanted.
Nonetheless, many in the climate business say the accord is lemonade from what was a very sour lemon.
Eileen Claussen, president of the Pew Center on Global Climate Change, is in the lemonade camp. She says people had pushed the myth that the world's nations were ready to agree on a new climate treaty. They weren't, she says, because the U.N.-based negotiating process totally failed.
"I mean, you should have had the U.N. trying to figure out, knowing where all the countries were, what was actually a possible outcome," she says. "And that didn't happen."
Instead, delegations from countries like Sudan and Venezuela burned up conference time with procedural tactics and, Claussen says, unrealistic demands.
"It wasn't clear that anything could get done because some group of countries or some country was trying to hold up everything, which is why I think the approach of trying to do an accord with a small number of countries was probably the only way to have anything come out of this at all," she says.
Even Europe, which has embraced the Kyoto scheme for emissions reductions, was not part of that small deciding group.
"I personally believe that the Kyoto track under the U.N. is done for, nothing is going down that path," says Ray Kopp, a climate economist with Resources for the Future in Washington, D.C.
Kopp says the new diplomatic path isn't clear yet, but it could become two paths: one for countries that are part of the Kyoto Protocol, and another led by the United States and, increasingly, China — the two biggest emitters of greenhouse gases. He says that doesn't necessarily mean getting worldwide emissions reductions will be much easier.