Desert Rock And 21st-Century Traditions: New Sounds From Africa In 2009
The best new music releases out of Africa in 2009 reveal two strong trends. First, the whole notion of blues and rock intermingling with their ancestral precursors in West Africa continues to yield fruit, and the blends just keep getting better. The Tuareg electric-guitar-based band Tinariwen beat out Bob Dylan and Grizzly Bear for the 2009 Uncut Music Award, and theirs is not a crossover record. These nomadic poets are simply doing what they do, and rock fans are paying attention as never before. African rock has emerged as a credible genre. This year, Mali alone has produced a stack of noteworthy releases with overt rock connections, and two make this list.
New uses of technology provide the other big story in African music, as hybrids of tradition and techno turn a new generation of listeners on to Africa. The group The Very Best consists of Swedish and French DJs who mix beats and vocal tracks to fill out compositions by a Malawian singer.
On his new album, Television, Senegalese star singer Baaba Maal has produced a reflective, techy sound unlike anything in his long history. And K'Naan — the leading light of African rap these days — is mixing up samples from classic reggae and '70s Ethiopian pop in highly contemporary, genre-bashing tracks that address, even challenge, mainstream hip-hop audiences, which have so far shown little interest in their African peers. Meanwhile, the creators of the Congotronics franchise have uncovered a remarkable band of street musicians in Kinshasa, Congo: Staff Benda Bilili, whose lineup includes a homemade, one-string, electric violin that sounds like a Theremin on uppers.
Meanwhile, some of my favorite new work out of Africa comes from veteran artist doing yeoman's work. Algeria's Khaled and Mali's Oumou Sangare have weathered the push and pull of any number of fads, but their new recordings place the emphasis on traditional sounds, vocal excellence, and the power of sticking with a core idea, while judiciously partaking of modernity. In the end, that might be what great African art is really all about, and of all the fine music on this list, Khaled's Liberté and Sangare's Seya are the two I feel most confident will stand the test of time.
Click here for more entries in NPR Music's ongoing look at 2009's best.
Desert Rock And 21st-Century Traditions: New Sounds From Africa In 2009
1. Oumou Sangare
Song: Iyo Djeli
from Seya
After a six-year hiatus, the queen of Mali's sensuous "Wassoulou" sound is back with her most complex and mature album. A host of guest musicians -- mostly Malians, but outsiders, too, including Pee Wee Ellis -- fill out slinky grooves with all sorts of classy detail. Mostly, Sangare's warm clarion voice is what makes this session such a knockout. The music is sometimes pensive, though never dour or overbearing, and that makes the celebratory moments more rewarding. Once you've luxuriated in this glorious sonic shower, spend time with the translations of Sangare's thoughtful and poetic lyrics, which deepen the encounter with one of Africa's greatest living singers. (Click here for NPR Music's full Oumou Sangaré archive.)
Hiya Ansadou [Come on, Let's Go]
2. Khaled
Song: Hiya Ansadou [Come on, Let's Go]
from Liberté
They used to call him Cheb Khaled, but that's a young man's appellation, and Algeria's top rai (meaning "opinion") singer is now too seasoned and venerable for that. Khaled's robust gut cry is filled at once with yearning, melancholy and explosive ecstasy -- a seemingly impossible combination. On this live-in-the-studio session, he and his band go back to basic rai rhythms and a spontaneous approach, complete with improvised introductions featuring accordion, oud, a string section and that singularly passionate voice. This could be the best of Khaled's many albums; moreover, no singer in the Arab music world today is producing a more universally accessible sound. (Click here for NPR Music's full Khaled archive.)
3. Staff Benda Bilili
Song: Moto Moindo [Black Man]
from Tres Tres Fort
by Staff Benda Bilili
This one-of-a-kind act hails from the streets of Kinshasa, Congo, one of the world's most besieged, chaotic and musical cities. Most of these musicians have survived polio and get around town in road-ready three-wheel scooters. The group came together playing near the city zoo, and singing lively songs of daily life in what might be considered an urban nightmare. Staff Benda Bilili put an inspirational spin on the harmonized vocals and Latin-tinged dance rhythms of mainstream Congo music. The slippery wail of the satonge -- a one-string, tin-can fiddle invented by one of the musicians -- is a winning touch. (Click here for NPR Music's full Staff Benda Bilili archive.)

This album is available for purchase from Crammed Disc.
4. Tinariwen
Song: Tenhert
from Imidiwan: Companions
This band's mesmerizing sound is both sensitized and hardened by years of nomadism, privation and war. With roots in the war camps of the Tuareg people's struggle for recognition in West Africa in the '80s and early '90s, Tinariwen has since emerged as the standard-bearer for a thriving new African music sub-genre: desert rock. Its members play bluesy electric guitars with deep-trance rhythm and edgy spontaneity. And if it sounds like they grew up with those guitars, it's because they did. But the concerns in their songs, and the overall spirit of the music -- for all its rock overtones -- is 100 percent true to the Tuareg experience, which is one of endurance, patience and a sweet kernel of hope. This session, recorded in a Sahara desert studio, has a particularly authentic feel. (Click here for NPR Music's full Tinariwen archive.)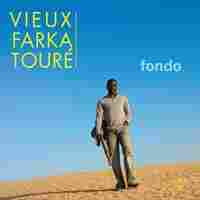 5. Vieux Farka Toure
This young Malian singer-guitarist, like Tinariwen, comes by his desert-rock vibe through blood. His late father, Ali Farka Toure, forged the genre with his guitar adaptations of desert folklore starting in the 1950s. Vieux's second release has a focused, muscular sound calibrated to please rock fans who've tended to overlook African guitar heroes. Vieux flashes his lightning-quick technique more freely than his sage-like father did. He's a fine singer, but he knows that guitar is his strong suit, and here, he's not afraid to lay the riffing on thick. There are some deep acoustic tracks here, too, including one with kora virtuoso Toumani Diabate. (Click here for NPR Music's full Vieux Farka Touré archive.)
6. Justin Adams and Juldeh Camara
Song: Fulani Coochie Man
from Tell No Lies
A British rock guitarist and a one-string Fulani fiddler from Gambia prove that you don't have to be nomads on camels or born to Timbuktu musical royalty to play credible desert rock. On their second collaborative CD, Justin Adams and Juldeh Camara echo Bo Diddley and Led Zeppelin, adding power and edge to Camara's keening African vocals. Adams knows his roots blues in ways no African guitarist quite could. As a guitarist, he's all about feel, not flash, and you can feel him luring Camara into exciting new territory. Their easy chemistry lets them experiment without artifice, and the sounds they arrive at are surprising and often sensational. (Click here for NPR Music's full Justin Adams & Juldeh Camara archive.)
7. Bela Fleck
Song: Tulinesangala
from Throw Down Your Heart, Tales from the Acoustic Planet, Vol. 3: Africa Sesssions
The world's most ambitious banjo player spent a few years jamming with an extraordinary variety of African musicians before releasing this exhaustive travelogue drawn from sessions in Africa (Mali, Tanzania, Uganda) and the U.S. (Tennessee, Colorado). Fleck fearlessly feels his way into dense East African marimba music, South African township swing, gnarly Malagasy guitar grooves, and a competitive riff-fest with one of Mali's hottest griot guitarists, Djelimady Tounkara. These 18 tracks vary widely, and it's a lot to absorb in a single listen. But as Fleck knocks on doorways to whole worlds of under-exposed music, you can feel him growing as a musician. His understated duo with Oumou Sangare exemplifies the power of simplicity and restraint -- new arrows in Fleck's overflowing quiver. (Click here for NPR Music's full Béla Fleck archive.)
8. K'naan
Song: Take a Minute
from Troubadour
Somali-born, Toronto-based rapper K'naan shook the scene last year with his debut, The Dusty Foot Philosopher, one of the most creative rap albums I've ever heard. His follow-up is more highly produced, with help from Bob Marley's sons in sessions at Tuff Gong Studios, as well as star turns by Mos Def, Maroon 5's Adam Levine and even Metallica guitarist Kirk Hammett. But this is no sellout. The tracks are laced with samples from '70s Ethiopian pop, a novel idea that works. More to the point, K'naan is a clever, funny and provocative wordsmith, in a class of his own as he challenges the narratives of American hip-hop with harrowing visions of street life and urban warfare in Africa. He's also a dreamer with a soft side, but the tough stuff is blunt enough to earn this release a parental advisory. (Click here for NPR Music's full K'naan archive.)
9. Baaba Maal
Song: Television
from Television
The brilliant Senegalese singer Baaba Maal has done it all, from solo acoustic ballads to full-tilt, percussion-powered Afropop to African salsa and hyper-produced, Peter Gabriel-esque art rock. Here he tries his hand at spare technopop, with help from members of the band Brazilian Girls. The result is dreamy and thoughtful, light on rhythm and sparing in its use of Maal's signature vocal wail, an iconic sound of modern African music. Maal emphasizes songwriting here, and shows himself willing, even happy, to venture beyond the various boxes "world music" producers have devised -- and that's a good thing for a veteran like this. It's not Maal's best work, but its power grows with each listen. (Click here for NPR Music's full Baaba Maal archive.)
10. The Very Best
Song: Warm Heart of Africa
from Warm Heart of Africa
If not the face of Afropop to come, this trio's work is certainly representative of a new movement in African music -- an aesthetic where computers, samplers and mixers become instruments in their own right, not just cheap and efficient replacements for conventional ones. Two DJ/producers, one Swedish and one French, built these 13 tracks around vocals provided by a Malawian singer with no formal training but a remarkable intuitive sense of harmony. The tunes are sunny and lush with vocal overdubs, and the beats fresh and joyous, if unchallenging. Most of the sound consists of voices and drums, so things never get cluttered. Guest spots by M.I.A., and especially Ezra Koenig of Vampire Weekend on the title track, are big pluses.