Cinderella Revisited: Rossini's La Cenerentola
From Houston Grand Opera
She's a fairytale heroine who has had many different names, including Cendrillon, Cenerentola, Ashenputtel — and Cinderella. Whatever she's called, almost everyone knows her story. She's the innocent girl, abused by her dangerously dysfunctional family, who winds up marrying a handsome prince.
THE HIT SINGLE
In the opera's final scene, Prince Ramiro allows Cinderella to decide the fate of her abusive family. She forgives them, then sings the spectacular aria 'Non piu mesta' — 'No longer sad' — with the chorus joining in to praise her generosity. In this recording, the aria is sung by mezzo-soprano Cecilia Bartoli.
Brett Coomer/Houston Grand Opera
The version of the story we know best today originated with French writer Charles Perrault, who published a story called "Cinderella, or the Little Glass Slipper" in 1697. The Brothers Grimm wrote their version in 1812, and the electronic age produced the animated film by Disney, in 1950.
Those of a certain age may remember Disney's movie from childhood matinees at the local theater. What we may not remember is that our parents, sitting alongside, were having just as much fun as the kids. That's because, along with its innocent charm, the story also has a healthy dose of adult passions and foibles.
So it's not surprising that it was Gioachino Rossini, a master of bubbly comedies with poignant moments scattered among the laughs, who composed the most popular operatic take on Cinderella — La Cenerentola. It's one of Rossini's funniest operas, but with a serious side to remind us that the happy ending to Cinderella's story wasn't just a gift from some benevolent fairy. On her journey from servant's quarters to a princess' throne, she faces some real dangers. In overcoming them, she displays a gentle and tolerant spirit, some profoundly adult insights — and the pluck and courage to defy everyone who stands in her way.
On World of Opera, host Lisa Simeone presents a Houston Grand Opera production of La Cenerentola, featuring a stunning performance by mezzo-soprano Joyce DiDonato in the title role, with tenor Lawrence Brownlee as her Prince Charming.
See the previous edition of World of Opera or the full archive
The Story of 'La Cenerentola'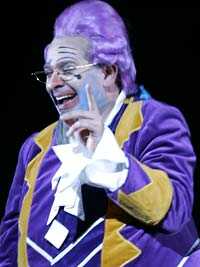 ACT ONE: In Don Magnifico's rundown mansion, his daughters Clorinda and Tisbe are primping. Their stepsister, Cinderella, sings a sad song to herself by the fireplace. A beggar knocks on the door. Cinderella feeds him breakfast, unaware that he's actually Alidoro, Prince Ramiro's tutor, in disguise.
WHO'S WHO?
Joyce DiDonato ....... Cinderella
Lawrence Brownlee .... Ramiro
Tamara Wilson ......... Clorinda
Catherine Cook .............Tisbe
Patrick Carfizzi ....... Magnifico
Nikolai Didenko ..........Alidoro
Earle Patriarco ......... Dandini
Houston Grand Opera Orchestra and Chorus
Edoardo Mueller, conductor
Royal courtiers then arrive with news. The prince will throw a party that very night, to meet women from all over the kingdom. He'll then choose one of those women to be his bride. Clorinda and Tisbe are all aflutter — convinced that, surely, one of them will be chosen. Don Magnifico imagines the affluent future he'll enjoy when one of his daughters is selected.
Meanwhile, Alidoro advises Prince Ramiro to check out Magnifico's lowly yet lovely chambermaid, Cinderella. Ramiro shows up disguised as his own valet, and sparks fly when he and Cinderella first meet. Dandini, the real valet, also makes an appearance. He's disguised as the prince, and his job is to gather intelligence. After introducing himself to Clorinda and Tisbe, he asks Don Magnifico about rumors that he also has a third daughter. Coldly, Magnifico lies, saying his other daughter is dead.
To cover up that lie, Magnifico refuses to allow Cinderella to attend the ball. But when Alidoro and Cinderella are left alone, Alidoro reveals his identity and gives her his personal invitation to the party.
At the palace, with the ball underway, Dandini is still posing as the prince and distracts the crass Magnifico by making him his official wine steward — it's a sham position, but Magnifico is thrilled. Clorinda and Tisbe continue to snub the real prince, who's still disguised as a servant, and everybody is wowed when a gorgeous and mysterious stranger enters — a woman who looks remarkably like Cinderella.
ACT TWO: Magnifico is worried about his fortunes, but still hopeful that all his problems will be solved when the prince picks either Clorinda or Tisbe as his bride. Magnifico daydreams about what his new and prestigious place in society might be like.
Prince Ramiro, still disguised as a servant, asks Cinderella if she will marry him. Shyly, she puts him off. But she hands him a bracelet as she leaves, saying that if he sees her again he'll know her, because she'll be wearing the bracelet's twin. By then, she says, if you still love me, I will be yours.
Ramiro orders Dandini to stop posing as the prince and shut down the party. As he runs off to comply, Dandini is cornered by an impatient Don Magnifico, who rudely insists that the prince decide immediately which of Magnifico's daughters he will marry. Fed up with Magnifico, Dandini reveals that he's merely the prince's valet and he has Magnifico booted out of the palace.
Back at home, Cinderella sings the same sad song that began the opera — all about a lonely king, choosing a bride. Her stepsisters and Don Magnifico take out their frustrations on her, saying she looks exactly like the beautiful woman from the ball, who caught the prince's attention and spoiled all their plans. Their utter contempt for Cinderella prevents them from seeing the truth. Outside, there's a violent storm, brilliantly evoked in Rossini's score.
As the weather clears, there's a knock at the door. It seems the Prince was caught in the storm and his carriage has conveniently overturned nearby. That's a secret little snafu engineered by Alidoro. Cinderella and the prince immediately recognize each other. On her wrist, he spies the twin to the bracelet she gave him. He immediately announces that Cinderella will be his bride.
The stepsisters are outraged, but Alidoro warns them to calm down. The prince is furious at the abuses Cinderella has suffered, and he leaves the fate of Magnifico and his daughters in Cinderella's hands. Fortunately for her family, Cinderella decides not to stoop to their level and forgives them. The opera closes with a virtuoso aria for Cinderella, explaining her newfound happiness. The chorus joins in, praising Cinderella as a worthy princess and saying, "Everything changes little by little. At last, stop sighing."