Innocence In Question, Bound Up In 'White Ribbon'
The White Ribbon
Director: Michael Haneke
Genre: Drama
Running Time: 144 minutes
Not rated: Dread, offscreen violence, child abuse

With: Susanne Lothar, Ulrich Tukur, Burghart Klaussner, Josef Bierbichler, Ursina Lardi
(Recommended)
Something is amiss in Eichwald, the early-20th-century German village where The White Ribbon is set. And the problem isn't an isolated one: This is a Michael Haneke film, so the something that is wrong is, well, everything.
A German-born writer-director who began his career in Austria, Haneke switched to French for such somber arthouse hits as Cache and The Piano Teacher. Haneke's austere, powerfully unsettling new movie returns to German, and is his first big-screen period production. Winner of the Palme d'Or at the 2009 Cannes Film Festival, The White Ribbon is, quite purposefully, no fun at all. Yet it is masterly filmmaking, and includes sequences that are profoundly moving.
The story opens in 1913, when life in Eichwald appears orderly and traditional. (The movie unfolds in an icy black-and-white that's modeled on August Sander's photos.) But the clockwork routine hides corruption, resentment and malevolent caprice.
The first eruption is an apparently unmotivated attack on the town's physician (Rainer Bock). When his horse hits a near-invisible trip wire, the doctor is thrown and seriously injured.
While uneasy locals ponder this crime, other troubling events occur. The wife of a tenant farmer falls to her death in the barn owned by the local baron (Ulrich Tukur). The baron's son is kidnapped, trussed up and beaten. A mentally challenged boy is found tied to a tree, bleeding from his eyes.
The baron is cautious about assigning blame, but the stern Lutheran pastor (Burghart Klaussner) is quicker to judge: He believes masturbation deranges adolescent boys, and he forces his own children to wear punitive white ribbons to symbolize the purity they've forsaken.
After the doctor recovers and returns home, Haneke gradually reveals why the man might have been targeted. His relationships with both his 14-year-old daughter Anna (Roxane Duran) and his mistress (Susanne Lothar) are abusive.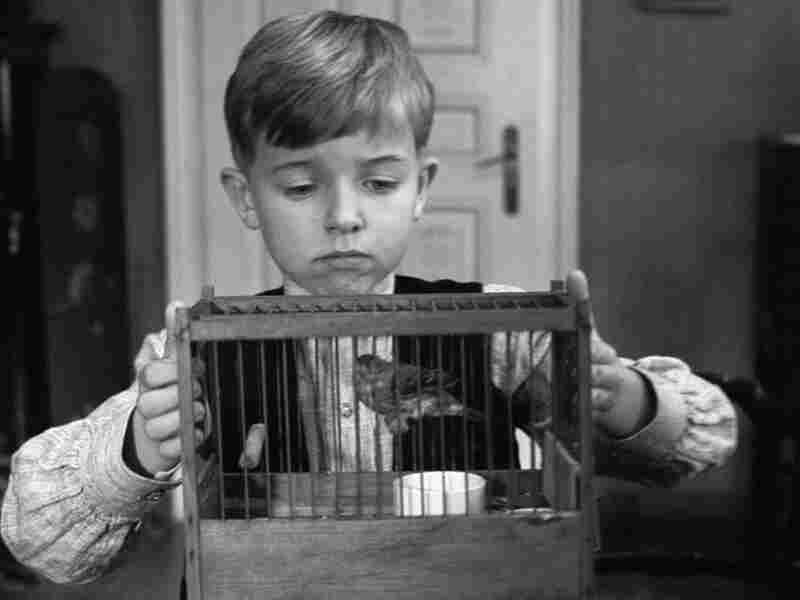 Films du Losange/Sony Pictures Classics
A young schoolteacher (Christian Friedel), whose older self narrates the story from decades later, begins to suspect a gang of local kids. Polite but devious, the children are led by the pastor's daughter, Klara (Maria-Victoria Dragus). Her malice is evident, yet the girl can't be responsible for all the incidents.
As fear seeps through the community, the baron receives a visitor who brings ominous news about Archduke Franz Ferdinand. World War I has begun, and another immense conflict will follow that one, arriving just as the children of Eichwald are of an age to help chart their nation's course. Perhaps that's why the narrator (Ernst Jacobi) begins by suggesting the tale would "perhaps clarify some things that happened in this country."
Clarity is not Haneke's goal, however. The director prefers open-ended narratives that hint at multiple causes and collective guilt. His films often feature punishment and self-torture, and can be chastening to watch. (Haneke's Funny Games, shot in German in 1997 and remade in English a decade later, is a coolly indignant sermon on treating homicide as entertainment.)
In tone and look, The White Ribbon recalls Haneke's 1995 TV adaptation of Franz Kafka's The Castle, and Kafka is clearly one of the director's inspirations. Unlike Kafka, though, Haneke has a surprising affinity for children.
In fact this movie's most indelible scene is a matter-of-fact conversation between Anna and her little brother, Rudolf (Miljan Chatelain), after the death of the farmer's wife. When the talk begins, Rudolf doesn't understand that people die. When it ends, he has begun to assemble the puzzle that leads to comprehension of his own mortality. It's a chilling moment, but also a poignant one. It demonstrates that The White Ribbon, for all its severity, is fundamentally humane. (Recommended)