Bush Panel, Congress Urge Aid for Wounded Vets
NPR's David Greene Reports on the Panel's Recommendations
Commission's Recommendations
A special commission appointed by President Bush issued its report Wednesday on improving health care for wounded veterans, particularly those returning from Iraq.
The recommendations include increasing government help for family members who take care of the wounded.
The issue also is alive in Congress, where the Senate on Wednesday approved a bill to streamline benefits and increase military pay.
Panel Calls for Changes in Military Medical Care
Commission's Recommendations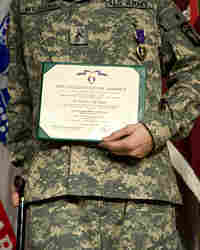 Medical Care Shortcomings
A presidential panel examining medical care for wounded U.S. service members on Wednesday called for changes that would boost benefits for care givers, establish a Web site for medical records and overhaul the way disability pay is awarded.
The nine-member panel — led by former Sen. Bob Dole (R-KS) and former Health and Human Services Secretary Donna Shalala — also recommended stronger partnerships between the Pentagon and the private sector to boost treatment for traumatic brain injury and post-traumatic stress disorder.
A 29-page draft report was presented to President Bush, after the Senate on Wednesday addressed some of the issues by passing sweeping legislation to expand brain screenings, reduce red tape and boost military pay.
The commission formally approved the recommendations later in the day.
"Gone will be the days of injured soldiers telling the same information to doctors over and over again," said Shalala, who said the proposals seek to provide more customized, personalized care to injured Iraq war veterans.
She called the report a set of recommendations that could be implemented right away. About six of the 35 proposals require legislation, while the rest call for action primarily by the Pentagon and Department of Veterans Affairs.
Among the recommendations was an indirect rebuke of the VA — a call for Congress to "enable all veterans who have been deployed in Afghanistan and Iraq who need post-traumatic stress disorder care to receive it from the VA."
Only recently, the VA has taken steps to add mental health counselors and 24-hour suicide prevention services at all facilities, following high-profile incidents of suicides involving veterans.
In the past, the VA had failed to use all the money for mental health that was allotted to it.
"The experiences of these young men and women have highlighted the need for fundamental changes in care management and the disability system," the report read.
"Making the significant improvements we recommend requires a sense of urgency and strong leadership," it said. Bush said his hand-picked investigative panel had interesting suggestions on improving health care for those wounded in battle.
But the White House said not to expect action right away.
The report does not seek to directly criticize or lay blame for shoddy outpatient treatment at Walter Reed Army Medical Center, which resulted in a public outcry for change and creation of the commission. It cited a need to move forward, explaining there was no need to "reiterate" the findings of news reports that uncovered substandard care from the Defense Department and VA.
Among the proposals:
-- Boost staff and money for Walter Reed until it closes in the coming years. Also, urges Pentagon to work with the VA to create "integrated care teams" of doctors and nurses to see injured troops through their recovery.
-- Restructure the disability pay systems to give the VA more responsibility for awarding benefits.
-- Require comprehensive training programs in post-traumatic stress and traumatic brain injuries for military leaders, VA and Pentagon personnel.
-- Create a "My eBenefits" Web site — developed jointly by the VA and Pentagon — that would allow service members and doctors to access private medical information as the injured move from facility to facility to receive treatment.
-- Provide better family support, because one-third of injured Iraq war veterans reported that a family member or close friend had to relocate to care for them. It calls for training and counseling for families of service members who require long-term care and improved family leave and insurance benefits for family members.
President Bush created the panel in March to investigate problems in the treatment of wounded veterans following disclosures of roach-infested conditions and shoddy outpatient care at Walter Reed.
The White House event followed the Senate's vote by unanimous consent on legislation that seeks to end inconsistencies in disability pay by providing for a special review of cases in which service members received low ratings of their level of disability. The aim is to determine if they were shortchanged.
The bill also would boost severance pay and provide $50 million for improved diagnosis of veterans with traumatic brain injury or post-traumatic stress disorder. The House was considering similar measures.
"It has been hurry up and wait for the results of this commission report and now the White House is telling our vets to wait even longer," said Sen. Patty Murray (D-WA). "That's why the Senate has moved ahead with our Wounded Warriors Act. The public is waiting, our veterans are waiting."
Paul Rieckhoff, executive director of Iraq & Afghanistan Veterans of America, agreed.
"It is important for the American public to understand that the Walter Reed fiasco is not over," he said. "Everything is not fixed. The follow-through will be the most important part."
White House press secretary Tony Snow said that Bush would not be acting immediately on any of the recommendations. Rather, he said that the panel's ideas would likely be integrated with other ongoing efforts to improve health care and overall treatment of returning soldiers.
From Associated Press reports