Violence Returns To Anbar As U.S. Steps Back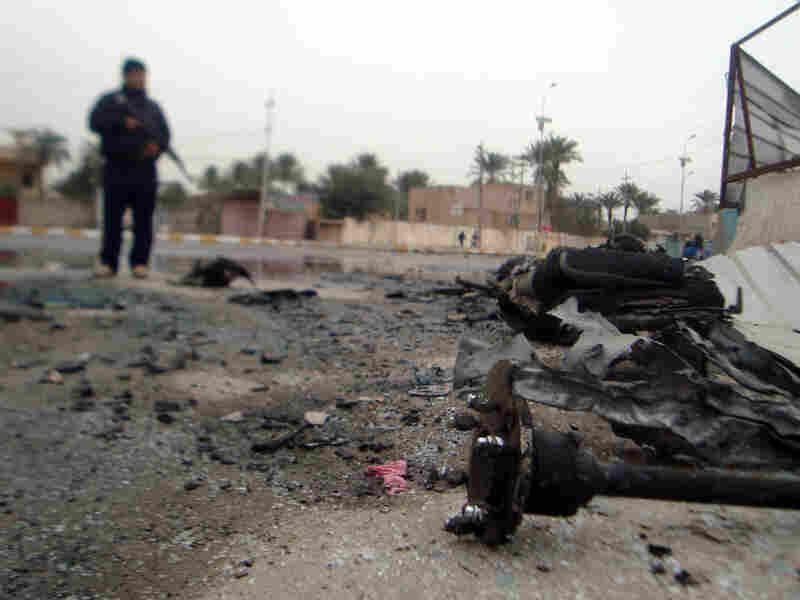 Azhar Shallal/AFP/Getty Images
The province of Anbar in western Iraq has been called the poster child for success in defeating Iraqi insurgents. Once a killing field, it spawned a homegrown tribal uprising against al-Qaida in Iraq.
But a slow drumbeat of assassinations and bombings raises questions about stability in Anbar. It appears that insurgents are exploiting a complicated power struggle in the province. And it may be a sign of things to come in Iraq now that the U.S. military doesn't seem to be playing a major role there anymore.
Anger in Anbar has gained strength as security in the province weakens. This month, a few hundred protesters took to the streets of the provincial capital, Ramadi, to demand a change.
The demonstrators chanted "Save us" and "We've been sold out." The slogans are a dig at the most powerful tribal sheik in Anbar, Ahmed Abu Risha. Members of Abu Risha's family were among the first to fight al-Qaida alongside the Americans. But now, his former allies say Abu Risha is making millions off reconstruction deals, but not providing security or services.
A Bombing And Its Aftermath
A daring attack on Dec. 30 killed at least 23 people. A car bomb ripped through the parking lot outside the provincial governor's office. When rescue workers rushed to the scene, a suicide bomber dressed as a policeman entered the crowd. The second blast killed a member of the provincial council and maimed the governor, who had come out to look around.
"I warned the governor not to go out, but he wanted to be Sherlock Holmes," says Brigadier Tariq al-Assal.
Assal was police chief in Anbar, but was sacked after the bombing. He claims it was impossible to keep the government building secure because members of the provincial council refused to let their men or cars be searched when entering the compound.
There was a consensus between the government in Baghdad and Anbar that Assal had to step down, but that's about all they agree on. Prime Minister Nouri al-Maliki appointed a new chief from outside the province, who swept into Ramadi with his own heavily armed guards.
Three-Way Political Struggle
Damage from the last car bomb in the center of Ramadi is still visible outside the government building. On a recent day, a soldier with a rocket-propelled grenade on his shoulder is ready to try to stop the next car bomb.
But inside the compound, it wasn't possible to meet with the new police chief. A subordinate said the new chief had been yanked into a meeting with Abu Risha and given an earful.
It appears Baghdad failed to consult the sheik beforehand. Abu Risha has no official position in the government, but his alliance with the Americans has made him the kingmaker in Anbar.
It also has made him a political rival to Maliki: A three-way dispute between Baghdad, Abu Risha and the other tribal leaders is hurting security in the province, according to Adnan Jamil Muhanna, one of the few sheiks in Anbar who is considered neutral.
The mistakes are costly, Muhanna says. He says that Baghdad should consult with all the sheiks before sending out a new official to the province. He says corruption has left the police force underfunded and poorly armed.
Violence Linked To Elections
Only one player seems unconcerned about the recent violence in Anbar — the U.S. military.
"In terms of the overall security in Iraq, it doesn't concern me. But it does concern me whenever there's violence," says Gen. Ray Odierno, commander of U.S. forces in Iraq.
He says such attacks are to be expected before the coming Iraqi national election in March.
"It's not a sign of crumbling security in Anbar. These are attacks that we think people continue to try to attempt between now and the election because they want to delegitimize the government. They do not want these elections to go forward. They do not want them to be successful," Odierno says.
The U.S. military has announced that it will accelerate the troop withdrawal in Anbar — from an already much-reduced presence. It's hard to say if the measure is taken out of confidence in Iraq's long-term stability, or as recognition of the security agreement between Baghdad and Washington that means the U.S. will soon be leaving Iraq regardless. Under the agreement, U.S. forces will draw down this year, and all troops must leave by the end of 2011.