A Grim Mission Begins For Haiti Relief Workers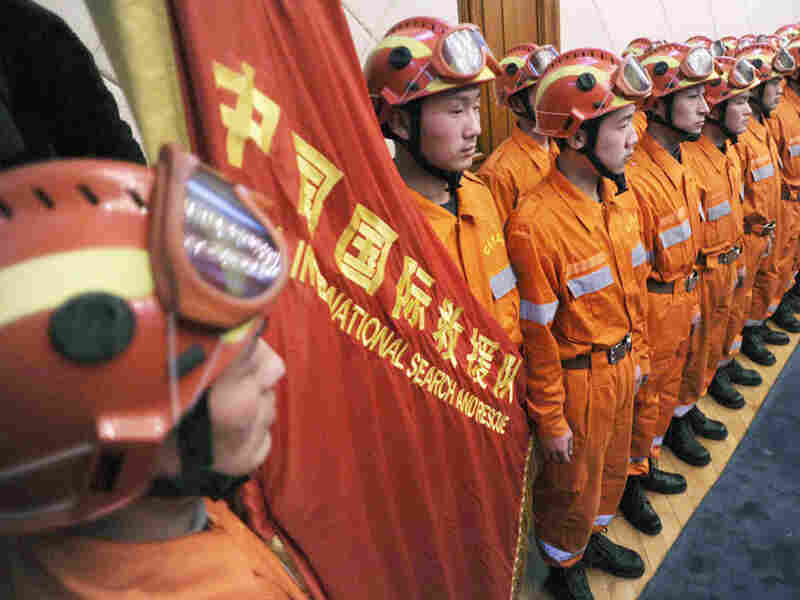 Rescue workers in Haiti scrambled Wednesday to aid an estimated 3 million hurt and homeless people, as major international relief agencies reported that their offices were among those that collapsed in Tuesday's earthquake that hit the capital city of Port-au-Prince.
"The goal of the relief effort in the first 72 hours will be ... saving lives," said Rajiv Shah, the head of the U.S. Agency for International Development. "We have two significant search and rescue teams — each of 72 people with a range of technical capacities and equipment — that will be able to go in today and to begin an aggressive search and rescue operation."
The United Nations, American Red Cross and Doctors Without Borders were still accounting for staff members, even as relief efforts got under way shortly after the magnitude 7.0 quake struck on Tuesday evening. Those agencies and others have ongoing medical projects in Haiti, the poorest country in the Western Hemisphere.
The French, Mexican and Venezuelan governments also announced they were sending aid to the region.
France-based Doctors Without Borders said on its Web site that the organization had to set up tents to replace its own damaged buildings in Haiti.
"The situation is chaotic," said Stefano Zannini, a DWB staff member who spent most of Tuesday night trying to asses the state of medical facilities. "I visited five medical centers, including a major hospital, and most of them were not functioning."
Joe Raedle/Getty Images

Olivier Laban-Mattei/AFP/Getty Images

Lynne Sladky/AP

Olivier Laban-Mattei/AFP/Getty Images

Olivier Laban-Mattei/AFP/Getty Images

Chris Hondros/Getty Images

Ariana Cubillos/AP

Lynne Sladky/AP

Thomas Coex/AFP/Getty Images

Francois Mori/AP

Thomas Coex/AFP/Getty Images

Juan Barreto/AFP/Getty Images

Juan Barreto/AFP/Getty Images

Logan Abassi/UN

Juan Barreto/AFP/Getty Images

Paul J. Richards/AFP/Getty Images

Lynne Sladky/AP

Ramon Espinosa/AP

Juan Barreto/AFP/Getty Images

Juan Barreto/AFP/Getty Images

Frederic Dupoux/Getty Images

Frederic Dupoux/Getty Images

Nicholas Kamm/AFP/Getty Images

Clint Austin/AP/Duluth News Tribune

Peter McCabe/The Canadian Press/AP
The American Red Cross teamed Tuesday night with the Haiti Red Cross to begin providing relief to thousands in a makeshift shelter, said Eric Porterfield, spokesman for the American Red Cross international services division.
Kits with kitchen supplies and water purification tablets for 5,000 families were in the pipeline from an American Red Cross warehouse in Panama, Porterfield said. He said providing clean water and food will be a top priority in the coming days. The agency has also released an initial $200,000 for the effort, and disaster specialists are on the way.
Photographs coming out of the country showed widespread devastation in the capital city, where schools, churches, hospitals — even the National Palace where the president resides — had collapsed. People, their faces dusted with concrete and dirt, looked dazed as relief workers tended their wounds.
Vatican officials said the Roman Catholic Church has marshaled its charity organizations to begin relief efforts immediately.
"I appeal to the generosity of everyone, so that our brothers and sisters receive our concrete solidarity and the effective support of the international community in this moment of need and suffering," Pope Benedict XVI said.
Catholics also mourned the loss of Port-au-Prince Archbishop Joseph Serge Miot, whose body was found in the ruins of his office.
State Department spokesman P.J. Crowley said relief supplies may get into the country more easily than first feared because it appears that the Port-au-Prince airport is operational. The U.S. is gearing up to send cargo planes and ships with supplies, as Navy and Coast Guard crews fly reconnaissance missions over Haiti to determine the scope of the damage.
The U.S. Air Force is also ready to fly in humanitarian and medical supplies aboard C-130 cargo planes, and Navy ships in Norfolk, Va., are on standby with additional supplies.
Civilian disaster assistance teams from Florida, Virginia and California wasted no time in assisting. Some teams were due to arrive Thursday in Haiti, while others were preparing to leave later in the day with more medical equipment and emergency personnel.
More than 70 members of Virginia Task Force 1, a Fairfax County, Va., urban search and rescue team, left from Dulles International Airport near Washington with six specially trained dogs to help sniff out survivors trapped in the debris of collapsed buildings. The team includes technical rescue personnel, physicians, paramedics, structural engineers, support personnel and about 48 tons of rescue equipment and supplies. Team members are self-sustaining for about 14 days.
The task force previously worked in Haiti, in the town of Petionville, when a school collapsed in November 2008. It also worked to free people trapped in the debris after the bombing of the Oklahoma City federal building, the Pentagon attack, and hurricanes Katrina and Isabel, as well as a bombing in Kenya and earthquakes in Turkey, Taiwan and Iran.