Tour de France: The Race, the Sport and the Fans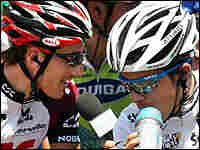 Franck Fife/AFP/Getty Images
There has been a remarkable drama at this year's Tour de France. A slew of athletes have been pulled from the race amid doping allegations.
The race's first place rider, Denmark's Michael Rasmussen, was ousted by his team for lying about his whereabouts during training. This comes on the heels of news that the pre-race favorite, Kazakhstan's Alexander Vinokourov, tested positive for doping. That pushed him and his team out of the running.
Still, bicycling's top event is going on. Alberto Contador is leading for Thursday, and has a good chance of winning the race. Contador is just 24.
Stephen Farrand of Cycling Weekly and Cycle Sport America talks with Alex Chadwick about the race, the sport and fans stunned by almost daily revelations of cheating.