Foreign Policy: Iran's Green Party Persecution Lives On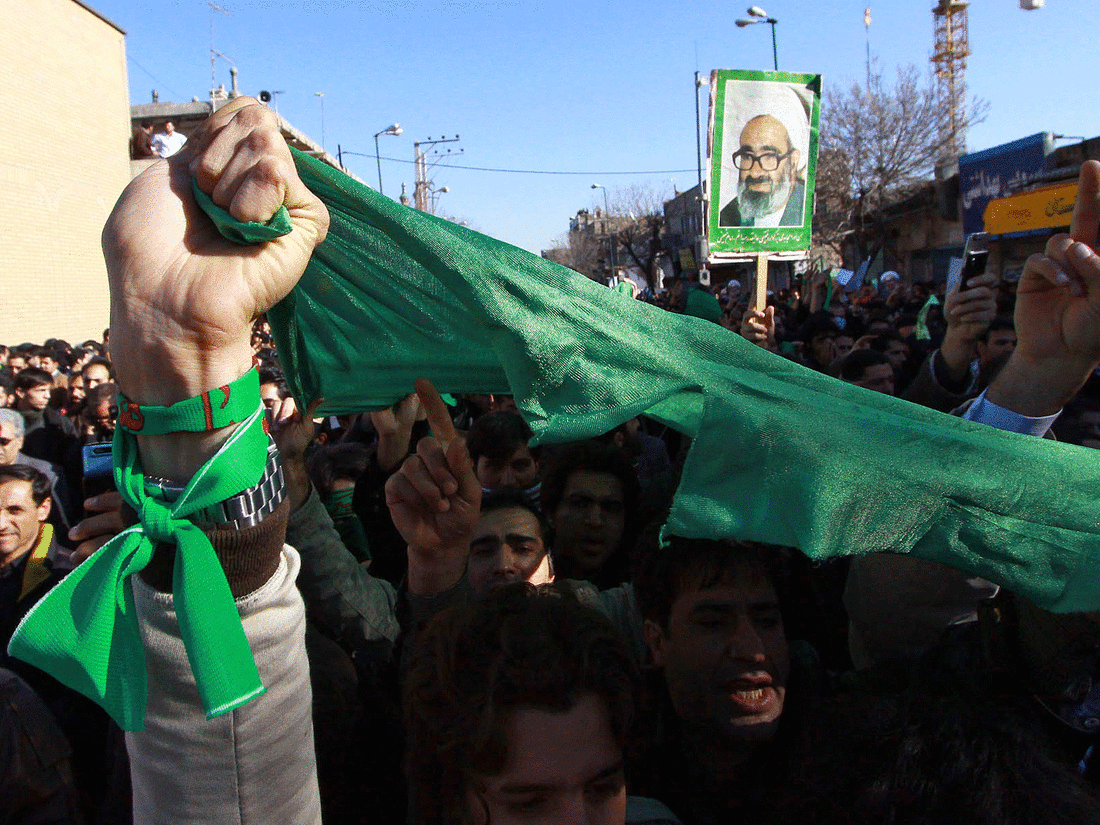 On Jan. 12, several agents from the Islamic Republic's intelligence ministry raided the home of Mohammed Taqi Khalaji. They took Khalaji into custody and confiscated his computer, satellite receiver, and hundreds of notes, books and personal letters. The agents also seized the passports of Khalaji and members of his family, banning them all from leaving the country. Khalaji's family does not currently know where he is being detained and Iranian authorities are refusing to provide any information.
Khalaji is a prominent cleric in Qom, the center of Iranian Shiism. Since June 12, he has been a courageous critic of the Iranian regime's crackdown on peaceful protests and a supporter of the so-called Green Movement. Khalaji was known to be close to Iran's most prominent dissident cleric, the late Grand Ayatollah Montazeri, and is an ally of Ayatollah Sanei — another well-known reformist cleric who has come under withering attack from the regime following the massive Ashura demonstrations of Dec. 28. Clearly, Khalaji's arrest is of a piece with the Islamic Republic's escalating — though so far miserably unsuccessful — efforts to crush all signs of peaceful opposition. Khalaji now joins hundreds, if not thousands, of other brave Iranians dragged from their homes and illegally detained for exercising their most fundamental rights of citizenship.
Mohammed Taqi also happens to be the father of my wonderful Washington Institute colleague, Mehdi Khalaji. A former Shia theologian himself, Mehdi is today one of America's leading scholars on Iran, a true national treasure — as anyone who has read his work can attest. He is a man brimming with learning, decency, and a deep love for and dedication to the well-being of his homeland and the Iranian people. It is difficult not to suspect that the regime's attack on his father was not designed as a foreboding message to Mehdi as well, an effort to use the long arm of the Islamic Republic to intimidate and silence an eloquent and insightful observer who knows this rotting system from the inside.
Iran's Green Movement could well turn out to be the most important social development within the Islamic world in the last 100 years — a truly grass roots, mass movement that is peacefully demanding democracy, human rights, the rule of law, and reconciliation with the outside world. In recent weeks, several commentators have suggested that the time has come for the Obama administration to move to the next phase of its efforts to support the long-suffering Iranian people, by putting actual names to the growing list of brave souls who — solely because of deep concern for their great nation, beloved countrymen and the good name of Islam — have fallen victim to the Islamic Republic's growing viciousness. The name of Mohammed Taqi Khalaji would be a good place to start.