A Year Later, Overseas Zeal For Obama Remembered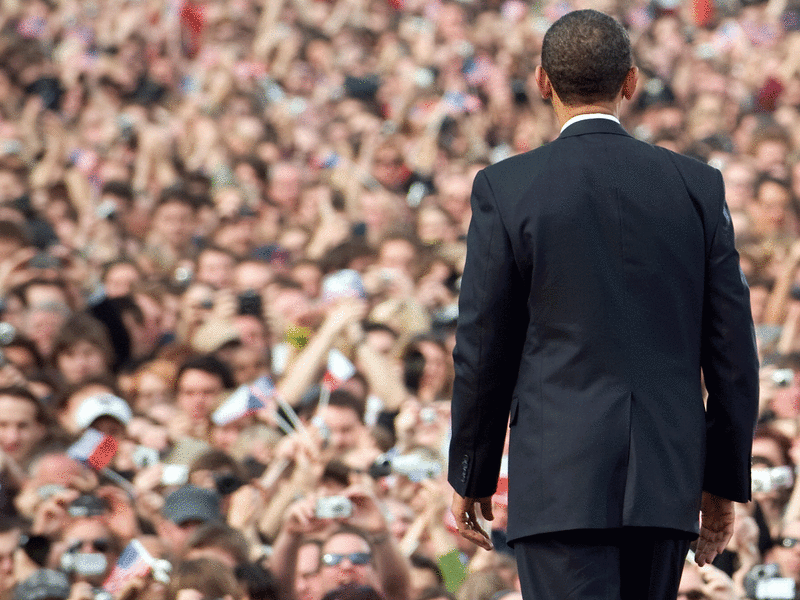 Saul Loeb/AFP/Getty Images
Emily K. Schwartz is a production assistant at NPR.
On Nov. 4, 2008, I was living in Prague. Two months into a four-month stay in the Czech Republic, I was smitten with the city, its people, its culture, its life. Even in the dreary days before winter, citizens and expats alike were abuzz with the subtle verve and charisma that coursed through the city.
It was thrilling — but the thrills weren't all brought on by the city itself. Most electrifying was Prague's reaction to American politics.
Walking through the narrow streets sipping horká čokoláda and breathing in the cold, whimsical air was one thing; turning a corner to find a storefront emblazoned with a familiar retro-ized poster of Barack Obama, colorful and expansive, was another.
There, amid castles and cobblestones, in an Eastern European nation many Americans might have trouble identifying on a map, Obama wasn't just in the papers or on television — he was waving out of windows, plastered on walls and assuming the names of drinks at bars. His face graced magazines, books and pins; his name echoed in the streets, among Czechs and whatever cultural amalgam was passing through that day. His name was clear in any language: Obama. The chatter was endless.
On an October hiatus from Prague, I found myself in Dublin Airport, strolling up to the customs officer who was prepared to stamp my passport and send me on my way. But instead of stamping, he looked up at me and pressed his face closer to the window: "What do you think of Barack Obama?" His brogue was thick and friendly, his eyes large and strikingly blue. "You are from the States, aren't you?"
I found myself engaging this Irish stranger in American politics, and was astounded by how well-informed he was about the policy and issue stances of both Obama and John McCain. You'd have thought it was his country that was electing a new president, but no — he was just a citizen of the world, watching this election with intense curiosity. He wasn't just making conversation; this election meant something to him. It would, in his view, determine the fate of the world. He seemed confident, without question, that Obama would win. "How could there even be any contest?" — my attempt at an explanation did little. He wished me well in my travels.
A week later, I flew back to Prague. The customs officer's words clung with me as we soared into unsure skies. Back on Czech soil, Election Day drew nearer.
By the time Nov. 4 arrived, the energy in Prague was palpable. Prague is six hours ahead of Eastern Standard Time — which meant copious beer was flowing in the city that, on this particular evening, decided to forgo sleep in favor of history in the making.
History was made.
Barack Obama, with the world cheering from the sidelines, won the U.S. presidential election. But it didn't end there — and a year after his 2009 inauguration, his battle is increasingly uphill. Obama's election set a new world tone; he still has three years to try to live up to the demigod we've positioned him to be. Let's hope Europe is still as enthusiastically rooting for him then — America may need its gentle support sooner than we care to realize.