Haiti's Cultural Capital Jacmel Damaged In Quake
Haiti's Cultural Capital Jacmel Damaged In Quake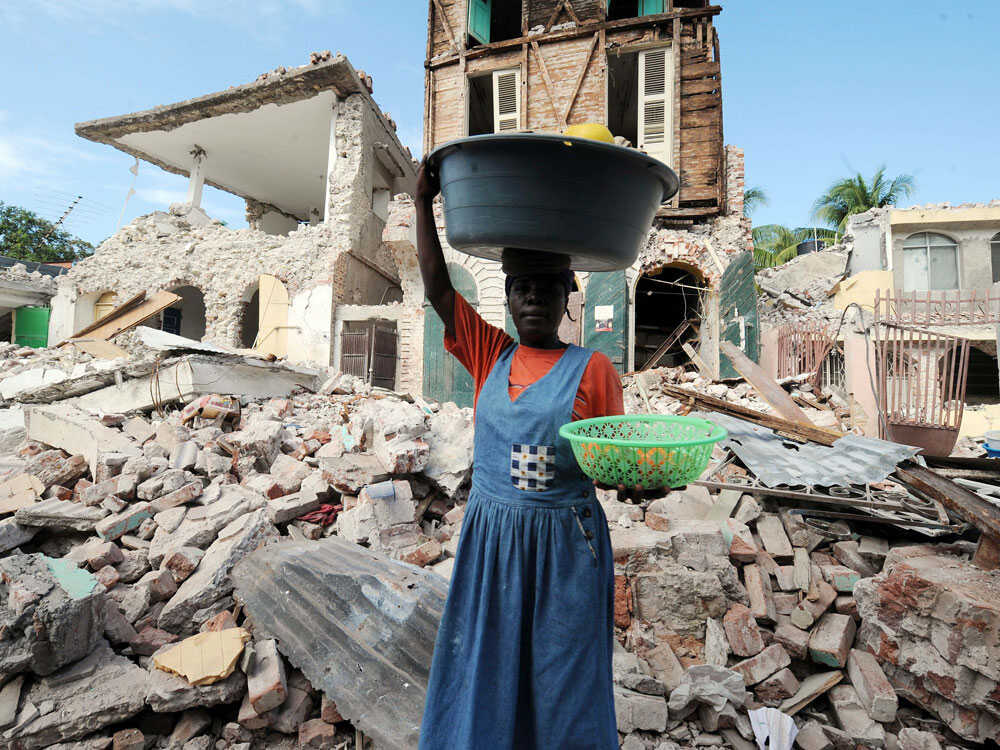 Jewel Samad/AFP/Getty Images
On Haiti's southern coast, the country's fourth-largest city, Jacmel, is known for its arts and French colonial architecture. In the first days after the Jan. 12 quake, it was largely cut off from the rest of Haiti.
The road to Jacmel is a narrow, two-lane highway that just reopened. Portions of the road are cracked and look in danger of sliding down the mountain. Rock slides that blocked the road have been recently cleared, but it's still a hair-raising journey.
"Everything was moving," Jacmel resident Paule Baruk recalled. "You know what it means — everything?"
Baruk has lived with her husband, Moro, in Jacmel for 30 years. She says she was sitting outside with friends when the earthquake hit.
"Suddenly we heard the noise coming from the earth — it was terrible," she said.
Jacmel's historic section near the waterfront — mostly two-story stone buildings with ironwork and balconies reminiscent of New Orleans' French Quarter — is now in ruins. Baruk says she doesn't know how she'll pay for the repairs to her house.
Georgette Douge is a friend of the Baruks' who says she has decided to leave the country and move back to New York.
"Downtown is finished completely, so we need help to rebuild everything and reconstruct Jacmel," Douge said.
Residents think their best hope lies in convincing architecture and historic preservation groups to come in to help rebuild and restore Jacmel's treasures.
Cleanup already is under way. Canadian troops arrived this week and immediately began using shovels to clear streets of rubble.
Compared with Port-au-Prince, the devastation is manageable. Except for the old section, individual buildings — not entire neighborhoods — were demolished in the earthquake.
There were deaths in Jacmel. But they are in the hundreds — not the tens of thousands of dead in Port-au-Prince. Jacmel is a city where rebuilding seems possible and which already is starting to grow.
At Jacmel's bus station, vehicles arrive steadily from Port-au-Prince, overloaded with passengers. It's a similar scene at provincial cities all over Haiti.
Yolande Nelson says she has returned to her hometown because there really is no other choice.
"Things are really dangerous in Port-au-Prince because people are dying. We are running for our life because of the earthquake that's killing people in Port-au-Prince," she said.
But no one is certain where all the newcomers will live in Jacmel.
There are five encampments in town of people whose houses were destroyed or are too dangerous to sleep in.
While fewer homes were demolished and there are fewer dead and injured than in Port-au-Prince, Jacmel has its share of tragedy.
Natasha Etienne was part of a small crowd examining a pile of rubble that used to be a school. She was asked how many students died.
"I really don't know because there are so many people who died inside," she said.
Not far from the school, a crowd was gathered around a house where a search-and-rescue team was working.
The team had pulled a baby out of the crushed house, seven days after the earthquake.
One man standing by watching exclaimed, "That's a miracle, man. A miracle."