For Democrats, Mass. Loss Triggers Finger-Pointing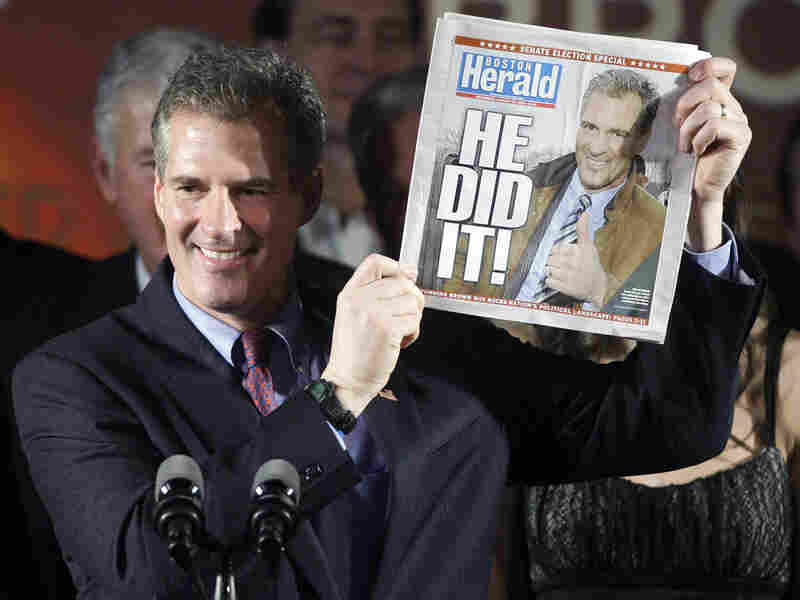 The recriminations began long before the votes confirmed Republican Scott Brown's stunning capture of the Massachusetts Senate seat held for nearly five decades by the late Democrat Edward Kennedy.
Brown's election Tuesday imperils Kennedy's self-described life's work of overhauling health care, a Democratic initiative the senator-elect had promised to kill during the campaign. It also instills fresh dread in a party that will face increasingly restive, anti-government voters in the fall.
Confronting the loss of their 60-vote supermajority in the Senate and repudiation in a blue state, disoriented Democrats across the country, from the White House to local party workers, spread the blame liberally.
Heard On 'Morning Edition':
Politics
Election Loss Tarnishes Obama's First Year
Election Loss Tarnishes Obama's First Year
Accusatory fingers pointed at Democratic candidate Martha Coakley for running a bad campaign.
At complacent Democratic voters for not getting to the polls.
And, increasingly, at President Obama for failing to convert his historic White House win and personal popularity into a coherent national vision that would keep the public on his side.
Many Democrats were looking to Obama to win back the disillusioned independents who helped put him in office, as well as to provide their party with a narrative that would convince constituents back home to buy into the president's ambitious agenda. Others wondered whether those ambitions were just too great.
As Republicans began to take their victory lap, the Democrats' intra-party blame game was only beginning. Many were quietly taking stock of why the party, riding high just a year ago with a new president in the White House and control of Congress, had fallen so fast. They also asked what they could do, during a time of continued economic distress, to turn around the story in time to salvage the rest of Obama's agenda and stave off disaster in November's mid-term elections.
'Wake-Up Call'
"This is a very welcome wake-up call," says Raymond Buckley of New Hampshire, a national party vice chairman and head of the Association of State Democratic Chairs. This kind of reflection "didn't happen after Democrats lost the governor's races in Virginia and New Jersey — but everyone is going to pay attention to this election."
Coakley's loss will be less welcome to other Democrats. But the Massachusetts contest certainly got Democrats' attention in the House and Senate, where party leaders now face the nearly impossible hurdle of getting some form of health care legislation to Obama's desk before Brown is sworn in.
"Throughout this campaign, we had the machine scared and scrambling," Brown said in his acceptance speech Tuesday night. "And for them, it's just the beginning of an election year filled with many, many surprises."
He added, "When there's trouble in Massachusetts, rest assured there's trouble everywhere, and they know it."
Darren McCollester/Getty Images
Some Democrats, including longtime strategist Peter Fenn, caution that Massachusetts presented a perfect situation for a populist like Brown. A lackluster opponent in Coakley and an unpopular Democratic governor both contributed to Brown's victory. But, Fenn says, the results do reflect a "national mood that's incredibly toxic when it comes to the economy."
The President's Popularity
Tuesday's results, and even major losses in November, would not necessarily doom Obama in 2012. Bill Clinton was re-elected in 1996 despite the conditions that led to the Republican landslide in midterm races two years earlier. And President Ronald Reagan, who also faced a seriously damaged economy when he came into office, also managed a landslide re-election.
Democratic strategist Chris Lehane reaches further back for historic parallels — to the early 20th century. "Then, like now, you had angry voters both on the conventional left and right, all very upset that the processes of government and its institutions were simply not working, and that the promise of America was fundamentally challenged," he says. Both sides now feel that the system is rigged, Lehane says, and that they're not getting a fair shake.
Lehane, who worked in the Clinton White House, says Obama so far has failed to impart the big idea — something that links his efforts on jobs, the economy, education and the environment into a framework that convinces voters that where he wants to take the country is not only in the national interest, but also in their self-interest. "That's a fundamentally different discussion than what we've seen," he says. "Rather than use the bully pulpit and let the message drive the politics, he has gone through it in a very legislative approach."
Polls show that a majority of Americans, stung by unemployment and angry at bailouts and Wall Street bonuses, have soured on Obama's policies, including his health care initiative. But they still like him and want him to succeed. That good will is his coin, Lehane and others say, and one he is going to have to spend.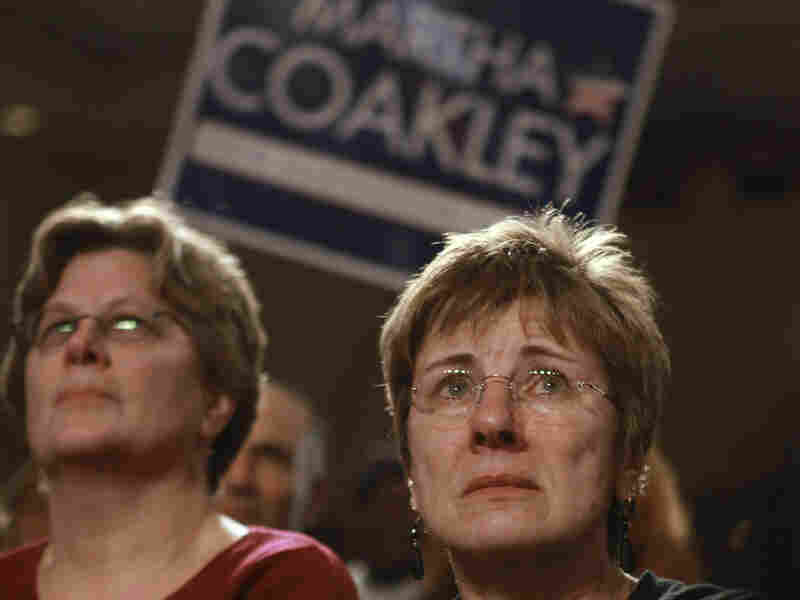 Muddled Messages
Colorado state Democratic chair Patricia Waak had breakfast Tuesday morning with party leaders from the state's western slope. Their biggest worry? Voter apathy, she said. Her biggest worry? That the administration and national party leaders have failed to show up in competitive states like hers and adequately explain to voters the nuts and bolts of initiatives like health care.
Voters are confused, Waak says, "and we need a basic tutorial for the public to tell them what's happening and what we're doing."
"The Democratic National Committee's press office is great, but they need a new mission — to translate what we know into something simple and something that people can understand, and train people to deliver that message at the local level."
There is disappointment in Obama, she says, particularly among party progressives "who thought that everything they wanted would magically happen." But she also says there is an understanding that he inherited a terrible economic situation.
"It's a mixed bag," Waak says.
Obama Effect
The president's campaigning wasn't enough to save Coakley, or the Democratic candidates in last November's gubernatorial races in Virginia and New Jersey. And though Republicans were gleefully suggesting that the president was "toxic," he remains key to the party's message over the crucial coming months.
"He's going to have to come out swinging," Fenn says. "He needs to get those independents back — and they're pragmatic — they'll go with a party able to accomplish something."
Party strategists say the president needs to make a stronger case for his role in helping pull the economy back from the brink. In addition, Obama needs a more concrete plan to convert, as Lehane says, his "aspiration to vision."
While supporters admire the president's cool and calm demeanor, strategists say winning back independents will require Obama to show more outward empathy and compassion for how people are hurting, and to acknowledge their impatience.
What Obama and the Democrats may not accomplish now is the health care overhaul, the centerpiece of the president's domestic agenda. The machinations on Capitol Hill have already begun to push something through, and quickly. But Fenn cautions Democrats against trying to hold off seating Brown or creating some sort of legislative deal that would look unsavory to voters. "Now is not the time to get cute and to undermine yourself," he says.
Massachusetts was a case of "total complacency" on the party's part, Buckley argues.
But complacency may just be a symptom of much larger problems — ones that the Democratic Party hopes to cure in less than a year.