Foreign Policy: Dispatch From Haiti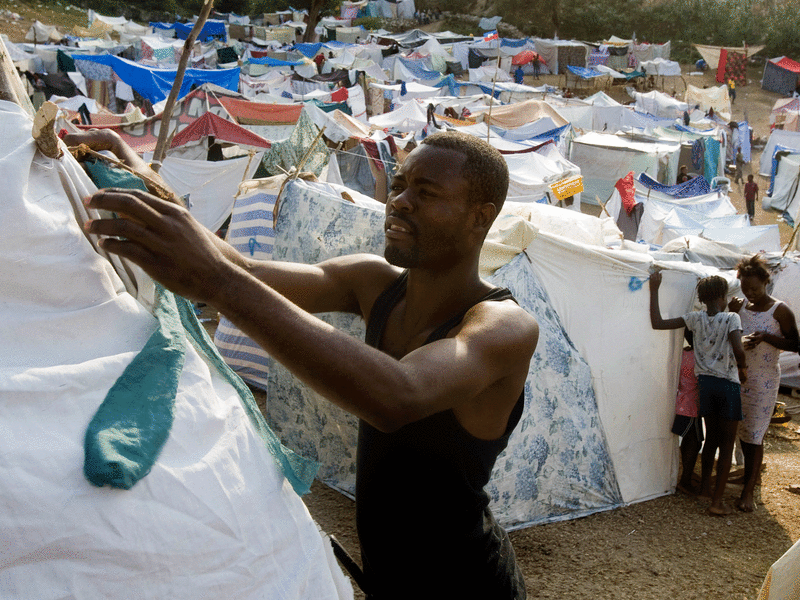 Marco Dormino/MINUSTAH via Getty Images
Over a week after the earthquake in Haiti, damage control is still the prevailing priority on the the ground. Journalist Kate Prengel, who just returned from Haiti, sends this dispatch to FP from the front line:
"The Place St. Anne in downtown Port-au-Prince has turned into an informal refugee camp for victims of last week's earthquake. The scene is one that is repeated throughout the city. Women are cooking in tin pots over a few sticks of charcoal. The sick and injured are lying on blankets under makeshift tents. Children are playing improvised soccer with a tennis ball.
As soon as I walk into the Place, a woman hurries up to me. "There is a man here, injured badly," she tells me in French. Her name is Lopdes, and she must be in her mid-thirties. I explain that I am not a doctor but a journalist, and a crowd of people gathers around to tell me about their situation.
"Nobody is helping us," one man says, and everyone nods their heads. They haven't seen any relief workers, and they certainly haven't received any food or water. Instead, they are making do with their own resources. After the earthquake demolished their houses, most of them were able to drag some of their rice, oil, or crackers out of the rubble. They all take a certain pride in the fact that they are now sharing what they have equally among themselves. "We are living communally," says Shelove Lindor, a thoughtful man in glasses. "We are helping one another."
At the same time, they are all acutely aware that their supplies will soon run out.
When I ask what they need, the replies are unanimous: food, drinking water, and medical supplies. Ghislaine Chajame, an energetic woman in an orange blouse, told me that she is a nurse and has been doing her best to tend to the injured. But she has no painkillers, no penicillin, and no real bandages. Like the others, she says she hasn't seen any relief workers since the earthquake hit.
Throughout Port-au-Prince, the situation seems to be the same: in the absence of any proper relief effort, ordinary Haitians are taking on the herculean task of finding food, water, and shelter. If there is any order in the city's chaos, it comes from the people themselves.
The national police, meanwhile, are nowhere to be seen. Here and there in the center of town I spot a white United Nations tank, driving along with its doors and windows shut. A few bulldozers are excavating rubble, but they are few and far between;. It's just as common to see two or three men take matters into their own hands and excavate as best they can with their own hammers. The American soldiers are all at the airport, managing an airlift of U.S. citizens back to Florida. And the French soldiers are mainly to be found in the leafy back hills, far from the devastation of the city itself.
All things considered, the city is remarkably calm. Self-appointed traffic controllers, in ragged clothes, direct cars through the clogged streets. In the rough, hilly neighborhood of Delmas, women sell carrots and okra brought in from the nearby countryside. It's not really an attractive scene; cut up chickens are starting to rot in the sun, and pigs are rooting around in the mud. The air, here and everywhere, stinks of sewage and dead bodies. But a certain order prevails. Residents have piled up their garbage in a ravine and are burning it because, one woman explains to me, "it could be bad for the health" to have so much garbage on the street. A little girl is rolling dough into long strands. "This is Creole pasta," she explains to me, smiling, as though there has been no earthquake and I am a tourist, soaking up local flavor.
It is anyone's guess how long this relative calm will last. Haitians are keenly aware that they cannot manage for long without international assistance. People have hung up signs in English, French, and Spanish, asking for help. One typical sign, a sheet hung across a Delmas alleyway, reads "Help us! We need foods, water, and medicaments."
Right now, Port au Prince is on a massive adrenaline high. The streets are swarming with people carrying bundles, foraging for food, and scavenging what they can from the city's wreckage. Basic survival demands an incredible amount of energy, and most of the people I spoke to are consumed with the immediate present. Nobody wanted to tell me about the earthquake, which already seemed like a remote event; everybody wanted to tell me about their need for food, water, and medicine.
It's striking that nobody seems to expect any help from their own government. Back in the center of town, I spoke to a group of men gathered outside the wreckage of the Palais National. Were they, I asked, waiting by the palace in the hopes that the president would come and speak to them? Were they expecting to hear from their leadership?
I was met with blank stares, and amusement. Finally someone explained to me politely that they had chosen that spot to gather in for geographical reasons: it's flat, and there are no nearby buildings which might collapse on you in case of an aftershock. "Our government is invisible," said David Oxygene. "They have abandoned us. They are not even giving us moral support."
The men around him agreed. Like everyone else, they also said they hadn't heard from the international community. But they had not yet given up hope. One man said he had heard news that a Dominican team of doctors had arrived. Other men had heard on the radio that the Cubans and Venezuelans were on their way. In one way or another, Haitians are waiting — desperately — for help. In the meantime, in one way or another, they are taking care of themselves."