Don't Freeze Out The Winter Olympics Yet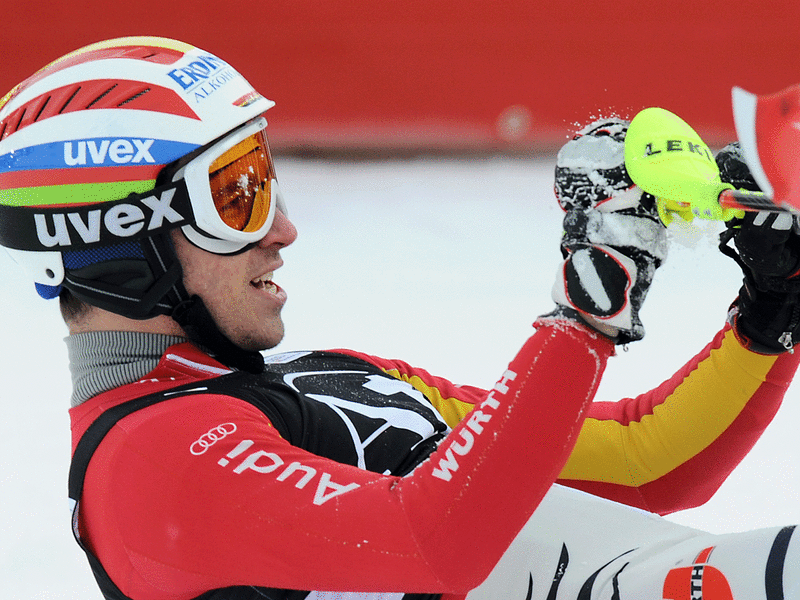 Samuel Kubani/AFP/Getty Images
For Winter Olympics athlete Zach Lund, Vancouver couldn't come soon enough.
David Sax is a Canadian who missed his shot at the national ski team when he entered a bowling tournament and lost his amateur status. His book, Save the Deli: In Search of Perfect Pastrami, Crusty Rye, and the Heart of Jewish Delicatessen, was published this fall by Houghton Mifflin Harcourt.
Just days away, the Vancouver Olympics are facing a rash of problems. Ski hills hosting events have been deluged by rain; Intrawest, the corporation that owns the hosting ski resort Whistler, has just filed for bankruptcy; and NBC recently announced that it will lose money on the broadcast of the games, the first such loss in Olympic history.
I realize many of you couldn't care less about the Winter Olympics, and I understand why. They're dominated by a handful of wealthy nations, which tend to compete in sports beloved by rich people. Not a lot of kids in poor neighborhoods go skiing on the weekends, and despite what John Candy did for Caribbean bobsledding in Cool Runnings, the Jamaicans were an exception to the rule. Though the Winter Olympics are a global event, they disproportionally favor the Northern Hemisphere. It's the G-8 summit of athletics, and it has faced repeated calls to be abolished.
But come Feb. 12, I'll be glued to the action in Vancouver. I'm an unapologetic Winter Olympics fanatic. The sports are faster and more dramatic than those in the summer. Events offer some variation on the following formula: take an athlete, strap razor sharp metal edges to his feet, and have him race over a rock-hard icy surface. The threat of injury, and even death, is omnipresent.
I even enjoy figure skating. Sure, it's a rhinestone-studded ballet on ice, but each time some 90-pound Ukrainian waif launches into a triple Salchow, my heart pauses until she sticks the landing. Only in the Winter Olympics would you take a perfectly fine sport like cross-country skiing, and kick it up a notch by giving each athlete a gun. Show me that with hurdles, speed walking, or discus.
Winter Olympics are often held in the countryside, deep in the heart of nature. As a visual feast, it's unparalleled. Lillehammer, Norway, site of the winter games I first fell in love with back in 1994, was ringed with snow-frosted peaks and pine forests, crowned by blue skies ... a winter wonderland.
At the start of those games, I remember watching TV in a ski chalet my family rented near Toronto. I'd recently broken my wrist snowboarding. Outside, the conditions resembled those in Norway: clear, snowy, cold as anything. Suddenly a ski jumper appeared above the stadium, holding the Olympic torch in his hand. He was the replacement (the first jumper had a horrendous crash in rehearsal), but he soared through the air like a god from Mount Olympus and delivered the flame to kick off the games. I stood. I cheered.
I don't expect those of you in warmer climates to appreciate that moment, let alone the Winter Olympics. It's most likely sunny where you live right now, and you've probably got a nice tan. To those of us from northern latitudes, winter is our annual burden. It's dark, cold and downright miserable. But for two weeks, every four years, we revel in it, praying for snow, freezing temperatures and glassy ice that just begs for a slap shot. So let me enjoy my Winter Olympics before I slink back into the slush. You'll have your games in two years. I need this now.