Rescue Dog Jake Dies
Search and rescue dog Jake, a 12-year-old black Labrador, died this week of cancer. Jake assisted in the in the aftermath of several disasters around the country, including Sept. 11 and Hurricane Katrina.
Jake's owner, Mary Flood, talks with Alex Cohen.
Jake, the Rescue Dog: An Impressive Life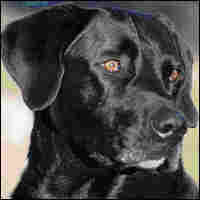 On Friday morning at 4:30, "Jake" passed away from complications with his battle against hemangiosarcoma (a blood-borne cancer).
Jake, a 12-year-old black lab, was a Rocky Mountain Rescue Dog from 1997-2006 with certifications in Avalanche, Tracking, Wilderness, and Water Rescues. Jake certified with Federal Emergency Management Agency in 2001 and went with the Utah Task Force One team to New York's Ground Zero on a 17-day deployment. He also deployed with the team on Hurricane Katrina and Rita in 2005.
Jake assisted throughout his career with mentoring other search and rescue dogs, helping out with burn camps, and promoted public awareness thru numerous demonstrations. Jake is survived by his handler of 12 years, Mary Flood. Jake, you will be missed, but at least our lunches will be safe!
Nick Glagola is a fireman for Salt Lake City Fire Department. He's also a member of Utah Task Force 1. Jake's handler, Mary, can be reached at jakeplusrex@yahoo.com.