Botstein Revives Zemlinsky with a Bard Double-Bill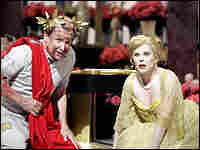 Botstein Conducts Zemlinsky
Hear music from Zemlinsky's two one-act operas based on works by Oscar Wilde.
'A Florentine Tragedy'--final scene
The Dwarf--Duet btw. Infanta & the Dwarf
A Florentine Tragedy
Simone: James Johnson
Bianca: Mary Phillips
The Dwarf
Infanta: Dominique Labelle
The Dwarf: Richard Troxell
The American Symphony Orchestra, Leon Botstein, cond.
It's been 65 years since the death of Viennese composer Alexander Zemlinsky, and the classical music world is still playing catch-up when it comes to appreciating his music.
Over the next week, conductor Leon Botstein is doing his part to bolster Zemlinsky's reputation by pairing the composer's two rarely heard one-act operas, The Dwarf and A Florentine Tragedy, in a fully-staged Zemlinsky double-bill at Bard College in upstate New York.
Boststein spoke to Jacki Lyden about Zemlinsky and the source of his two short operas — the writings of Oscar Wilde.
Overlooked and Underappreciated
When Zemlinsky died in Larchmont, New York in 1942, in near total obscurity, composer Arnold Schoenberg (Zemlinsky's student and brother-in-law) wrote "It is possible that his day will come earlier than we think." But Botstein says Schoenberg's prediction rang false.
"As recently as 15 years ago," Botstein says, "he was a composer one found primarily in history books as a subsidiary figure."
There was a brief period of hope in the 1970s when a few pieces by Zemlinsky surfaced here and there. Then, beginning in the 1990s, American conductor James Conlon released a series of highly praised Zemlinsky recordings, eminating from Cologne, Germany. Even with Conlon's zeal, Zemlinsky's music has been slow to catch fire in the U.S.
Zemlinsky was one of a handful of adventurous composers discovering new directions for their music at the dawn of the 20th century. Many of his contemporaries—Richard Strauss, Gustav Mahler, Igor Stravinsky and Arnold Schoenberg — became superstars. Zemlinsky became little more than a footnote in the history of fin de siecle Vienna.
Wilde Romanticism
Oscar Wilde, the Irish novelist, poet and playwright, died in 1900. In 1905, Richard Strauss created a scandal when he based his opera Salome on Wilde's version of the biblical story. The opera was considered racy, and was even banned in some places, but it was ultimately a success and it helped introduce Wilde's work to the operatic world.
It was enough to trigger Zemlinsky's interest, and in the next few years he based two one-act operas — A Florentine Tragedy and The Dwarf — after works by Wilde.
Tragedy is a classic love triangle, featuring a brutal murder and a twisted conclusion. The Dwarf (based on The Birthday of the Infanta) highlights a young beauty breaking the heart of an ugly dwarf.
"Zemlinsky was drawn to Wilde's razor-sharp insight into the self-destructive, cruel and complex psychological interaction among people," Botstein says. "Like all master satirists, he asks 'how much of ourselves do we recognize in these distilled portraits.'"