Amid iPad Mania, Will Bookworms Be Left Behind?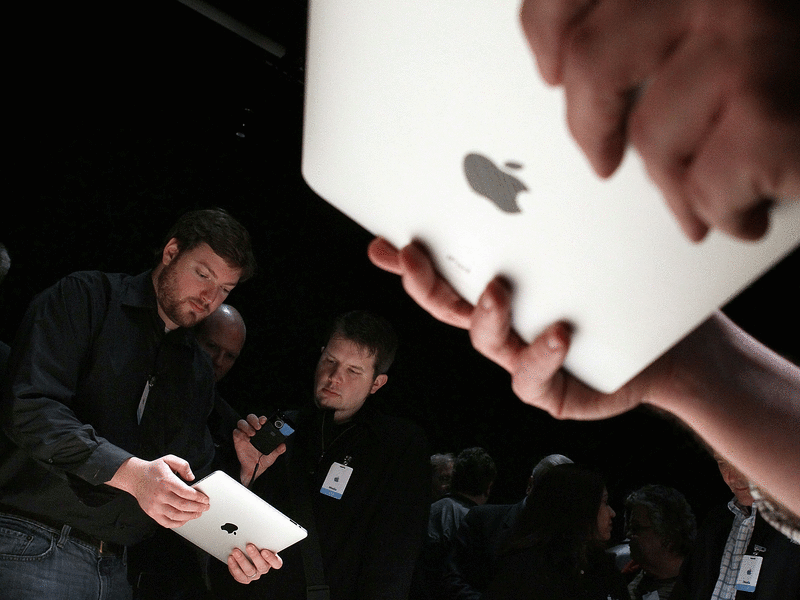 Justin Sullivan/Getty Images
Madhulika Sikka is the executive producer for NPR's Morning Edition.
This whole e-book thing is really confusing me. I'm a book person, one of those old-fashioned book lovers. I love the touch, the feel, the cover art of books. My idea of a great afternoon? Being transported by the wonder and knowledge available in a great bookstore. I love the pile of books stacked on my bedside table and the double-deep piles on my bookshelves. When I finish a really good book, I love to pass it on to my husband and see it stacked on his bedside table, knowing that he's going to be transported, too. It's fun to walk down the aisle of a plane or a train and see what everyone's reading.
If you came to visit me in my office at work, you'd have to step over the piles of books that get sent to me. I have my shelf of aspirational reading and I have my shelves of books to reread. Books give me joy and sustenance and tranquililty and escape. But when I say book, I mean a book book. You know, ink on dead trees, the technology that the Chinese have used for centuries, the innovation Mr. Gutenberg introduced to the Western world. It's done us pretty well for centuries and centuries.
But, I'll admit, that glimpse of the iBook feature on the new iPad really seemed seductive. The bookshelf graphic, very clever. Brushing your hand across the screen to turn the page of a book, just gorgeous. Like thousands of others, I got a Kindle for Christmas and I am a reluctant entrant into the whole eBook world. I'll admit it was nice to not have to carry a ton of books with me on the plane for the holidays. But, when I go and see my family, I swap books with my sisters, leave some behind, pick some up, return them on the next trip, browse the bookshelves. And this is what I'm worried about.
Whether it's a Kindle, a Sony e-reader or the new iPad, what will happen to the shared experience? And will we have to be monogamous to our devices? Will the deal that Apple has with Simon & Schuster or Penguin make it harder for me if I only have a Kindle? Can I read the book I purchase on my iPad on my iPhone too? There's an iPhone Kindle app; I haven't figured out if the book that lives on my Kindle can be read on my iPhone. I don't know how to lend my e-book to my sister. And of course we haven't even tackled the digital rights issue. I'm going to be able to purchase an e-book from Britain or Asia, while sitting here in the U.S., right? Or will they make them all regionally compatible (like DVDs) so an e-book purchased in Tokyo won't play on my e-reading device purchased in America? And you thought that the digital world of ones and zeroes meant that it would be easy!
All I'm saying, Mr. Bezos and Mr. Jobs, and all you other whizzes of the technical world, is don't forget about me. I mean me, the reader. I mean me, the reader who loves books. The reader who has picked up old-fashioned books from across the globe and touched them and felt them and passed them to friends and families and kept them for years and reread and enjoyed books. I'm probably never going to give up on paper books because it seems to me that the tech whizzes aren't book people; they are tech whizzes and business people. Until I know they are as solicitous of me the reader — the way my local independent bookstore is — why should I change? Besides, I don't have to worry about the battery life of my old-fashioned book.