It's Pretty Personal And All, But I'll Miss Salinger
Susan Jane Gilman's latest book is the memoir Undress Me in the Temple of Heaven.
If you really want to hear about it, the first thing I'll probably have to tell you was how he was 91, and how lousy he was as a recluse even though he was this terrific writer and all, and how he wrote these books that everybody in America seemed to read by the time they were 17 and all that crap. But I don't feel like going into it, if you want to know the truth. We all know how Salinger's books, especially The Catcher in the Rye, seemed to be on everybody's "seminal" list, and that some fundamentalist with high-waisted pants and a handful of pomade in his hair or teacher with spittle on her lips was always trying to ban his stuff from the library. Most of the time they hadn't even read the goddamn things, they'd just heard the books were blasphemous and all.
What I guess I could tell you, which is pretty personal and all, was that when I was eight, I had a pretty bad case of bronchitis. And I also had a spot of pneumonia on my right lung. I had to stay home from school for two weeks, which, for a kid is like a goddamn lifetime. But I didn't go to the hospital. I don't think we could afford it. We were living in New York and my dad didn't make a lot of dough.
So my mother, she'd put me in her bed during the day, so that my room could air out, and I'd lie in this big bed with green gingham sheets on it, and she'd give me a tray with SpaghettiOs and a glass of ginger ale. I watched about a thousand hours of TV, too, but most of it was nothing but a bunch of phonies, all these people named Brad and Ginger plotting to kill each other's spouses and all that crap. If there's one thing I hate, it's soap operas. Don't even mention them to me.
So finally, I was so bored and miserable, I guess I was getting on my mother's nerves and all, she asked me if I wanted her to read to me, not baby books or the stuff I usually read myself, but something grown-up. And I said sure. I liked books. I thought they were pretty hot, the way those writers could make you believe in a secret garden or a bear eating jam and all that. And so my mom took out Nine Stories by J.D. Salinger and started to read aloud.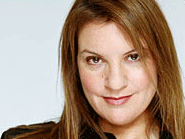 The story she read to me was A Perfect Day for Bananafish. It's about this vet, as you know, who is suicidal, but he hopes that this little girl might somehow be able to save him. For some reason, this little girl, I thought she was sort of like me. Anyway, it was a story like nothing I'd ever heard before. It was creepy and beautiful and there wasn't even a regular ending where everybody kisses and giggles and a Great Dane comes in with a bunch of puppies. It was a terrible ending, but it was also haunting and gorgeously sad in a way, like the final note of a French horn held and held until a purple-gray sky explodes and it starts to rain. I didn't even really understand it all, if you want to know the truth.
But it killed me. I knew this story was different, real art, even. I was eight years old, and sick, and sort of not well-liked and all, but that was pretty much the first time I realized I might one day want to be a writer, when I felt like maybe there was something bigger in the world, and I felt this wish to make people feel stuff the way this Salinger guy did. And I know this isn't anything really original. There's probably at least million others like me saying the same thing. So that's all I'm going to tell about it. But even though I never met the guy, I already sort of miss him.