Why You Shouldn't Hate The Grammys
More On The Grammys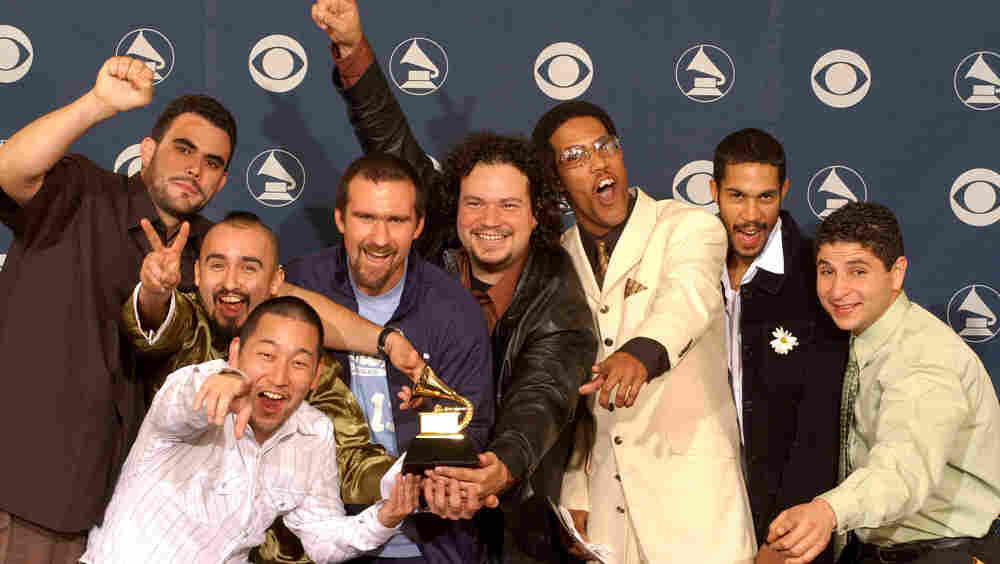 The Grammy Awards have been criticized over the years for being out of touch — voted on by a clique of aging industry insiders. But winning a Grammy still means something to some musicians — whether it's a status symbol for rappers, a paperweight for a superstar or genuine appreciation for some of those in the less visible categories.
Regardless of how you feel about the Grammys, on Sunday night, everyone in the Staples Center in Los Angeles will be waiting for these five words: "And the Grammy goes to ..."
Excitement and an unrehearsed speech usually follow. Winners sometimes kiss their Grammy statues, or thank God or their parents.
When rapper Ludacris accepted his first Grammy in 2007, he used his acceptance speech to settle an old beef; he thanked everyone who helped him reach the top, and even some who had criticized him on his way up.
"Special shout-out to Oprah and Bill O'Reilly. I love you," Ludacris said to laughter and cheers from the audience.
In 2002, Los Angeles musicians Ulises Bella and Asdru Sierra were sitting way in the back of the audience when their band's name, Ozomatli, was pronounced — incorrectly — by presenter Emilio Estefan.
"We jumped up like we had just won the Publisher's Clearinghouse or something," Bella says. "It was crazy."
Sierra jumps in, in a voice like that of a newly minted millionaire: " 'My life's gonna change! My life's gonna change! I can buy all the stuff I want now!' "
Then, turning serious, Sierra adds, "But Grammys doesn't come with a check."
"Sure doesn't," Bella adds.
Peer Recognition, Opened Doors And Sales
Sierra and Bella say winning their first Grammy confirmed to them that they were on to something with their blend of hip-hop, salsa, cumbia and other worldly sounds. Before the Grammy win, Sierra and Bella say, record companies and radio stations didn't quite know how to market the multilingual, multicultural band.
"To have that kind of validation from people in the industry just felt really good," Bella says. "At the same time, I think part of me was kind of, if we lost, have that kind of punk-rock attitude. Like, 'Eh, whatever. Who cares about that?' But in the end, I think the Grammys opened doors for us."
The Ozomatli guys got more airplay and bigger record deals, and began touring the world as cultural ambassadors for the U.S. State Department.
Winning a Grammy can also mean a boost in sales.
"Robert Plant and Alison Krauss won Album of the Year for Raising Sand," says Ann Donahue, senior editor of Billboard magazine, which bases its charts on sales. "They saw a 715 percent increase in their amount of sales. And that album had done pretty good previously to that. So ... the exposure they got in the TV show really paid off."
In some cases, exposure at the awards show and a trophy or two can provide a career boost for an artist looking to make a comeback. Bob Santelli, who runs the new Grammy Museum, points to Bonnie Raitt. By 1990, she had been dropped by her label and was reportedly struggling with drug and alcohol abuse.
"At that particular point, she was at the crossroads of her career," Santelli says. "As a matter of fact, she had lost her record deal, and Capitol Records had decided to take a chance on it. That record had to do something; otherwise, she'd be playing clubs instead of concert halls."
Capitol released Raitt's album Nick of Time, and it went on to sweep the 1990 Grammys. She won four, including Album of the Year.
"Those Grammys resurrected her career," Santelli says. "All of a sudden, everybody loved Bonnie Raitt all over again."
Even just performing at the Grammys can help a musician. In 1999, Ricky Martin was famous in Latin America but almost unknown up north. That changed when Martin got on stage to shake his hips and sing during that year's ceremony.
After the Grammy performance, Martin's "Livin' La Vida Loca" shot to No. 1.
Lesser Known — Bigger Bang
Recognition by the Grammys has also helped the scores of musicians honored each year during the afternoon, pre-telecast Grammy ceremony. Slack-key guitarist and producer Daniel Ho — no relation to Don Ho — is a four-time Grammy winner in the Hawaiian music category.
"It's brought Hawaiian music to maybe a world stage," Ho says. "People know about it now — more so than they did before the Grammys acknowledged it as a category. Before that, there wasn't a lot written about Hawaiian music. But now, people are talking about slack-key guitar because four slack-key albums won the Grammy. The recognition certainly changed a lot of things career-wise. We're doing higher-level projects; bigger artists; maybe charging a little more money for a gig."
Even within a music scene, a Grammy can provide a kick in the pants. Zydeco musician Terrance Simien is thankful for the Grammy Foundation's assistance to his colleagues in New Orleans after Hurricane Katrina. Beyond that, Simien says his Grammy win inspired other musicians to keep the tradition alive.
"It really energized the core of the source musicians here in South Louisiana to want to do the music even more," Simien says, "and inspired a lot of young musicians to continue to do what they're doing — you know, continue to follow in the tradition of all the great musicians that came before them."
You might think the novelty would wear off. But there still seems to be a thrill to winning — even for ex-Beatle Ringo Starr.
"From Sgt. Pepper and even today, the Grammys is like, it's your peers have said, 'Well, that's the one this year,' " Starr says. "But what's great about it, it's always open for next year. So we're all in the game again. But to get a Grammy is really cool. I love gettin' Grammys."