Economy Grows, But Doubts Remain
The government reported Friday that the U.S. economy grew 5.7 percent in the last quarter of 2009. Although the White House called it the "most positive news on the economy to date," analysts disagree on whether the growth means the economy is out of the woods.
ROBERT SIEGEL, Host:
From NPR News, this is ALL THINGS CONSIDERED. I'm Robert Siegel in Washington.
MADELEINE BRAND, Host:
And I'm Madeleine Brand in California.
The most positive news on the economy to date. Those words today from the White House describing a better than expected burst of growth late last year. Economists agree that the news was indeed good.
But as NPR's John Ydstie reports, they disagree on whether the economy is truly out of the woods.
JOHN YDSTIE: The 5.7 percent growth rate for October, November and December significantly exceeded most economists' expectations. John Sylvia who's the chief economist for Wells Fargo says it adds to his belief in the recovery.
JOHN SYLVIA: I'm far more confident now, having seen this number that we will have sustained growth. There's no W here in this economic period, no double depreciation.
YDSTIE: What boosted Sylvia's outlook were some other numbers further down in the GDP report. For instance, consumers spending grew at a 2 percent annual rate in the fourth quarter, and business investment and equipment and software also grew nicely. Sylvia says that suggests confidence is returning, which is necessary to create a self-sustaining recovery.
But Mark Zandi of Moody's Economy.com is skeptical.
MARK ZANDI: I don't think the coast is clear. For that to occur, we need to see businesses start hiring again. I anticipate that this spring. But until that occurs, I don't think we can conclude that we're home free here.
YDSTIE: Zandi says the consumer spending number was good news, but points out that most of the 5.7 percent growth rate at the end of last year was due to businesses readjusting their inventory levels, ordering more from producers to re-stock their warehouses than they did at the depths of the recession. He argues that to make sure the recovery continues, there needs to be more government stimulus.
ZANDI: The risks are still high that we could backtrack into recession. The foreclosure crisis, the lack of credit, these are all very serious threats and most notable is the lack of hiring, at least so far. So, that's why I think it's very important for policymakers to remain aggressive.
YDSTIE: Zandi believes that if the job creation proposals President Obama unveil during his State of the Union speech were quickly enacted, it could boost growth. He thinks it could increase from 2.5 percent this year to over 3 percent, enough to start bringing down the unemployment rate from 10 percent where it is today.
But Wells Fargo's John Sylvia says more stimulus is not needed and not a good idea.
SYLVIA: It's hard to justify adding permanent workers with these temporary programs. Lot of businesses are going to look at this and say how can I hire a somebody today if you're going to take away this temporary program in a year or two.
YDSTIE: Undeterred by arguments like that, President Obama was pushing his jobs proposals today and he had a tough audience, the Republican congressional retreat in Baltimore, where he outlined a new job tax credit for small businesses.
BARACK OBAMA: And here's how it would work. Employers would get a tax credit of up to $5,000 for every employee they add in 2010. They'd get a tax break for increases in wages as well.
YDSTIE: In addition, the president is proposing that $30 billion of the rescue loans that banks are repaying be made available to small community banks so they can make loans to small businesses. The Congress will get these and other job creation proposals officially when the president sends his budget to Capitol Hill on Monday.
John Ydstie, NPR News, Washington.
NPR transcripts are created on a rush deadline by Verb8tm, Inc., an NPR contractor, and produced using a proprietary transcription process developed with NPR. This text may not be in its final form and may be updated or revised in the future. Accuracy and availability may vary. The authoritative record of NPR's programming is the audio record.
U.S. Growth Quickens, But Hold The Champagne
Paul Richards/AFP/Getty Images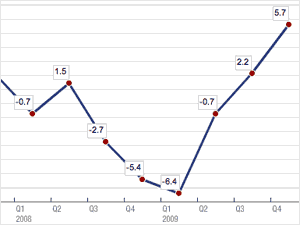 The economy grew faster than expected at the end of last year, the strongest evidence yet that the recession is likely over. But economists say the numbers are still mixed and that unemployment continues to weigh on any recovery.
"I don't think you can call this one done yet," Peter Morici, a professor at the University of Maryland's Smith School of Business, told NPR.
The 5.7 percent annual growth rate in the fourth quarter was the fastest pace since 2003. Growth exceeded expectations mainly because business spending on equipment and software jumped 13.3 percent — much more than forecast. It's the second quarter in a row that business spending has increased, after six quarters of decline.
In a statement from Christina Romer, the chairwoman of the Council of Economic Advisers, the White House sought to put a cautiously optimistic spin on the latest numbers, calling it "the most positive news to date on the economy."
"While GDP growth is a necessary first step for job growth, our focus must remain on getting people back to work," Romer said.
But Morici said the key word there is "unemployment," adding that weak domestic demand is also an important factor.
Economy Shrank 2.4 Percent Last Year
Even so, the Commerce Department report Friday provided an upbeat end to an otherwise dismal year: The nation's economy declined 2.4 percent in 2009, the largest drop since 1946. That's the first annual decline since 1991.
Heard On 'All Things Considered'
Economy
NPR's John Ydstie Reports On Economists' Reaction To The Growth Spurt
Economists expect growth to slow this year as companies finish restocking inventories and as government stimulus efforts fade. Many estimate that the nation's gross domestic product will grow at a pace of 2.5 percent to 3 percent in the current quarter and about 2.5 percent or less this year.
That won't be fast enough to reduce the unemployment rate, now 10 percent. Most analysts expect it to keep rising for several months and remain close to 10 percent through the end of 2010.
The National Bureau of Economic Research, whose call on whether a recession has begun or finished is widely accepted, has yet to make any pronouncements that the current downturn is over.
The NBER says it has "no fixed rule" for such determinations and warns that "brief reversals in economic activity may occur — a recession may include a short period of expansion followed by further decline; an expansion may include a short period of contraction followed by further growth."
The Bureau typically takes months or even years to digest the data before making such a sensitive call on whether a recession has begun or ended, says Josh Bivens, an economist at the Washington, D.C.-based Economic Policy Institute.
The NBER looks at five indicators, he says, and right now "the indicators are all over the place": real GDP (up), real income (basically flat), unemployment (still high), industrial production (flat) and wholesale/retail sales (weak, at best).
"If you look at the recession of the early 1980s, you saw rapid expansion across a broad range of indicators, so there was a clear sign that the downturn was over," he said. "This time around it's different."
Bivens predicts that it will be at least the middle of 2010 before there's any definitive word about the recession being over.
Inventories Skew Growth
About 60 percent of the fourth-quarter growth comes from businesses beginning to rebuild their inventories after letting stockpiles dwindle through much of the recession.
A shift in the so-called inventory cycle can make a big difference to economic growth, even if overall spending by consumers and businesses grows only modestly. That's because an increase in inventories, or even just a much slower rate of decline, means companies are producing more goods to fill orders, rather than drawing on their existing stockpiles.
Excluding inventory changes, the economy would have grown at a 2.2 percent clip, the government said. That's an improvement from 1.5 percent in the third quarter.
Besides business spending on equipment and software, also powering growth in the October-December period was consumer spending, which rose 2 percent.
A steep increase in exports also helped boost growth. The shipment of goods overseas rose 18.1 percent, far outpacing a 10.5 percent rise in imports.
Government spending was actually a slight drag on growth in the fourth quarter: A small increase in federal spending was outweighed by a drop in state and local spending.
Wages, Benefits Up By Record Low Amount In 2009
A separate report showed that wages and benefits paid to U.S. workers posted a modest gain in the fourth quarter, ending a year in which recession-battered workers saw their compensation rise by the smallest amount on records going back more than a quarter-century.
The anemic gains have raised concerns about the durability of the economic recovery. The fear is that consumer spending, which accounts for 70 percent of economic activity, could falter if households don't have the income growth to support their spending.
The Labor Department said Friday that wages and benefits rose by 0.5 percent in the three months ending in December. For the entire year, wages and benefits were up 1.5 percent, the weakest showing on records that go back to 1982.
The 1.5 percent increase in total compensation in 2009 was about half the 2.6 percent increase in 2008, and both years represented the smallest gains for the government's Employment Compensation Index.
Last year, wages were up by just 1.5 percent and benefits rose by the same 1.5 percent, both record lows. In 2008, wages and salaries had been up 2.7 percent, and benefits, which cover such things as health insurance and pension contributions, had risen by 2.2 percent.
From NPR staff and wire reports