Convention Brews Tea Party Tension
Convention Brews Tea Party Tension
The first-ever national convention for the Tea Party movement takes place next week in Nashville, Tenn., and Sarah Palin is the keynote speaker.
But the event has become mired in controversy, with most of the criticism coming from Tea Party activists who complain that the event's organizers are charging too much and trying to make a profit.
What's more, two prominent conservatives in Congress and heroes of the movement — Reps. Michele Bachmann (R-MN) and Marsha Blackburn (R-TN) — withdrew Thursday as speakers at the convention. Neither was to get a speaker's fee, but each said the for-profit nature of the convention raised questions about compliance with Congressional ethics rules.
Still, organizers of the event say it will go on.
An Uproar Over Costs
The Tea Party movement has grown quickly over the past year, drawing conservatives who oppose big government to huge rallies and countless smaller protests, including one that greeted President Obama's motorcade in Tampa, Fla., on Thursday.
"Obama is a maniacal idiot!" shouted one protester.
Tom Burns of Jupiter, Fla., showed up for the president's appearance dressed as Darth Vader. Explaining his costume, Burns said, "May the force be with 'we the people' — that's basically my message. ... I'm here today because I'm a very concerned American."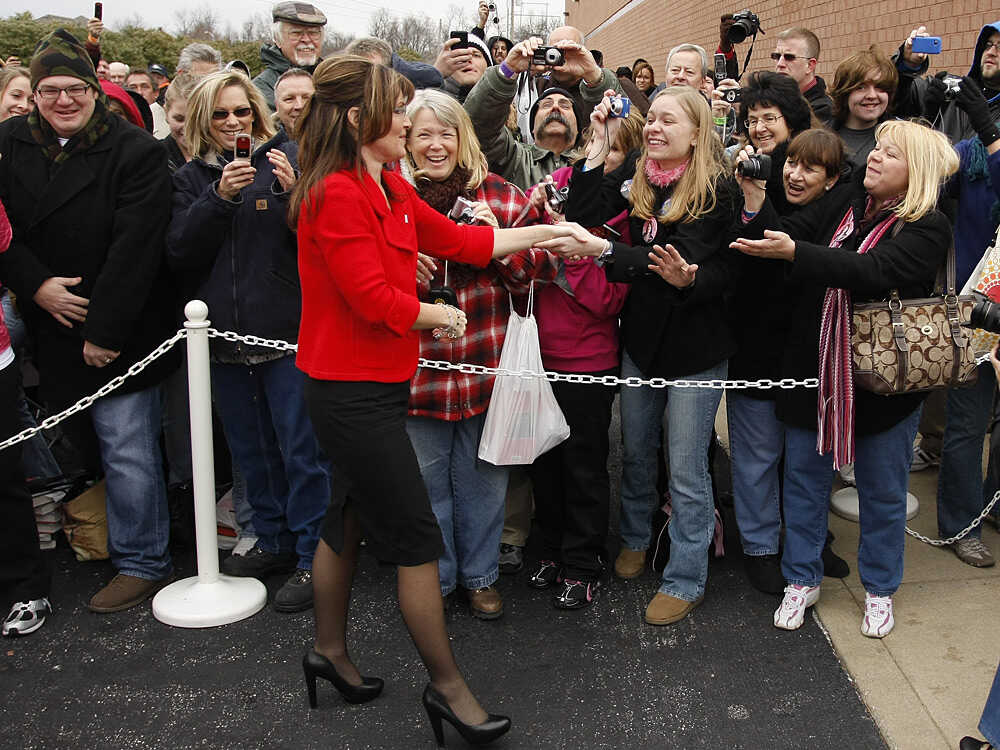 Amber Arnold/AP Photo/News-Leader
These activists have been a force in elections in Massachusetts, New Jersey and Virginia. Harnessing that force is what next week's convention is all about, says Mark Skoda, a Memphis-based activist who is the spokesman for the event.
"Part of what I believe is that rallies and excitement and signs are visually entertaining, but they do not change the actions at the state and government level," he says. "This is all about changing those actions."
The main mover behind the event, Nashville attorney Judson Phillips, has been the target of stinging critiques from Tea Party activists who complain about the $549 registration fee. What's more, it's a separate $349 ticket to attend just the Palin speech.
Then there's Palin's speaking fee, reported to be as much as $100,000, though organizers won't confirm that figure. Perhaps the biggest complaint is that it's a for-profit event. Phillips is accused of trying to cash in and capitalize on the movement.
Skoda says that is not so.
"Frankly, this convention right now is about to break even, maybe a few bucks ahead," he says.
Right-Leaning Blogs Criticize The Movement
But Erick Erickson of RedState.com, a leading conservative blog, posted an item calling the entire convention "scammy."
And his was not the only right-leaning blog to condemn the event. Mark Meckler, co-founder of the national TeaPartyPatriots.org, has described the event as a usurpation of a grass-roots movement.
"We're all suffering in the grass-roots environment," he says. "And a lot of our folks felt if they had that kind of money, they should spend it locally — and not at a fancy hotel or in Nashville at a convention."
But plenty of groups are still backing the Tea Party convention, including Teri Christoph with SmartGirlPolitics.com, a site for conservative women. She says she thinks the group is "getting picked on because there are some sour grapes."
"And believe me, there are sour grapes in many Tea Party groups," Christoph says. "It's just the nature of something like that — trying to get a movement together."
Skoda says all the controversy was unexpected.
"It goes to the key point [that] grass-roots movements tend sometimes to be unwieldy," he says. "These are not professionals. We are not professional corporate organizers."
In the Tea Party movement, some want to change the Republican Party and others want to form a third party. But that's a dream that has eluded many populist activists across the political spectrum for generations. And the Tea Party is just beginning to grapple with the challenge.