Analyzing Obama's 2011 Budget, Issue By Issue
President Obama on Monday released a budget for fiscal 2011 that calls for record spending of $3.8 trillion. Here, NPR reporters break down the budget and offer analysis by topic.
Overview: Budget, Deficit and Taxes
By John Ydstie
Proposed Revenues and Spending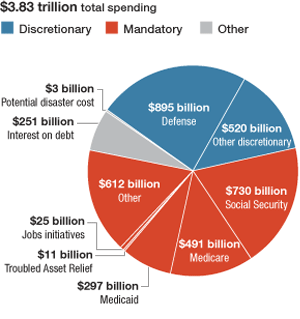 President Obama proposes record spending of $3.83 trillion for fiscal 2011, including $1.4 trillion in discretionary spending, $2.2 trillion in mandatory spending on entitlement programs and $251 billion in interest on the national debt. The budget deficit for 2011 is projected at $1.27 trillion. That would follow a record $1.56 trillion deficit for 2010.
The president's proposed budget also contains a number of tax initiatives. President George W. Bush's big tax cuts are scheduled to expire at the end of 2010. President Obama would let the tax cuts expire for couples making more than $250,000 a year, but he would retain most of the tax cuts for those making less than that.
The president is also offering new tax cuts for job creation by small businesses including a $5,000 credit for each new job created and additional tax breaks for boosting wages. Under another proposal, large banks would be taxed a total of $90 billion over the next 10 years to pay back all of the rescue money lent out by the Troubled Asset Relief Program.
Analysis: That 2010 deficit is equal to nearly 10.6 percent of the nation's total annual output. That's an unsustainable deficit, according to economists. They say the United States might be able to sustain a deficit of 3 percent of total output and remain healthy. Over the next 10 years, the projected deficits don't fall any lower than 3.6 percent.
To address the huge deficits, Obama is proposing a three-year freeze on discretionary spending, with exemptions for the military and national security. Also excluded are big-ticket entitlement spending for programs like Social Security, Medicare and Medicaid. It's estimated the freeze would save $250 billion over 10 years. But that adds up to only about 3 percent of the deficit projected for that period. To get further savings the president plans to appoint a bipartisan commission to develop proposals to eliminate budget deficits by 2015 — not including payments on the massive accumulated debt.
---
Defense & War
By Mary Louise Kelly
The Pentagon is asking for a record $708 billion for fiscal year 2011, including war spending in Iraq and Afghanistan. The Defense Department wants to spend billions on helicopters, drone aircraft and Special Operations units — all in high demand in Afghanistan.
Aside from war costs, the request represents a 3.4 percent increase in the Defense Department's base budget, which pays for things like ballistic missile defense, care of wounded troops and ongoing weapons programs. Unlike last year, this year's budget calls for no sweeping cuts to big weapons systems.
Analysis: For decades, the military has believed it needs to be prepared to fight two large-scale wars simultaneously. But this year's budget underscores the Pentagon's new focus on irregular, guerilla warfare. Defense Secretary Robert Gates says he increasingly sees a future dominated by "hybrid" wars. As Gates has put it, U.S. troops will be facing "at the same time an insurgent with an AK-47 and his supporting element with a highly sophisticated ballistic missile." So, this defense spending request is focused on paying for the weapons and personnel needed to prevail in places like Afghanistan and elsewhere, in the broader war on terror.
---
Education
By Claudio Sanchez
President Obama is asking for $50.7 billion in discretionary funding for education, a hefty $4.5 billion increase over this year. He says the new money will not add to the deficit because it will be offset by cuts, such as restructuring of the student loan program and elimination of hundreds of education projects.
Elementary and Secondary Education: The two biggest programs for elementary and secondary schools would grow — to $14.5 billion for Title 1, which serves low-income students, and $11.8 billion for special education, which serves 7 million students with learning disabilities. Much of the Title 1 money is earmarked for early intervention, remedial education and closing the achievement gap. The president also wants to add $1.35 billion to the Race to the Top fund. This program is already offering more than $4 billion in competitive grants, favoring schools that pursue specific goals, such as developing tougher tests or creating more charter schools. So far, 40 states are competing for this money. Some of these increases are contingent on congressional reauthorization of the Elementary and Secondary Education Act, known as No Child Left Behind since it was refashioned by the Bush administration.
Analysis: What's new here in K-12 education is the Obama administration's focus on teachers. In tackling teacher quality, federal education funding is shifting dramatically from "school accountability" to "teacher accountability." Billions of dollars in the president's budget revolve in some away around supporting good teachers.
Secretary of Education Arne Duncan says to improve student achievement, there's no substitute for an effective teacher — not class size, technology, higher standards or better tests. Duncan argues that unless the United States improves teacher training and raises teacher quality, little will change in the classroom. The administration also wants to tie teacher evaluation and compensation to student performance and test scores.
Higher Education: Two of the Education Department's largest programs are federally subsidized loans and Pell Grants for college students. Pell Grants, which target low-income students, would get $34.9 billion in 2011, raising the maximum award from $5,500 to $5,710. About 8.7 million college students receive these grants. The administration wants to make funding for Pell Grants mandatory beginning in fiscal 2011. Obama also wants to link future increases to the inflation rate plus 1 percent. Under that formula, the maximum Pell Grant would increase to $6,900 by 2019.
Analysis: Congress passed a slightly different version of the college loan plan In July 2009. Many lawmakers like the idea because of growing concern that middle-class parents and students are struggling to make loan payments and more and more are defaulting. Two-thirds of four-year college graduates leave school with loan debt averaging $23,000.
---
Energy and Environment
By Chris Joyce
Making good on a promise made during last week's State of the Union address, President Obama has included new money for what he describes as clean energy development. That includes authorization for the Department of Energy to guarantee loans for new nuclear power plants. This money is not a direct payment but will be available to back up investments in what many regard as a financially risky enterprise. The spending comes as DOE appoints a commission to study how to dispose of high-level nuclear waste. Last year the administration decided to end efforts to bury it at Yucca Mountain in Nevada.
The budget also extends credit subsidies for renewable energy and energy efficiency projects. Spending on renewable energy projects will also rise for solar, biofuels and energy efficient buildings.
Getting the axe are subsidies for fossil-fuel projects backed by DOE. However, DOE would receive a record $545 million to back research in "clean coal," such as ways to capture carbon dioxide from coal-fired power plants and sequester it underground instead of allowing it to rise into the atmosphere. Also up for new money are efforts to modernize the national electricity grid.
Analysis: Unlike last year's budget, this one does not calculate income from a cap and trade climate regime in which revenues would be generated by auctioning the right to emit carbon dioxide to industries. The decision apparently reflects doubts about the future of cap and trade legislation now in Congress.
---
FDA
By Joanne Silberner
The president is requesting $2.5 billion for the Food and Drug Administration in 2011, up about $100 million over 2010. In addition, the agency collects money from the industry it regulates — about $1.5 billion in 2011. The president wants to direct more spending toward food safety efforts, specifically toward prevention of outbreaks, detection, quick response and punishment of manufacturers. In addition, more money would go toward studying the safety of drugs once they reach the market. The number of FDA employees would reach 13,586 in 2011, up from 12,335 this year.
Analysis: The FDA is coming to rely more and more on user fees. The agency has been collecting fees from brand-name drug makers and medical device manufacturers applying for approval to market their products. The fees go toward the agency's expenses when it evaluates the drugs. Now the administration is calling for new fees, starting with fees for considering generic drugs. And there's special attention in the budget for a type of generic drug that is not yet sold — generic versions of complicated biotechnology drugs. The FDA is awaiting guidance from Congress on issues such as how long biotech drug patents should last. The budget assumes that guidance will come this year, and it proposes that generic biotech manufacturers also pay user fees.
And there's one more new user fee in the budget: When the FDA picks up manufacturing violations at pharmaceutical plants or by food processors, the companies would have to pay for the required re-inspection.
---
Foreign Aid
By Jackie Northam
The president has proposed $52.8 billion in fiscal 2011 for the State Department and the U.S. Agency for International Development. That's about $4.9 billion more than last year. Most of that increase is for programs in major conflict areas — Afghanistan, Pakistan and Iraq. The State Department is also requesting supplemental funds in fiscal 2010 that include $4.5 billion to support civilian efforts in those conflict areas.
Analysis: The State Department's operations in Iraq will get a significant boost. With the scheduled drawdown of U.S. military forces there, civilians will take up many operations, including police training. This will require security, expensive equipment such as helicopters and recruiting and training of staff.
The administration did not submit a formal budget request to deal with the crisis in Haiti. It is currently using emergency funds to help there and may request more after an assessment of damages and needs has been completed.
---
Health
By Julie Rovner
The president's fiscal 2011 budget includes just over $900 billion for the Department of Health and Human Services. Most of that goes for the huge health entitlement programs, Medicare and Medicaid.
Of the programs that would be subject to the president's proposed three-year freeze on non-defense, discretionary spending, many are set for significant increases. The National Institutes of Health, for example, which enjoys bipartisan popularity, would get a $1 billion increase, to $32 billion. Another program with bipartisan support, Community Health Centers, would get a hefty $290 million boost. And the Agency for Healthcare Research and Quality would see a nearly one-third boost to its budget to help fund somewhat controversial research, originally authorized in last year's stimulus bill, into what kinds of medical care actually work.
Analysis: With the outcome of the president's health overhaul still a major question mark, the budget seems to play it safe this year, providing increases for popular programs and relatively small cuts for other programs in anticipation of a possible budget freeze. The budget also includes a six-month extension of funding to help states with their Medicaid costs. It was originally included in last year's stimulus bill.
---
Homeland Security
By Brian Naylor
Funding for the Department of Homeland Security would be up $1 billion to $43.6 billion under President Obama's fiscal 2011 budget. The sprawling department's mission includes everything from guarding the nation's borders to protecting the nation's information networks.
The budget includes $734 million to deploy new Advanced Imaging Technology (the so-called full-body scanners) and new explosives detection equipment for the nation's airports. There is $4.6 billion to support 20,000 Border Patrol Agents and to complete the first segment of the virtual fence along the nation's border with Mexico. The proposal also includes $1.6 billion for Immigration and Customs Enforcement programs to "expeditiously identify and remove" from the United States illegal immigrants who commit crimes. There's $4 billion in state and local programs for equipping, training, and hiring first responders and $364 million to protect federal computer systems and the Internet from cyberattacks.
Analysis: Homeland Security is one part of the president's budget that continues to grow. That said, the Obama administration is shifting its priorities. The administration wants to spend less on that virtual fence with Mexico and on cybersecurity than last year. In the wake of the attempted Christmas Day bomb plot, the White House is boosting funding for airport baggage screening along with more money to hire federal air marshals to sit on international flights and for counterterrorism and preparedness grants.
---
Justice
By Ari Shapiro
The president's fiscal 2011 budget includes $29.2 billion for the Department of Justice, an increase of $2 billion over the previous year.
The budget includes $73 million for the transfer, prosecution and incarceration of Guantanamo Bay detainees. It also allocates $237 million to acquire, renovate and staff Thompson prison in Illinois. The administration plans to use Thompson as an indefinite detention facility for roughly 50 Guantanamo detainees deemed unsuitable for trial or release.
The biggest jump in funding comes in assistance for state, local and tribal law enforcement. The second-highest increase is in money for prisons, detention and judicial security.
Analysis: This budget suggests that Guantanamo prison may not close during President Obama's first term. Congress can enact the budget no earlier than October 1, 2010, and the federal government cannot acquire Thompson prison until then. Then Thompson must be renovated and staffed. At a Justice Department briefing, Assistant Attorney General Lee Lofthus said detainees may arrive at Thompson in the first months of 2012 at the earliest. Closing Guantanamo was one of Obama's key campaign promises, and it would be a political liability for him to run for reelection with the detention center still open.
---
Space Exploration
By Nell Greenfieldboyce
The NASA budget for fiscal year 2011 would give the $18.7 billion space agency a substantial financial boost — an additional $6 billion over five years — while dramatically changing the direction of future human exploration. The budget would kill the Constellation program, a new system of rockets and space capsules that NASA has been pursuing to return astronauts to the moon by 2020. That program was to be the successor to the nearly 30-year-old space shuttle program, which is due to be retired after just five more flights. But the budget documents say Constellation was "over budget, behind schedule and lacking in innovation." Instead, the budget would fund NASA to contract with private industry to provide astronaut transportation to the international space station as soon as possible.
The budget also provides funds to extend the life of the space station past its previously planned retirement date of 2016.
Analysis: For several years NASA has been touting its planned return to the moon and the eventual creation of a permanent manned lunar outpost. In this new budget, that vision appears to be dead.
Instead of repeating and building on many of the achievements of the Apollo era, the administration favors turning to the private sector to bring astronauts up to the International Space Station, while having NASA focus on research and development for future exploration technologies — like closed-loop life support systems and advanced in-space propulsion — to get astronauts out farther and faster into space. But this huge change will likely face opposition in Congress, which has shown strong support for the Constellation program and its moon-focused goals, and where there has already been concern about jobs being lost after the space shuttle program ends.
---
Transportation
By Brian Naylor
President Obama has proposed spending $78.8 billion on transportation projects in 2011. That's up a bit from $77 billion this year. Among the big winners: The administration proposes a 30 percent increase in the so-called NextGen program for the Federal Aviation Administration. It would transform the way the FAA guides the nation's air traffic from a ground-based radar system to one based on satellite technology.
The White House has budgeted $1 billion for high-speed rail, which builds on the $8 billion contained in the stimulus program. And $4 billion would be spent to create a National Infrastructure Innovation and Finance Fund, which the administration says will invest in projects of regional or national significance.
Analysis: The administration's transportation priorities are clearly outlined, and they're not necessarily highways. The budget proposes more money for air traffic control technology and high-speed rail, which the administration sees as a job creator. It includes $30 million to establish a Federal Transit Safety program to enact national standards for transit agencies. And it proposes money to help local governments invest in "sustainable transportation infrastructure," which the administration says will help integrate transportation with housing development and other critical investments.
Of course, highways would get their share: $41.3 billion in 2011, up from $41.1 billion. But the administration also wants Congress to figure out a way to wean itself off the current highway funding formula. It allocates money raised by the gasoline tax, which hasn't been raised since 1993. The president suggests a formula that "leads to higher performing investments, increases people's transportation options and promotes a sustainable environment."
---
Veterans
By Tom Bowman
The president is requesting about $122 billion for the the Department of Veterans Affairs for fiscal 2011. That includes nearly $800 million in services targeting veterans who are homeless, in part through partnerships with private and government groups. It would also allocate specific funds for counseling and medical care for veterans who are female, acknowledging that women are serving at unprecedented levels in the nation's wars.
The president's budget envisions billions to prevent delays in VA medical care. It would also invest $5.2 billion in specialized care for veterans with mental health conditions, including traumatic brain injuries and post-traumatic stress disorder.
Analysis: About 2 million veterans have deployed to support the wars in Iraq and Afghanistan. The budget reflects the health needs they face — especially traumatic brain injuries and post-traumatic stress — and the challenges they encounter when they come home.