The Winter Of No Escape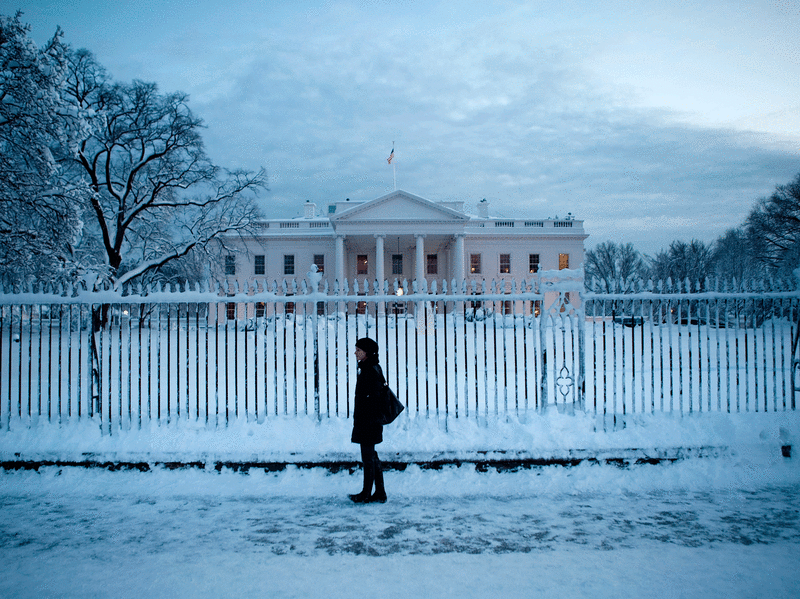 Brendan Smialowski/Getty Images
I live in Geneva, Switzerland, and a few weeks ago I had an ingenious idea: Why not go to Washington in February? I'd lived in D.C. before, and winters in the capital were almost always benign. Certainly, I figured, they had to be better than in Switzerland.
The Swiss culture — if there is such a thing — is built almost entirely on frozen water. The nation's mascot is the Matterhorn — that big, perfect, snow-covered Alp you often see on souvenir key rings and boxes of chocolate. And from November through March, all anyone does in Switzerland is go to these snow-covered Alps and ski. Or talk about skiing. Or talk about snow — how much has fallen, is it hard or is it powder? Where is it best?
Everyone, that is, except me. What can I say? All the Swiss winter sportiness and small talk makes me slightly psychotic. I hate snow, and spending a bucket-full of money that I don't have in order to bundle up like a kielbasa, strap two planks of wood to my feet and hurl myself down a freezing mountain doesn't hold any appeal. The way I see it, I can either go skiing once in Switzerland and spend the rest of my life in traction, or stay home and read a good book.
But admitting this in Switzerland is heresy. "How can you not ski?" people cry, "You're living in Switzerland," all winter long.
And so this year, I decided to avoid the issue by coming here to nice, mild, mountain-less Washington. In February.
And I admit: When I arrived here and heard the coming storms described as 'Snowmaggedon" and "Snowpocalypse," I rolled my eyes. A mere change in the weather equated with the end of the world? Oh, c'mon, people. "How much of this stuff do you think is actually going to fall?" I thought. "Heck, this isn't Switzerland. Enough with the American 'Snowverkill.' Enough with the 'Snowperbole.' "
Yeah, well. So, now I'm sitting here, snowed in in downtown Washington, and this snowfall really is epic. Cars are buried everywhere. All of the businesses are closed. I spent yesterday watching tractor-trailers jackknife in the intersections. The streets that aren't deserted moonscapes are moving in slo-mo. And what am I talking about with all of my friends? Yep. The snow — how much has fallen, is it hard or is it powder, where is it worst?
The capital of the world's greatest superpower has been brought to its knees by the mighty snowflake. And so have I.
I have learned. Resistance is futile. There is no avoiding Mother Nature — or outrunning her. Unless, perhaps, you have skis.