When Cabin Fever Strikes, Goodbye V-Day Romance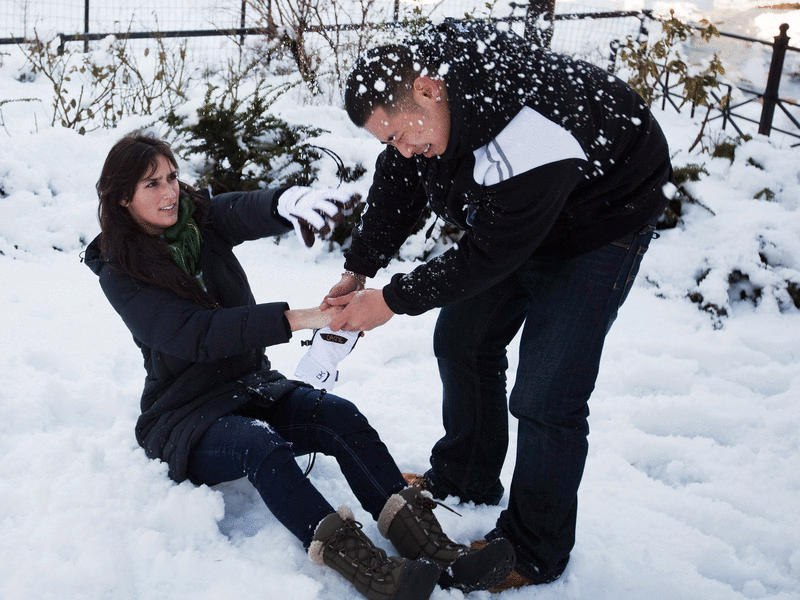 Michael Nagle/Getty Images
Emily Wylie lives and writes in New York City. She is looking into Vitamin D, light therapy and, of course, apology cards once the Valentine's shelves clear next week.
I hate everything right now — not just the usual things like litterbugs and wet cat food, but also weird things I used to like, like the color of my bedroom walls and TV and the city I live in and my husband and child. Wading back home through the post-blizzard gazpacho, I'm suddenly dreading the bodies that will crowd my apartment in a few hours, their hearts beat-beating not Valentine-y love but a fleshy tattoo more like the one that drove Poe's murderer crazy in "The Tell-Tale Heart."
Yes, in this scenario, I am the murderer. I'm not proud of myself.
It's just that they're everywhere I am. On the last snow day, my husband and 4-year-old son took turns following me from room to room. We ended up on the couch for part of the afternoon, me sandwiched between them, both of them idly stroking their favorite parts of me as we watched Babe. About 20 minutes in, I lost it and scuttled out of the room hissing like Rasputin. I know, you're thinking: Ingrate — someday you'll be old, and no one will want to go anywhere near your bitter soul and withered, clump-of-raisins body. I get it.
Oh, but it's all in the timing. Right now I am full of love and companionship — overfull. I'm a foie gras goose. I stare down my husband, Mr. Handsome, Mr. Charming, and all I can see are the three blackheads on his forehead that he won't let me get anymore, and that the next thing out of his mouth will be some helpful advice about how we could file better, and then he will talk about this while puttering around cleaning our already clean house. I'm worried that if he gives me any more instructions about house-running that begin with "Can you do me a favor?" or if he asks me, anytime in the next two weeks, if I smell something funny or if I'm done using my computer, could he put it away, or does his suit go with his tie, I'm going to stab him in his sleep. I'm going to take that guitar, the one that helped get me into this marriage, and garrote him with the strings and then bury him under the floorboards.
So I think this weekend it might be a good idea to prescribe a little time apart. I'm clearly not good company. Try me again on April Fool's.