Luge Competitor Dies Ahead Of Olympic Games
A luge competitor from the former Soviet republic of Georgia was killed when he lost control of his sled during training. The incident cast a pall over the opening ceremony of the Winter Olympics, which kicks off Friday in Vancouver.
MELISSA BLOCK, host:
From NPR News, this is ALL THINGS CONSIDERED. I'm Melissa Block.
With the opening ceremony about to get underway, a horrific accident at the Winter Olympics in Vancouver. A men's luger from the former Soviet Republic of Georgia crashed during a training run and later died.
NPR's Howard Berkes is in Vancouver. Howard, tell us what happened during this accident on the sliding track up at Whistler?
HOWARD BERKES: I've seen the video. It's absolutely horrific. The slider, a 21-year-old from Georgia was in the final turn of the track at the bottom of the luge track, so at the fastest speed. CTV, the Canadian television network says he was going about 89 miles an hour when his luge sled slid into the sidewall of the track and then he flipped up off of the sled, over the wall and out of the track and into a steel post. You can imagine a soft human body hitting a firm steel post at 89 miles an hour. He was immediately attended to by emergency crews who tried to revive him at the scene, performing CPR and mouth to mouth. He was rushed to a hospital and he was later pronounced dead.
BLOCK: And Howard, this is said to be the fastest luge and bobsled track in the world - the one at Whistler - does it make it, do you think, the most dangerous track in the world?
BERKES: Well, there have been a number of accidents on this track during training - four, five, I believe, luge sliders have had accidents on this track, none this serious, of course. And there have been some complaints about this track. In fact, an Australian, Hannah Campbell-Pegg, the other day said that she thinks that maybe they're pushing it a little too much with this track. She said to what extent are we just little lemmings that they just throw down a track and we're crash test dummies. I mean, she said, this is our lives. And there is some competition for making, you know, the fastest track in the world as these tracks are built for the Olympics.
What track builders try to do is build them in such a way that if there is an accident, if a slider goes off the sled, they stay in the track, so that there are walls that rise up and over the tracks, so they don't flip out the top and the walls on the side are supposed to be high enough so that they wouldn't flip out of the track. In this case, of course, that wasn't good enough. And one of the things, I'm sure that they'll be looking at is what can they do to maybe extend that wall now so that it is higher and so that it at least keeps a slider in the track if there's an accident.
BLOCK: Now, Howard, I've read the head of the delegation from Georgia has said the team is in deep shock. They don't know whether they're going to go to the opening ceremony or even take part in the Games themselves. What has the International Olympic Committee had to say about this?
BERKES: We've just received a statement from the International Olympic Committee and the Luge Federation and the Vancouver Olympic Organizing Committee. Mostly, at this point they're offering condolences. They do say that an investigation is underway into the circumstances of the accident. They've suspended training. They're trying to establish a cause. What we don't know is how this might affect the opening ceremony tonight. And we don't know whether the competition will proceed as scheduled tomorrow.
BLOCK: Okay, NPR's Howard Berkes in Vancouver. Howard, thank you very much.
BERKES: You're welcome, Melissa.
NPR transcripts are created on a rush deadline by Verb8tm, Inc., an NPR contractor, and produced using a proprietary transcription process developed with NPR. This text may not be in its final form and may be updated or revised in the future. Accuracy and availability may vary. The authoritative record of NPR's programming is the audio record.
Georgian Luger Dies In Olympics Training Crash
Peter Parks/AFP/Getty Images
A men's Olympic luger from the Republic of Georgia died Friday in a "horrific" crash on a track that is the world's fastest and has raised safety concerns among competitors.
Nodar Kumaritashvili was in the final turn of the track, going nearly 90 mph, when he flipped off his sled, over the wall and into a steel post outside the track, NPR's Howard Berkes reported.
"He was immediately attended to by emergency crews who tried to revive him at the scene, performing CPR and mouth-to-mouth," Berkes said. "He was rushed to the hospital and he was later pronounced dead."
The death of the 21-year-old luger left Olympic officials "in deep mourning" and "heartbroken beyond words."
Luge At The Olympics
Before speaking at a news conference, Olympic International Committee President Jacques Rogge took off his glasses, rubbed his eyes and said, "Sorry, it's a bit difficult to remain composed."
Rogge said he spoke with the president of the Republic of Georgia to express his sympathy. Rogge said the Georgian delegation has not decided whether to remain in the competition.
"We are deeply struck by this tragedy and join the IOC in extending our condolences to the family, friends and teammates of this athlete, who came to Vancouver to follow his Olympic dream," said John Furlong, chief executive of the Vancouver organizing committee.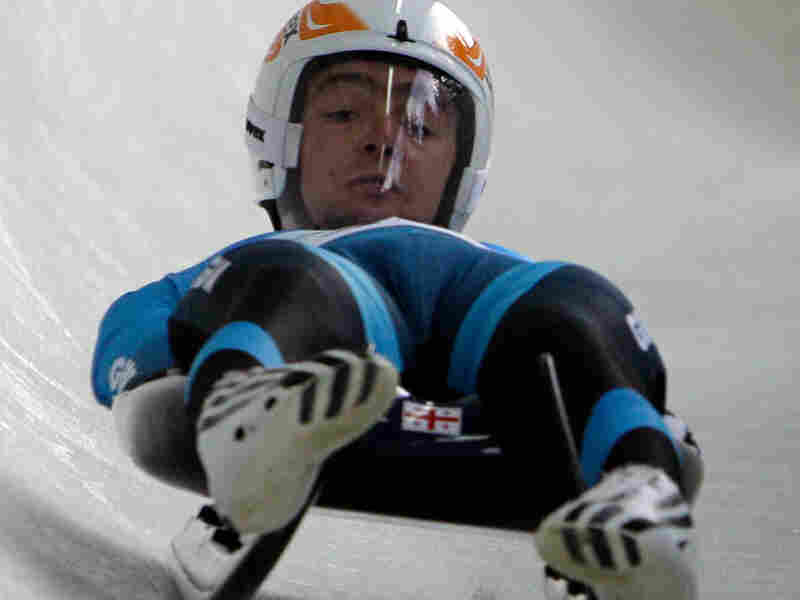 Men's luge competition is to begin Saturday. It's unclear if the schedule will change.
Kumaritashvili is the fourth competitor to die in the history of the Winter Games and the first since 1992. None of the deaths occurred during official competition.
"It's a very rare situation," three-time Olympic champion and German coach Georg Hackl said before learning of the death, clearly shaken after seeing Kumaritashvili tended to furiously by medical workers.
Shortly before the accident, Hackl said he didn't believe the track was unsafe.
"People have the opinion it is dangerous but the track crew does the best it can and they are working hard to make sure the track is in good shape and everyone is safe," he said. "My opinion is that it's not anymore dangerous that anywhere else."
It was Kumaritashvili's second crash during training for the Vancouver Games. He also failed to finish his second of six practice runs, and in the runs he did finish, his average speed was about 88 mph — significantly less than the speed the top sliders are managing on this lightning-fast course.
The track is considered the world's fastest and several Olympians recently questioned its safety. More than a dozen athletes have crashed during Olympic training for luge, and some questioned whether athletes from smaller nations — like Georgia — had enough time to prepare for the daunting track.
At the finish area, not far from where Kumaritashvili lost control, athletes, coaches and officials solemnly awaited word on Kumaritashvili before eventually being ushered away. Access to the crash area was closed within about 30 minutes.
"I've never seen anything like that," said Shiva Keshavan, a four-time Olympian from India.
The remainder of men's training was canceled for the day, with VANOC officials saying in a release that an investigation was taking place to "ensure a safe field of play."
Kumaritashvili competed in five World Cup races this season, finishing 44th in the world standings.
Earlier in the day, gold-medal favorite Armin Zoeggeler of Italy crashed, losing control of his sled on Curve 11. Zoeggeler came off his sled and held it with his left arm to keep it from smashing atop his body. He slid on his back down several curves before coming to a stop and walking away.
From The Associated Press and staff reports.