Iconic Magnum Photos Find A New Home
Iconic Magnum Photos Find A New Home
Earlier this month, billionaire Michael Dell bought the print archive of the Magnum Photo Agency, a collective of photographers co-founded by Henri Cartier-Bresson in 1947, and loaned the prints to the Harry Ransom Center at the University of Texas at Austin. The photographers still retain copyright to their images, but now anyone who visits Austin can hold the iconic images.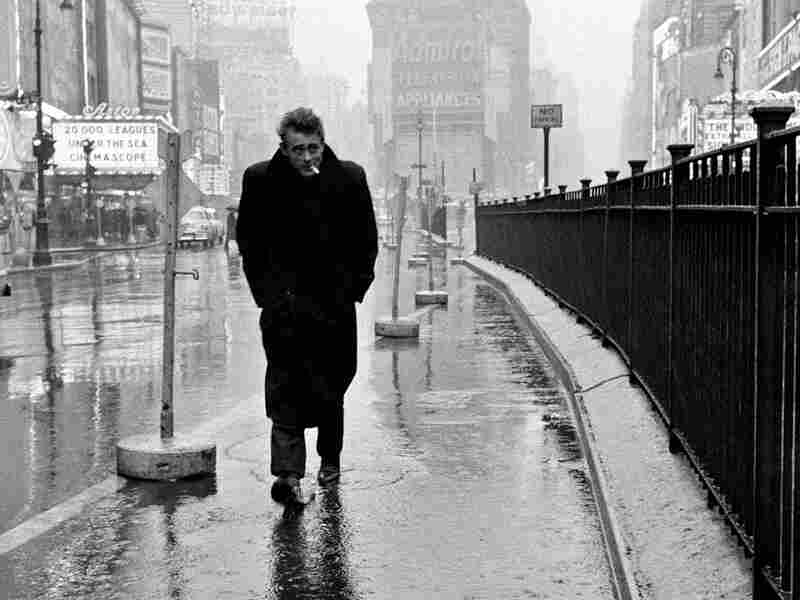 Dennis Stock/Magnum Photos
Related NPR Stories
MELISSA BLOCK, Host:
When it comes to the defining moments of the past half century, many of them have been captured on film by the photojournalists at Magnum Photos. The agency was founded in 1947 by the father of modern photojournalism, Henri Cartier- Bresson, and three of his colleagues. Among them Robert Capa, famous for photographing U.S. troops as they stormed the beaches of Normandy.
V: NPR's Claire O'Neill explains why.
DAVID COLEMAN: Oh, my gosh.
CLAIRE O: David Coleman is like a kid in a candy shop.
COLEMAN: You can't stop looking at these photos once you start opening the boxes. It's like Pandora's box. You can't put the lid back on.
NEILL: Except the stuff in these boxes won't unleash havoc upon mankind. Coleman is the photography curator at the Harry Ransom Center, a research library at the University of Texas in Austin. He is happily thumbing through the center's latest acquisition, perhaps the most monumental acquisition in photo history, more than 180,000 press prints spanning half a century.
COLEMAN: This collection is just tremendous. You get the point of view of photographers from all over the world going all over the world in the second half of the 20th century. So it's broad and it's deep and it's beyond measure, really, what is in these boxes.
NEILL: So why would Magnum sell them?
MARK LUBELL: The reason for doing this was to have some capital improvements made, and now we're in a much better position than we were before.
NEILL: Mark Lubell explains.
LUBELL: The Dell group was very exciting to me because they said: We see ourselves as custodians of this work. We will be honored to take care of this piece of history. I knew I could go back to the membership with that kind of offer.
NEILL: By membership, Lubell means the photographers, the owners of Magnum. The agency is a collective, and its goal is to find work for the photographers but also to protect the copyright of their images, and they'll retain those copyrights, which is one reason why the photographers were willing to part with the prints, that and then there's legacy.
SUSAN MEISELAS: Magnum is multigenerational.
NEILL: Photographer Susan Meiselas heads up some of the agency's new initiatives to foster emerging photographers and to encourage the traditions of documentary photography.
MEISELAS: We've lost all of the founders of Magnum, and we feel like these are incredibly important histories. I mean, this is how we know ourselves. It's kind of deadening to work on a screen all the time. We've become little robots. I think when you open up boxes, it depends on where your imagination can take you, and the physicality of material was very valued by this culture.
NEILL: Alex Webb, Magnum photographer and current president of the agency, explains the general sentiment.
ALEX WEBB: The sale of this enables us to explore ways of doing things differently in the future, and that's a big deal for us. In other words, we may have to find different kinds of platforms for presentation of images on the Internet and be able to afford to do it. So on some level, Magnum's past is enabling Magnum to have a future.
NEILL: Managing director Mark Lubell quotes another Magnum legend.
LUBELL: The amazing photographer Josef Koudelka did a seminal body of work on gypsies, and he told me one time, he said that, you know, the gypsies have this expression: You're only dead when the last person that knows you dies.
NEILL: Claire O'Neill, NPR News.
(SOUNDBITE OF MUSIC)
BLOCK: You are listening to ALL THINGS CONSIDERED from NPR News.
NPR transcripts are created on a rush deadline by Verb8tm, Inc., an NPR contractor, and produced using a proprietary transcription process developed with NPR. This text may not be in its final form and may be updated or revised in the future. Accuracy and availability may vary. The authoritative record of NPR's programming is the audio record.