A Walk On The Wild Side ... Of The Plate
A Walk On The Wild Side ... Of The Plate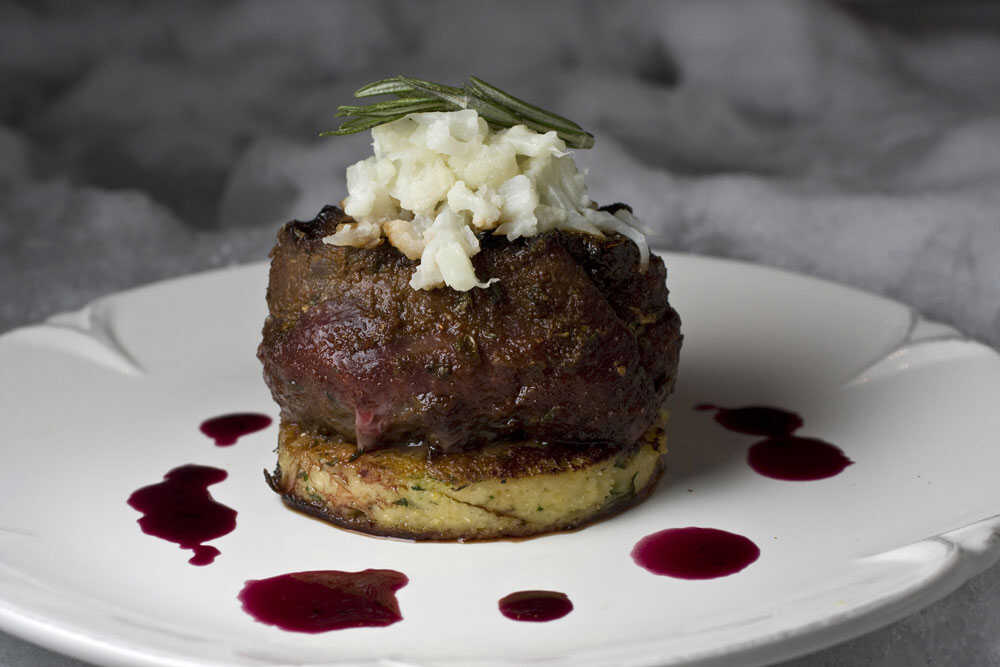 The first wild game dinner I ever went to was in 1973. The second one was ... last week. In the 37 years between meals, public perception of hunting has changed.
Oddly, an overwhelming majority of Americans approve of hunting, while there are actually fewer hunters. Many states rely on hunting to control the deer population and are recruiting new hunters.
Will Shannahan's Venison Tenderloin
Want to have your own wild game dinner? Get a recipe for venison tenderloin.
They're getting help. Some young urban dwellers are getting in touch with their inner hunter. A couple of 20-somethings in San Francisco started the Bull Moose Hunting Society — and I quote — "for those of us who have lost our instincts, our predatory skills and our connection to the wild world."
Michael Pollan's book The Omnivore's Dilemma and other writings make a good case for conscious eating — awareness of what you eat, where it comes from and where you fit into the food chain. If you eat meat, your choices are grass-fed, free-range operations, factory farms or — hunting.
As the food world was being Michael Pollanized, my husband and I began renting a house on Maryland's Eastern Shore. I quickly became all about nature — eating only local corn, cooking fish caught nearby, searching the woods for wild persimmons.
Hunting and gathering is part of the natural rhythm in a place blessed with abundant water and rich farmland. For some it's sport. For others it's survival. For all, it's a better way to eat. Local. Organic. Free range. So when a friend at the shore offered to host a game dinner I was — well — game.
None of the guests have to hunt to feed their families. But they do eat what they kill or share with it others. For which I am grateful.
Appetizers were venison meatballs and goose taquitos, followed by stuffed dove breasts, wrapped in bacon.
Will Shannahan is an artist in the kitchen as well as the field. His grilled goose was delicious — and his venison puts the tender in tenderloin.
The hunters I've talked to have tremendous respect for the animals they hunt. One said he feels a moment of sadness when he takes a deer and promises the animal he won't waste any of its meat. Another says the worst thing a hunter can do is cripple an animal.
I doubt I'll take up hunting, but now that I know my place in the food chain, I won't wait so long between game dinners.
Will Shannahan's Venison Tenderloin
Will Shannahan's Venison Tenderloin
Will Shannahan grew up on Maryland's Eastern Shore and first visited a duck blind at age 4. He says after tasting his tenderloin, "you'll throw away all your other marinade recipes." If the venison is frozen, he recommends immersing in tap water overnight in the refrigerator. This recipe takes a day's advance preparation.
Makes 4-6 servings
1 venison tenderloin
Marinade
1/3 cup honey
1/3 cup olive oil
1/3 cup soy sauce
1 tablespoon cider vinegar
1 teaspoon powdered ginger
1 finely chopped onion
3 garlic cloves, finely chopped
Prepare marinade and put in zip-loc bag large enough to hold meat. Add meat and marinate, refrigerated, for 24 hours.
In an outdoor grill use enough charcoal (at least 5 pounds) to get a hot fire (400 degrees.)
Remove tenderloin from marinade and sear on all sides on the bare grill. Reserve marinade.
Using heavy-duty aluminum foil, make a rectangular boat just big enough in which to fit the meat. Remove the seared meat from the grill, place in the aluminum-foil boat and return to grill.
Pour the marinade on top of the meat and put the cover on the grill with all vents open.
Size of tenderloin dictates cook time, but start checking after 5 minutes.