Mike Shenk And His Crossword Puzzle, Solved!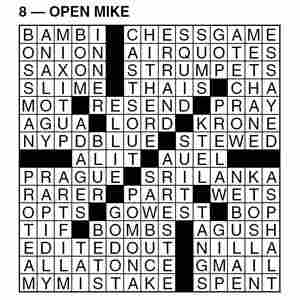 On Tuesday, we posted on our web site the three versions of the crossword used as the final puzzle at the 2010 American Crossword Puzzle Tournament.
Mike Shenk, author of the puzzle and puzzle constructor for the Wall Street Journal, talks about how to create tough puzzles.
At the tournament, the bit that tripped up many contestants was the combination of 52-down ("Difficulty in walking") and 51-across ("Effusive, colloquially"). Many puzzlers entered "limp" for 52-down, then had "alush" for 51-across, which seemed plausible. However, the correct answer for 52-down was "gimp," making 51-across "agush."
Shenk told host Neal Conan he "didn't plan it as a trap to catch people, but it did."