No Word on Korean Hostages as Deadline Passes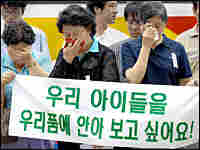 Jung Yeon/AFP/Getty Images
A deadline imposed by Taliban kidnappers for the lives of 21 remaining South Korean hostages passed with no word on the captives' fate Wednesday.
The Taliban has extended several previous deadlines by hours or days. However, the militia killed two captives several hours after two previous deadlines.
The hostages – all volunteers for a church group - were seized two weeks ago. A purported Taliban spokesman had demanded the release of eight militant prisoners, including some held by the United States at Bagram.
South Korea said it would send a parliamentary delegation to the United States to seek cooperation in resolving the crisis, and relatives of the hostages pleaded for help at Washington's embassy in the South Korean capital.
Both the families and the South Korean government have appealed for an exception to the international practice of refusing to make concessions to hostage-takers.
The Afghan government, however, said releasing militant prisoners was "not an option." Afghanistan was criticized by the U.S. and other Western countries earlier this year when it released five Taliban prisoners to win the freedom of an Italian hostage.
The South Korean government reiterated its opposition to any military attempt to free the hostages. Family members have also expressed concern that a military operation would endanger the lives of the captives.
"There is no reason or need to give up on dialogue at this point," said Cheon Ho-sun, a spokesman for South Korea's president. "There won't be any military operations without our consent."
The original 23 South Koreans were kidnapped while riding a bus July 19 on the Kabul-Kandahar highway. They are the largest group of foreign hostages taken in Afghanistan since the 2001 U.S.-led invasion that drove the Taliban from power.
Qari Yousef Ahmadi, who claims to speak for the Taliban, had demanded that eight militant prisoners be released by midday Wednesday. He said some of the militants were held by the U.S. at Bagram.
In South Korea, four major political parties agreed to send a joint delegation of seven lawmakers to Washington on Thursday. The delegation plans to meet with House Speaker Nancy Pelosi, Undersecretary of State Nicholas Burns and national security adviser Stephen Hadley, said the office of South Korean Rep. Kim Choong-whan. They also intend to see U.N. Secretary-General Ban Ki-moon, South Korea's former foreign minister.
The parties called on the United States to take an "active and positive attitude to prevent the loss of human lives."
Relatives of the hostages visited the U.S. Embassy in Seoul for about an hour and were told their appeal for help would be passed along to Washington.
"We will hold on to any small hope to save them," Ryu Haeng-sik, husband of hostage Kim Yoon-yong, 35, told The Associated Press outside the embassy, his eyes red from weeping and fatigue.
"We cannot say we're relieved, but there is no other way but to believe their words, that they're going to do their best," he said.
From NPR reports and The Associated Press