The Austin 100: A SXSW Mix For 2010
Audio for this feature has ended. We'll see you next year!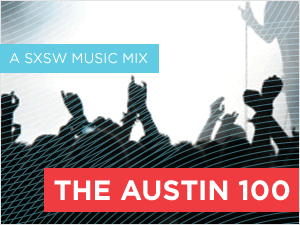 Advisory: This mix contains some explicit language and subject matter not suitable for all ages.
In preparation for the 2010 South by Southwest music festival (March 17-20), NPR Music's staff has spent weeks sampling songs by more than 1,000 of the acts in attendance. Some reaffirmed our pre-existing love, a few came out of nowhere to stake at least a momentary claim on our affections, and many made us want to superglue our index fingers into our respective ear canals. The 100 songs in this ridiculously bountiful -- but by no means definitive -- six-and-a-half-hour mix all passed a simple litmus test, summed up in six simple words: "Yeah, I'd listen to that again."
When you click the "Listen Now" link above, you'll join the stream in progress, rather than starting from the beginning. Arranged alphabetically by artist, the songs will run in order as a continuously looping stream.
Please tell us who you're most excited to hear in the comments section below, and don't forget to return to NPR Music's exhaustive coverage of SXSW when the time comes. In the lead-up to the festival and beyond, be sure to head over to Twitter to follow NPR Music, as well as Bob Boilen, Robin Hilton, Carrie Brownstein and Stephen Thompson.
Who are you excited to hear this year? Tell us in the comments below.
1. Andrew W.K., "I'm a Vagabond" (from Mother of Mankind)
2. The Antlers, "Kettering" (from Hospice)
3. The Asteroids Galaxy Tour, "Around the Bend" (from Fruit)
4. Balmorhea, "Winter Circle" (from Constellations)
5. Band of Horses, "Detlef Schrempf" (from Cease to Begin)
6. Basia Bulat, "Heart of My Own" (from Heart of My Own)
7. The Besnard Lakes, "Albatross" (from The Besnard Lakes Are the Roaring Night)
8. Best Coast, "When I'm With You" (from When I'm With You EP)
9. Big Star, "Kanga-Roo" (from Third/Sister Lovers)
10. Black Rebel Motorcycle Club, "Beat the Devil's Tattoo" (from Beat the Devil's Tattoo)
11. Broken Bells, "The High Road" (from Broken Bells)
12. Broken Social Scene, "World Sick" (from Forgiveness Rock Record)
13. Brooklyn Rider, "Achille's Heel: Shur Landing" (from Dominant Curve)
14. Choir of Young Believers, "Hollow Talk" (from This Is for the White in Your Eyes)
15. Codeine Velvet Club, "I Am the Resurrection" (from Codeine Velvet Club)
16. Dawes, "Love Is All I Am" (from North Hills)
17. Dead Confederate, "The Rat" (from Wrecking Ball)
18. Death, "Keep on Knocking" (from ...For the World to See)
19. Delta Spirit, "Trashcan" (from Ode to Sunshine)
20. DM Stith, "Pity Dance" (from Heavy Ghost)
21. Dr. Dog, "Shadow People" (from Shame, Shame)
22. The Ettes, "Take It With You" (from Do You Want Power)
23. Explode Into Colors, "Eyes Hands Mouth" (from "Eyes Hands Mouth" 7")
24. Fanfarlo, "I'm a Pilot" (from Reservoir)
25. Flying Lotus, "Quakes" (from Cosmogramma)
26. Fool's Gold, "Nadine" (from Fool's Gold)
27. Freelance Whales, "Generator ^ First Floor" (from Weathervanes)
28. Frightened Rabbit, "Swim Until You Can't See Land" (from The Winter of Mixed Drinks)
29. G-Side, "Speed of Sound" (from Starshipz and Rocketz)
30. Garotas Suecas, "Bugalu" (from Garotas Suecas)
31. The Gates of Slumber, "Death Dealer" (from Hymns of Blood and Thunder)
32. Here We Go Magic, "Fangela" (from Here We Go Magic)
33. Horse Feathers, "Curs in the Weeds" (from House With No Home)
34. It's True!, "Take This One From Me" (from There, There, Now/I Think It's Best [If I Leave])
35. Ivan & Alyosha, "Easy to Love" (from The Verse, The Chorus)
36. Japandroids, "Young Hearts Spark Fire" (from Post-Nothing)
37. JBM, "Cleo's Song" (from Not Even in July)
38. Jenny Owen Youngs, "Voice on Tape" (from Batten the Hatches)
39. jj, "And Now" (from jj no. 3)
40. Joe Pug, "Hymn #101" (from Nation of Heat EP)
41. Kings Go Forth, "I Don't Love You No More" (from The Outsiders Are Back)
42. Le Loup, "Planes Like Vultures" (from The Throne of the Third Heaven of the Nations' Millennium General Assembly)
43. Liars, "Scissor" (from Sisterworld)
44. Lissie, "Little Lovin'" (from Why You Runnin' EP)
45. Local Natives, "Airplanes" (from Gorilla Manor)
46. Lou Barlow, "Take Advantage" (from Goodnight Unknown)
47. The Low Anthem, "Charlie Darwin" (from Oh My God, Charlie Darwin)
48. Luke Doucet, "Broken One" (from Broken [And Other Rogue States])
49. Matt Pond PA, "Starting" (from The Dark Leaves)
50. Meiko, "Boys With Girlfriends" (from Meiko)
51. Memory Tapes, "Bicycle" (from Seek Magic)
52. Midlake, "Acts of Man" (from The Courage of Others)
53. Minus the Bear, "I'm Totally Not Down With Rob's Alien" (from They Make Beer Commercials Like This)
54. Neon Indian, "Deadbeat Summer" (from Psychic Chasms)
55. Nicole Atkins, "Maybe Tonight" (from Neptune City)
56. Nneka, "Uncomfortable Truth" (from Concrete Jungle)
57. Ola Podrida, "Donkey" (from Belly of the Lion)
58. Olof Arnalds, "Klara" (from Vio og Vio)
59. The Pains of Being Pure at Heart, "Everything With You" (from The Pains of Being Pure at Heart)
60. Peter Wolf Crier, "Crutch & Cane" (from Inter-Be)
61. Phantogram, "When I'm Small" (from Eyelid Movies)
62. Pink Nasty, "Mold the Gold" (from Mold the Gold)
63. Quasi, "Repulsion" (from American Gong)
64. Raphael Saadiq, "100 Yard Dash" (from The Way I See It)
65. Real Estate, "Beach Comber" (from Real Estate)
66. Rogue Wave, "Solitary Gun" (from Permalight)
67. Roky Erickson with Okkervil River, "Goodbye Sweet Dreams" (from True Love Cast Out All Evil)
68. The Rural Alberta Advantage, "Don't Haunt This Place" (from Hometowns)
69. San Saba County, "The Devil and Marie" (from ...Though Cheating Was Never an Option)
70. Sarah Jarosz, "Edge of a Dream" (from Song up in Her Head)
71. Savoir Adore, "Early Bird" (from In the Wooded Forest)
72. Scissor Sisters, "I Don't Feel Like Dancin' " (from Ta-Dah)
73. Seabear, "Lion Face Boy" (from We Built a Fire)
74. Sharon Jones & The Dap-Kings, "I Learned the Hard Way" (from I Learned the Hard Way)
75. Sharon Van Etten, "Much More Than That" (from Because I Was in Love)
76. She & Him, "In the Sun" (from Volume 2)
77. Shearwater, "Castaways" (from The Golden Archipelago)
78. Sleigh Bells, "Crown on the Ground" (from demo)
79. Smith Westerns, "Girl in Love" (from Smith Westerns)
80. Son Lux, "Weapons" (from At War With Walls and Mazes)
81. Spoon, "Written in Reverse" (from Transference)
82. Stardeath and White Dwarfs, "New Heat" (from The Birth)
83. Superchunk, "Misfits & Mistakes" (from Leaves in the Gutter)
84. Surfer Blood, "Floating Vibes" (from Astro Coast)
85. Suzanne Vega, "Gypsy" (from Close-Up, Vol. 1, Love Songs)
86. These United States, "I Want You to Keep Everything" (from Everything Touches Everything)
87. Tim Easton, "Oh People" (from Ammunition)
88. Timber Timbre, "Demon Host" (from Timber Timbre)
89. Toro y Moi, "Talamak" (from Causers of This)
90. True Widow, "Duelist" (from True Widow)
91. Vandaveer, "Turpentine" (from Divide & Conquer)
92. The Very Best, "Warm Heart of Africa" (from Warm Heart of Africa)
93. Visqueen, "Hand Me Down" (from Message to Garcia)
94. Wale, "Nike Boots" (from Mixtape About Nothing)
95. The Walkmen, "Canadian Girl" (from You & Me)
96. Washed Out, "You'll See It" (from Life of Leisure EP)
97. We Were Promised Jetpacks, "Quiet Little Voices" (from These Four Walls)
98. Woods, "To Clean" (from Songs of Shame)
99. Wye Oak, "Take It In" (from The Knot)
100. The xx, "Crystalised" (from xx)