Bellini's 'Zaira': Misunderstood Melodrama
From The Montepellier Languedoc-Roussillon Festival
Hear An Audio Introduction To The Opera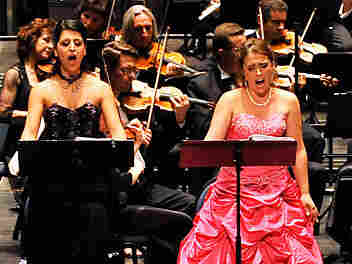 THE HIT SINGLE
Though Bellini is known for spectacular arias, some of his most beautifully lyrical writing is found in ensembles. In this highly emotional, Act One trio, "Qui, crudele" ("Here, cruel woman"), Lusignano (baritone Carlo Kang) is devastated at finding his daughter in a harem; Nerestano (mezzo-soprano Varduhi Abrahamyan) tries to calm Lusignano. And Zaira (soprano Ermonela Jaho) feels desperately guilty at causing her father so much pain.
THE B SIDE
Later in the first act, Zaira and Nerestano are reconciled in the moving duet "Segui a piangere" ("Weep On"), in which Zaira vows to leave the sultan and return to her family, and her faith.
Imagine this scenario: One of Hollywood's leading directors releases a much-ballyhooed movie based on a top bestseller, featuring dazzling special effects and a handful of Oscar-winning stars — and it's a bust, disappearing from theaters after a couple of weeks.
That's basically what happened to Vincenzo Bellini when his opera Zaira opened, in 1829.
Until then, Bellini had been a rising star. He had just scored two consecutive hits at the premiere Italian opera house, Milan's La Scala, with his operas Il pirata and La Straniera. Still in his mid-20s, the successful, young composer was asked to write an opera to dedicate a grand theater in Parma, another leading center of opera in Italy.
The new opera seemed to have everything going for it. It was based on Zaire, a tragedy by Voltaire. The libretto was by Felice Romani, who had already collaborated with Bellini on the two hits at La Scala. The story was brimming with sensational elements: passionate romance, violent conflict, international intrigue and an exotic setting.
None of that helped Zaira. Both critics and audiences reacted coolly at its premiere. The opera ran for just eight performances, and was only heard one more time in the next 140 years.
It's hard to say exactly why Zaira didn't work for Bellini, but it may have been a simple case of musical politics. His two hits were both premiered in Milan. Zaira opened in Parma, where the operatic roost was ruled by one of Bellini's competitors: Gioachino Rossini. So it could be that Rossini's supporters simply didn't want to see an upstart in his twenties celebrating yet another hit on their home turf.
Still, the situation was hardly unusual in the cutthroat world of 19th-century, Italian opera, and Bellini still had options. Often, composers in his situation would simply retool a failed opera, take it to another city, and try again. Bellini decided on a different approach. He took much of the music from Zaira and recycled it into his very next opera, The Capulets and the Montagues, which fared much better. But that success, coupled with the new opera's recycled music, basically forced Bellini to put Zaira on the shelf — and it's been there pretty much ever since.
Today, though, it could be that Zaira is actually more relevant and timely than the opera that inherited some of its best numbers. Both dramas are about star-crossed lovers; The Capulets and the Montagues is Bellini's take on the Romeo and Juliet story.
Zaira has a similar plot line. Its title character is a young woman who, like Juliet, falls deeply in love with a man her family disapproves of — violently. But with Zaira's doomed romance, it's not just a case of a local, family feud. Zaira is a Christian woman in love with a Muslim sultan. So the dispute is rooted in global conflict, and religious animosity — elements that remain all too familiar in today's world.
On World of Opera, host Lisa Simeone brings us Bellini's Zaira in a performance from the Opéra Berlioz in Montpellier, France. It stars an international cast, including Armenian mezzo-soprano Varduhi Abrahamyan and Chinese baritone Wenwei Zhang, with the exciting young Albanian soprano Ermonela Jaho in the title role.
See the previous edition of World of Opera or the full archive.
The Story of 'Zaira'
WHO'S WHO
Ermonela Jaho ............... Zaira
Varduhi Abrahamyan .... Nerestano
Wenwei Zhang .............. Orosmane
Carlo Kang ..................... Lusginano
Shalva Mukeria .............. Corasmino
Marianne Crebassa ........ Fatima
Franck Bard ................... Castiglione

Montepellier Languedoc-Rousillon National Orchestra
Latvian Radio Chorus
Enrique Mazzola, conductor
The two acts of Bellini's opera both take place in and around the palace of Orosmane, a middle-eastern sultan.
ACT ONE begins in Orosmane's harem, where we meet Zaira. She's Orosmane's favorite, and the two have fallen so much in love that Orosmane has asked Zaira to marry him. She has eagerly agreed, even though she realizes she was born a Christian in Europe. She still wears the small golden cross that was given to her when she was just a child. But Zaira was orphaned long ago, and Orosmane has given her a good home.
Still, not everyone in the palace approves of the upcoming marriage. One of the sultan's high officers, Corasmino, is determined to stop it. And Fatima, another Christian woman in the harem, urges Zaira not to abandon her faith.
Meanwhile, Orosmane is visited by a delegation of French knights, led by Nerestano. An agreement has been reached for ten captured Frenchmen to be released from the sultan's prison. Orosmane, apparently giddy with love, is in a magnanimous mood. He offers to return one hundred French citizens — not just ten. But two must stay behind — the aging French Prince, Lusignano, and Zaira, the Sultan's bride-to-be.
As it turns out, Orosmane is eventually persuaded to release Lusignano, as well. In an emotional scene, the old leader is reunited with his men — and he also meets Zaira. When Lusignano first sees Nerestano, he realizes that he has found his long lost son. And that's not all. When he spots the small cross on Zaira's neck, Lusignano knows that he is the one who gave it to her, when she was small. Lusignano and Zaira are father and daughter, and Nerestano is Zaira's brother.
But the reunion is less than joyful, as Zaira still seems determined to marry Orosmane. And, in any case, the sultan isn't about to let her go. He orders her back to the harem to await their wedding. But as she says goodbye to her father and brother, love for her family seems to overcome her feelings for Orosmane, and Zaira pledges not to go through with the marriage.
Watching this tearful scene from a distance, Corasmino mistakenly believes that Zaira and Nerestano must have fallen in love. He decides to use that knowledge to drive a wedge between Zaira and the Sultan.
As ACT TWO begins, Zaira still hasn't told Orosmane that she no longer wants to marry him and she begs him to delay the ceremony — hoping to gain extra time to work things out.
Meanwhile, her father Lusignano has grown gravely ill, and dies. The sultan allows his French visitors to give their old leader a Christian burial — but Zaira cannot attend the ceremony, as the wedding is to take place the very next day. In fact, Orosmane never even tells Zaira that Lusignano is dead.
As all this is going on, Corasmino is still plotting to prevent the marriage, and Nerestano is still determined to take Zaira back to France. Corasmino intercepts a message from Nerestano to Zaira — asking her to meet him that night, in a remote garden. He shows this message to the Sultan, who is immediately convinced that Zaira has betrayed him. He tells Corasmino to go ahead and deliver message, so they can catch Zaira and Nerestano together — and that's exactly what happens.
Zaira has learned of her father's death. Grief-stricken, she's even more determined to avoid the wedding. So she decides to meet Nerestano, and try to escape.
That night, the sultan and Corasmino are hiding in the garden when Zaira arrives, followed closely by Nerestano. Zaira renounces her love for Orosmane and wants to return home, to France. Quietly, the two try to leave. But Orosmane has been listening, and is still convinced that Zaira and Nerestano are lovers. He leaps from his hiding place and stabs Zaira. As she's dying, she says a last farewell to Nerestano — calling him "my brother" — and Orosmane realizes his mistake. Now even more distraught, he draws his knife again. This time he stabs himself, and Zaira and Orosmane both die as the opera ends.