Jazzercise: Big-Band Buns Of Brass
You may know the term Jazzercise only as a punchline, but it's much more than just a clever portmanteau. More than 40 years ago, Judi Sheppard Missett parlayed her love of jazz dance into an exercise program -- and, as of its 40th anniversary, a nearly $100 million fitness empire.
Of course, if you've actually Jazzercised recently, you may have noticed that there isn't much in the way of actual jazz in it. In a compensatory effort, we've stuffed this playlist full of as many jazz musicians as possible. Here's our five-song reimagining of one of Missett's total body workouts, set to some of the most thigh-toning sounds ever produced by large jazz orchestras.
Jazzercise: Big-Band Buns Of Brass
Con Brasil Adentro / Fugue X
Guillermo Klein
Song: Con Brasil Adentro / Fugue X
from Los Guachos III
Warm up with these two pieces by the composer Guillermo Klein, a native of Argentina whose Los Guachos was the toast of the New York underground in the late '90s. The "compact big band" was filled with some of the brightest talent of its age, and when Klein makes periodic returns to the U.S., it still is. It's his one-of-a-kind composing which inspires such loyalty a decade later, where chacarera and counterpoint are sublimated into lilting grooves. "Con Brasil Adentro" and "Fugue X" are played together; the former is a colorful exposition perfect for stretching out the hamstrings, which you'll need for step aerobics around the funkiest thing ever inspired by Bach's Well-Tempered Clavier.
Chris McGregor's Brotherhood Of Breath
Song: Mra
from Chris McGregor's Brotherhood of Breath
Gradually step up the intensity with this bright number from the Brotherhood of Breath, one of the most distinctive ensembles in history. A good deal of its core members, including pianist and leader Chris McGregor, emigrated from South Africa as Apartheid was encroaching; in the U.K., they found themselves among British improvisers in the first wave of transforming American free jazz into their own continental idiom. That combination made the Brotherhood one of the most joyously wooly groups of its age, though on this track from its 1971 studio debut, it's awfully tight. "MRA" is a series of interlocking horn cries, driven by an incessantly charging (and piano-clinking) groove. You may find your body twisting rhythmically, even without a woman in garish spandex directing you to do so.
The Count Basie Orchestra
Song: Oh, Lady Be Good
from The Complete Decca Recordings
Ready for some interval training? Try this version of "Lady Be Good," as repurposed by the Count Basie Orchestra in 1939. Start your first sprint with the solo from the undersung tenor saxophonist Chu Berry at :37; subbing for the ailing Herschel Evans, he absolutely marauds through his opportunity. A second burst comes hot on its heels, when the band's most enduring star, Lester Young, also takes a tenor sax hit. Curiously, Young chooses to interrupt his solo with a couple of uncharacteristic bleating honks; it's ballsy, but it totally works. Anyway, with the breakneck tempo set by the band, you'll have no problem maintaining that heart rate: Nobody has ever swung harder than Basie's "All-American Rhythm Section" circa the late 1930s.
Randy Weston
Song: In Memory Of
from Tanjah
Pianist Randy Weston has always embraced his African cultural inheritance, and never shied away from using a big band to express it. His majestic Uhuru Afrika suite for large ensemble, recorded in 1960, was inspired by an early wave of decolonization. But that music was put down before he first went to Africa; Tanjah was made in 1973, after years of living in Morocco. "In Memory Of" is supposedly inspired by a funeral procession witnessed in Africa, though with Fender Rhodes, droning electric bass and fat backbeats, it's an awfully funky rite. (This relentless groove was later lifted for The Prodigy's electronic dance hit "Smack My B---- Up.") As you sweat through the crux of your workout, growling horns orchestrated by master arranger Melba Liston lay into you seemingly from overhead. Feel the burn.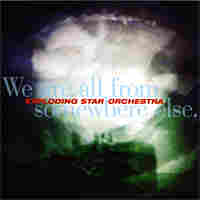 String Ray and the Beginning of Time, Pt. 1
Exploding Star Orchestra
Song: String Ray and the Beginning of Time, Pt. 1
from We Are All from Somewhere Else
While you gyrate through your aerobic threshold, put your ears to the 2007 debut album of Exploding Star Orchestra, something of an all-star team of Chicago progressive jazz musicians. Helmed by ex-Chicagoan cornetist and electronic musician Rob Mazurek, it's not a conventional big band: One of the tracks is based on a recording of electric eels, and the record comes with a narrative about the cosmic transformation of a sting ray. With two drummers, two bassists, two mallet percussionists, electric guitar and keyboards, the experimental rock vibe is strong, too -- and that's before getting to the horns. But the blowing on "Sting Ray" (Part 1) is fantastic, and the insistent, repetitive groove will help push you through your session, especially when the orchestra returns from the "B" section in full effect. For a coda, a free-improv jazzorcism is sure to flush the lactic acid out of your system.