Bridge Efforts Shift from Rescue to Recovery
After the collapse of the I-35 West bridge Wednesday, authorities are now focused on accounting for missing people and recovering the bodies of victims. They are treating the site as a crime scene, hoping to preserve as much evidence as possible to determine the cause of the collapse.
The destruction of this key highway left commuter traffic snarled Thursday morning in the Minneapolis area, and police are on the streets redirecting traffic to other bridges.
Swift Currents, Debris Slow Recovery Effort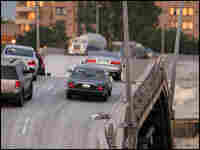 Local Coverage from MPR
Rod Johnson/AFP/Getty Images
Bridge Facts and Figures
• According to the Federal Highway Administration, in 2004 there were 594,101 bridges over 6.1 meters (20 feet) long in the United States.

• About 56,000 of these bridges are on interstate highways — including the Interstate 35 bridge that collapsed in Minnesota.

• Although roughly three-quarters of the nation's bridges are in rural areas, urban bridges carry roughly three-quarters of the nation's traffic.

• U.S. highway bridges are, on average, 40 years old. The typical interstate bridge was built in the late 1960s (the I-35 bridge was finished in 1967).
• Most bridges are inspected and rated every two years. Engineers rate bridges that that are deteriorating or don't meet current highway design or engineering standards as "structurally deficient" or "functionally obsolete." Neither designation necessarily means that a bridge is unsafe. For instance, a bridge can be judged deficient if it has shoulders that are too narrow or was built with outmoded construction techniques.

• In 2005, engineers rated the I-35 bridge in Minnesota as "structurally deficient" and possibly in need of replacement.
• Overall, about 20 percent of interstate bridges (nearly 12,000 bridges) were rated as deficient in one way or another in 2004. The percentage of deficient bridges has been dropping over the last decade.

Source: 2006 Status of the Nation's Highways, Bridges, and Transit: Conditions and Performance. U.S. Department of Transportation, Federal Highway Administration.
Swift currents and heavy debris prevented divers from reaching the occupants of at least four submerged vehicles Thursday, as recovery crews maneuvered through the murky Mississippi River in search of bodies trapped under a collapsed bridge.
Crews used sonar to locate the vehicles amid a tangle of concrete and steel, but dangerous conditions forced divers to pull back without recovering the bodies from vehicles that were found downstream, said Jon Cristenson, an engineer with the St. Paul, Minn., district of the U.S. Army Corps of Engineers.
"When you try to bring divers into a debris field like this, it's extremely difficult because the divers will tend to get caught up in the debris, the cement pieces that are from the decking of the collapsed bridge," Cristenson said. "Those are the type of issues that we had."
The official death toll from Wednesday's collapse of the Interstate 35 West bridge in Minneapolis stands at four, but Police Chief Tim Dolan said the body count is expected to rise. As many as 30 people are missing, and hospital officials said 79 others were injured.
The eight-lane bridge, a major Minneapolis artery, was undergoing repairs when it buckled during the evening rush hour. Dozens of cars and a school bus plummeted more than 60 feet on the collapsed span.
"The feeling is one of ... bracing ourselves for what is about to be a ... collection of very, very tragic stories," Minneapolis Mayor R.T. Rybak told NPR. "We move into the next stage, which will be extremely difficult as we try to deal with the human tragedy here."
Minnesota Gov. Tim Pawlenty on Wednesday called the accident "a catastrophe of historic proportions."
Peter Siddons, who was crossing the bridge on his way home from work when it collapsed, told NPR he heard a boom and saw the section of bridge disappear in front of him.
"My nose was down and the front of my car was going down and I thought this was it, I'm off the bridge and it's over," he said.
"But, then, it's surreal after that ... you don't know what to do," he said. "You're looking for something, but you're not sure what you're looking for. You're looking for closure. I don't know. You're not ready to leave."
Investigators said they were focusing on structural issues with the bridge.
The White House on Thursday said an inspection two years ago found problems in the 40-year-old bridge. Spokesman Tony Snow said the structure rated only 50 on a scale of 120 for structural stability, but he added that that "doesn't mean there was a risk of failure."
At a news conference in Minnesota, Secretary of Transportation Mary Peters said the ratings did not indicate there was any danger — just that the bridge should be scheduled for rehabilitation.
"What that rating of 50 means is that the bridge should be repaired, should perhaps be considered for replacement at some point in the future," Peters said. "It was by no means determined that this bridge was not safe. Had that been the case ... Gov. Pawlenty would have shut this bridge down immediately."
The federal government has promised full support and provided an initial distribution Thursday of $5 million to be used to restore traffic flow, clear the debris and begin repair work.
President Bush expressed condolences for the loss of life and said the federal government "must respond, and respond robustly" to help those in need.
First lady Laura Bush was scheduled to visit Minneapolis on Friday.
Witnesses of Wednesday's collapse described hearing what sounded like a bomb, then seeing the massive structure give way, plunging about 50 cars, trucks and buses into the water or onto the river bank some 60 feet below. Dozens of vehicles were scattered and stacked on top of each other amid the rubble.
About 100,000 vehicles per day use the bridge to cross the upper reaches of the Mississippi River.
"There were two lanes of traffic, bumper to bumper, at the point of the collapse. Those cars did go into the river," said Minneapolis police Lt. Amelia Huffman.
It appeared that the center section of the bridge dropped straight down Wednesday evening into the middle of the river, leaving several vehicles stranded on a broken island of wreckage. As divers searched the waters after the collapse, other rescuers looked frantically for victims amid broken sections of blacktop. Some of the injured were carried up the riverbanks.
Jim Peskuski, who saw the devastation from the 13th floor of a hotel room, told NPR that the scene was difficult to comprehend.
"It took my mind a little bit of time to determine what my eyes had seen," Peskuski said. "I saw a huge plume of debris and dust rising as if you were watching a film of one of these old buildings being demolished."
Many of the vehicles on the bridge were carrying people home from work or were delivering fans to the Minnesota Twins baseball game at the Metrodome about four blocks away.
A busload of Minneapolis schoolchildren were returning from a field trip when the bridge fell. According to witnesses, all of the children made it out of the bus through the rear emergency exit; some sustained only minor injuries.
Eighth-grader Jeisy Aguaiza was on the bus. After the accident, she spoke with reporters wearing shorts, a pink T-shirt and just one pink flip-flop. She lost the other one during the rescue.
"It felt scary," she said. "First we thought we crashed, but then we felt us going down. I didn't look out the window. I saw dust everywhere, and people were screaming."