Greengrass: Bourne Is a New Kind of Action Hero
Jasin Boland/Universal Studios
Jasin Boland/Universal Studios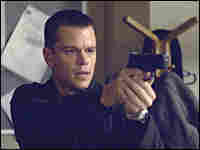 Jasin Boland/Universal Studios
Jason Bourne is back.
Matt Damon reprises his role as the assassin with the killer case of amnesia in the third installment of the Bourne trilogy — the films based on the Robert Ludlum novels.
Beginning with the first film in the series — 2002's The Bourne Identity — and in each subsequent movie, Bourne gets ever closer to unlocking the secrets of his past.
Paul Greengrass directed The Bourne Supremacy in 2004, as well as The Bourne Ultimatum, the third story in the trilogy.
The popular series has a large international following, and Greengrass tells Michele Norris that he thinks the secret behind Bourne's box-office appeal is that he represents a new kind of action hero.
"Bourne isn't just some kind of macho, gun-toting male with outdated attitudes," Greengrass says. "The fact is, here you've got a character who is every inch the action hero — in the sense that you get a tremendous immersion in action-adventure — but the character has vulnerability; the character is complex."
Greengrass, who also directed United 93, describes the Bourne franchise as a "quest."
"Each film develops that quest as he moves closer towards discovering the secret of his identity," Greengrass says.
Existential questions aside, The Bourne Ultimatum is a fast-paced, action-packed film — complete with dramatic fight scenes and breathtaking stunts. One fight scene that takes place on the rooftops of Tangier, Morocco, for example, required the cameraman to be harnessed to a wire in order to leap between buildings.
"Quite often, they look at you like you're mad," Greengrass says about his camera crew.
But the director says a film such as Ultimatum gives him the freedom to shoot in an envelope-pushing, indie style, but with production values of a major Hollywood movie.
"That's the fun of it. It enables you to marry both together in an interesting way," he says.
What about a fourth Bourne film? Greengrass doesn't rule out the possibility.
"The point about these films is that you have to have a viable idea. You have to have a reason to make the film," he says. "At the moment, I don't know where the character might go next, if indeed he goes anywhere. But of course, you never know when the next chapter might unfold."
Related NPR Stories
Web Resources